The seasons have changed. The forecast keeps bouncing up and down from 65 to 85 degrees, but winter is firmly behind us. This means that it is time to restock the beer fridge!
We've emerged from winter beer weather, but we're not quite ready for a steady summer diet of light thirst-quenchers. Spring is one of my favorite beer seasons, a time for saisons, porters, and clean flavors, a time when every night calls for a different brew.
Here's what I'll be drinking for the next few months.
C'est la saison d'une saison: Saisons from On Rotation, Vector Brewing, Four Corners Brewing Company, and Oxbow Brewing
Saison is the unofficial beer of spring. This is so for many reasons: its floral aromas and big flavors might remind you of spring blooms; it's lighter than winter beers but stronger on the alcohol than light lagers; and, of course, it was historically consumed in springtime. The name "saison" refers to the fact that these beers were made over the winter and drunk before the hot summer months started to cause spoilage.
In the book Tasting Beer, Randy Mosher documents the diverse history of saisons, which historically had all kinds of colors and ingredients. There were authentic saisons from golden blonde to porter dark, made with wheat, spelt, buckwheat, and even beans. There is some crossover with the "farmhouse" style of beer, which was made for similar reasons and also embraced eclectic ingredients available to the creators.
Dallas is not historically a saison hub, but our drought might be over. The standout local example, On Rotation's terrific Jalapeño Saison, embraces that historic trend of adding eclectic ingredients. Jalapeño registers mostly as a vegetal taste, not a spicy one. It's a clear, golden, crispy beer with a backbone of pepper flavor and maybe the tiniest murmur of heat. The folks at On Rotation tell me that they just sold out, but have another batch fermenting now that they expect to arrive in late April.
Four Corners currently has two saison variations on tap, El Super Bee (its traditional saison) and Queen Bee, a stronger, fruit-added version which this year has mango. Past versions of Queen Bee have used Texas grapefruit for extra tartness, which was my favorite way to enjoy this pint, but it's always reliable.
And then there are the newcomers on the scene. Vector Brewing just released two saisons: Ferlax adds Sicilian lemon and Meyer lemon leaf to the mix, while Saison de Vil uses an experimental New Zealand hop with the rather supervillain-ish name "NZH-101." The former is a collaboration with Mississippi's Fertile Ground Beer, the latter is a collaboration with Bract, a New Zealand hop program. Note that Vector's taplist does not yet have room for both, but they should both be on draft as soon as some of their other beers sell out.
If all of that still leaves you craving more farmhouse goodness, head to the grocery. Central Market now carries Oxbow Brewing, a brand out of Maine with gorgeous can designs and equally gorgeous farmhouse beers with all sorts of unusual grains and hops. Central Market's selection varies by season, but I've never had an Oxbow I didn't love. Think of it as the Jester King of Maine, but in cans and session-able.
Jalapeño Saison is available on tap from late April at On Rotation, 7701 Lemmon Ave., Ste. 200.
El Super Bee and Queen Bee are available on tap at Four Corners Brewing Company, 1311 S. Ervay St.
Ferlax and Saison de Vil are available on tap and in bottles at Vector Brewing, 9850 Walnut Hill Ln., Ste. 405.
Oxbow beer cans are available at area Central Markets.
For a taste of summer beers to come: Peticolas Eclectus Berliner Weisse and Smittox-Vector collaboration Destructive Criticisms
Peticolas has been rolling out some brand-new recipes this spring, including a golden honey ale, demand for which has "blown the doors off," according to owner Michael Peticolas. So far, my favorite newcomer is Eclectus, the brewery's first-ever Berliner Weisse.
Although these are called "sours," they don't taste especially sour, and they're very low on bitterness. Instead, think of it like a tart splash of fruit in a light beer. Peticolas does offer three flavored syrups to choose from. (I vote pomegranate.)
Although I just mentioned syrups and juice, these beers are not sweet. By the way, they're also not available in cans. This is a taproom blink-and-you'll-miss-it exclusive.
If you'd like cans of Berliner to stock your home fridge, Vector Brewing and Smittox Brewing just announced a delicious-sounding collaboration, Destructive Criticisms, available to go in two flavors: pink guava and goldenberry, or prickly pear and ginger. I plan to grab some of the pear-ginger variety this weekend.
Eclectus is available on tap for a limited time at Peticolas Brewing, 1301 Pace St.
Destructive Criticisms is available in cans to go now and on tap soon at Vector Brewing, 9850 Walnut Hill Ln., Ste. 405.
For a little bit of a warm-me-up: Four Bullets Brewery's Black Jack Brown Ale
OK, yes, it is confusing that this beer name has two colors in it. Or "colours," as the English founders of Four Bullets might say. This pint is a tribute to their heritage, an upmarket, top-quality brown ale that will have you forgetting big brands like Newcastle. A little sweet but not too much, a little nutty but not too far, Black Jack is a well-balanced brown and my go-to order when I visit this tiny Richardson taproom. (After getting Black Jack out of the way, I might go a little bit heavier, with the similarly lovely Snake Eyes Oatmeal Stout.)
Black Jack Brown Ale is available on tap at Four Bullets Brewery, 640 N. Interurban St., Richardson.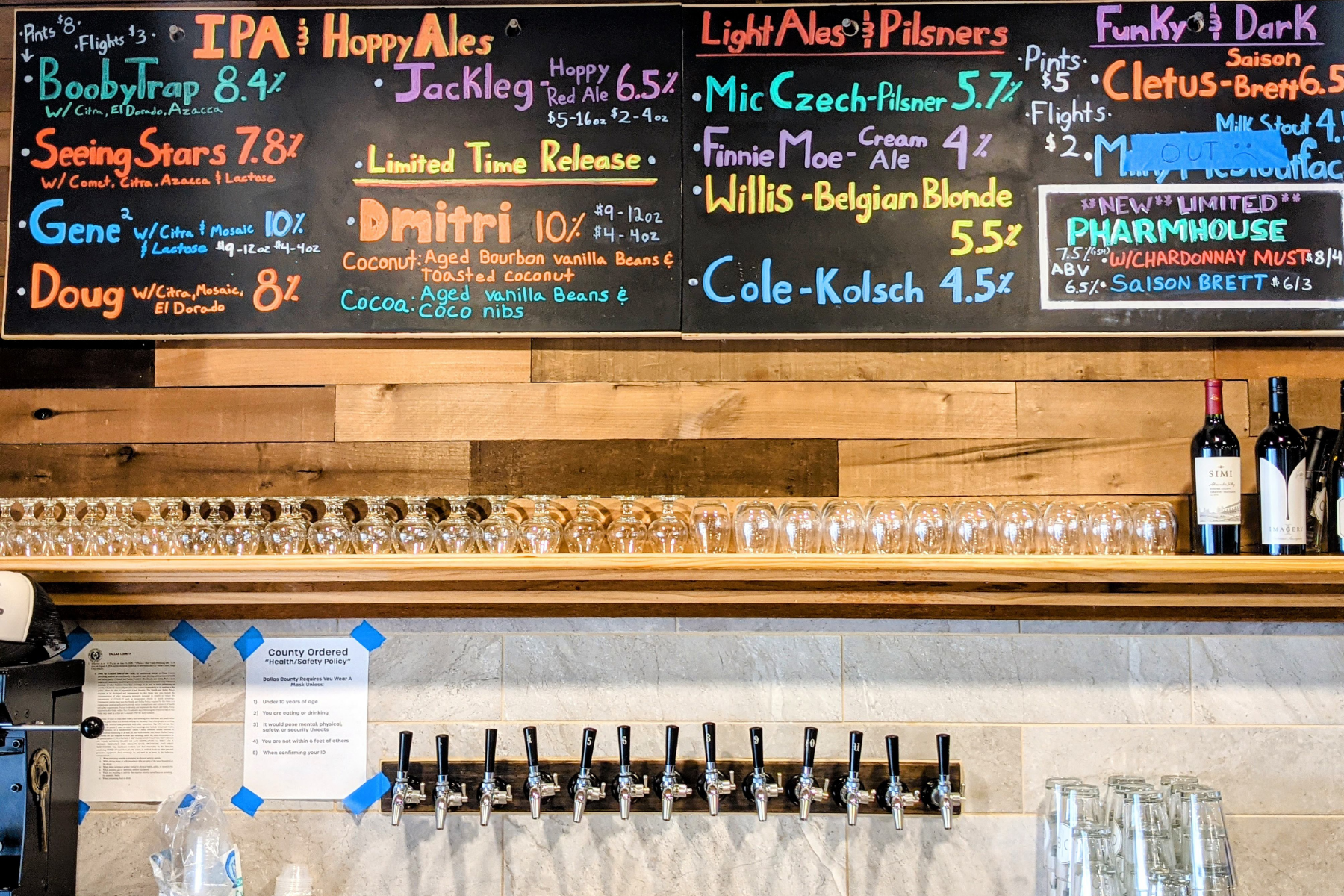 For unseasonably cool nights: Outfit Brewing's Milky McStoutface
Every spring, we have a few evenings when the temperature dips below 50 degrees. Some folks might not like this, but I think it's important to savor the memory of feeling cold before our annual march through 100-degree summer afternoons.
So next time you feel a little bit cold, put on some shorts, sit outside, feel the goosebumps on your arms, and drink Outfit Brewing's excellent milk stout. It's gently light, creamy, easy to drink, and low on alcohol (just 4.5%), so it won't end your night too early.
Milky McStoutface available on tap and in cans at Outfit Brewing, 7135 John W. Carpenter Fwy.
For all the other times: Celestial Beerworks Sparkle Water
The first time I tasted Celestial Beerworks' hoppy sparkling water, my world changed. All these years, I'd complained about sparkling water. All these years, I'd thought you couldn't have a satisfying beer-like drink without the alcohol. Wrong and wrong! Sparkle Water is like a beer version of Fresca. It's punchily carbonated, brilliantly flavored with Strata hop terpenes, and spiked with lemon.
Technically, Celestial doesn't call this "hop water," another twist on the genre common at other breweries. That's because they're extracting hop terpenes rather than using the whole plant, a choice that focuses on the hops' aromatic qualities and acidity without the vegetal, earthy, bitter taste. Combine that with lemon, and you have an endlessly drinkable can of no-alcohol bubbly.
Oh, and there are no calories, either. I don't know how that works, scientifically, but I am prepared to drink Sparkle Water literally all day long all spring. Or at least until beer time.
Sparkle Water available in cans at Celestial Beerworks, 2530 Butler St.
Get the SideDish Newsletter
Dallas' hottest dining news, recipes, and reviews served up fresh to your inbox each week.
Author
Brian Reinhart became D Magazine's dining critic in 2022 after six years of writing about restaurants for the Dallas Observer and the Dallas Morning News.