Yes, we still love pepperoni and cheese as much as everyone else. But Dallas' pizza boom has brought our city a global array of inventive pies with eclectic toppings. From Bengali beef to collard greens, from all-new shapes to burger toppings, Dallas pizza makers are turning heads with offerings unlike any we've seen before. Here are some of the most exciting.
Pasta Sauces on Your Pie at Pizzana
Cacio e pepe is a beloved pasta dish, a simple creation of noodles, cheese, and fresh-cracked black pepper. For a bowl with so few ingredients, it's a fabulous indulgence. And now, thanks to Pizzana, it's a pizza. This not-quite-Neapolitan-style spot, a chain from Los Angeles, starts with a cheese pizza, adds stripes of parmesan cream to each slice, and then showers the whole thing with a flurry of pepper. The flavor of the original pasta dish is replicated on crisp dough. And this isn't the only Pizzana offering inspired by a pasta bowl: another of its best pies is a riff on the classic penne a la vodka. — Brian Reinhart
3219 Knox St., Ste. 150 | 214-440-4400
A Cheeseburger Love Letter on Dough at The Ivy Tavern
When you think of bar food, burgers and pizzas go hand in hand. At The Ivy Tavern, the signature cheeseburger pizza is the best of both worlds. Burger fixins (hamburger meat, cheddar and mozzarella cheese, pickles, and onions) cover a pizza dough that's not too thin or thick. The flavorful house-made tomato sauce is the perfect substitute for ketchup. — Nataly Keomoungkhoun
5334 Lemmon Ave. | 214-559-4424
South Asian Pizzas from SauceBros
At this takeout-only strip mall spot in Plano, the crust is taken seriously: it's flavorful and surprisingly chewy and sturdy. But the toppings are the real attention-getters: flavor combinations inspired by Bangladesh. Try a fabulous pizza with spiced ground Jhura beef and cilantro pesto, or the chicken Naga pizza with a creamy, medium-spicy habanero-coriander sauce. A flurry of cilantro settles onto the chicken pizza after it's baked. (Although Far East Pizza Co. in Richardson offers Indian-style pies, SauceBros' crust is on a higher level.) — B.R.
3115 W. Parker Rd., Ste. 570, Plano | 972-769-9100
Star-shaped Stuffed Crusts at Mister O1
The pizzas at this Miami-based franchise were deemed so exemplary that U.S. Citizenship and Immigration Services granted founder Renato Viola an O-1 visa, reserved for those who have "extraordinary abilities," to move to the United States from Southern Italy. The star-shaped pies are eye-catchers here, like Star Luca, topped with mozzarella, Calabrian spicy salami, and basil. Its ricotta-filled, star-shaped points make the perfect picker-uppers for each slice. — N.K.
3838 Oak Lawn Ave., Ste. P175 | 214-432-4434
Neony Pizza Works founder Alex Ham finds all kinds of ways to pizzafy his Asian American heritage and his global eating habits. The bánh mì pie starts with lemongrass pork sausage, then adds all the toppings you'd expect on the Vietnamese favorite: pickled carrots, cucumbers, and cilantro. Sometimes, if you're lucky, there'll be a shrimp pizza available too. — B.R.
829 W. Davis St. | 214-484-2485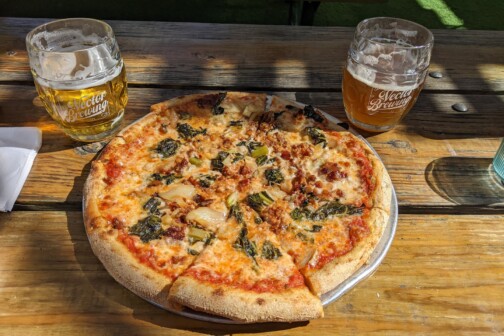 Pork and Collards on a Pie at Vector Brewing
It's all about fermentation at Vector, where the two features are top-quality beer and pizzas with seriously flavorful sourdough crusts. The pizzas come in normal varieties (of which Supreme is the most tempting), but we're here for the Fine Swine. It's an intriguing mix of pork sausage, bacon, and collard greens. With a bit of smoke and those rich greens, it's a soulful, Southern-tasting pizza. If you're vegetarian, there's an equally creative option available for you: a tempura-fried tofu and red curry pizza with a side of tzatziki dip. — B.R.
9850 Walnut Hill Ln., Ste. 405 | 469-676-0797
Mediterranean Veggies and More at Bona Pizza
The pizzas at Bona are influenced by the Lebanese heritage of Omar Dibe—founder of a completely different pizza joint, the recently-closed Cigarz. Bona Pizza founder Braulio Carvalho got into the trade by working at Cigarz, and his menu pays tribute to his training. With a Greek bent to much of the menu, you're likely to encounter unusual toppings like roasted eggplant, which—take it from us—pairs beautifully with tomato sauce and cheese, becoming creamy, smoky, and rustically delicious. Think of it like eggplant parmesan, the pizza. Decline the offer of extra powdered garlic on top. — B.R.
4218 W. Lovers Ln. | 214-351-1888
Provel cheese does not melt so much as it settles, like glue oozed from a bottle of Elmer's. Its taste, a poor imitation of provolone, lingers like an unwanted acquaintance long after the party ends. We could find only two places that serve this beloved-to-some, vile-to-others St. Louisan cheese in Dallas: Bryan Street Tavern and Sylvan Avenue Tavern, terrific sister bars that have some of the city's best pizza.
The dough is hand-rolled into a wafer-thin crust, the sauce is made from scratch, and the pizzas firm up in a brick-stone oven. It's a classic tavern pie, a perfect partner for one of the many local beers each bar stocks its taps with. The proteins are sourced from Jimmy's Food Store, as has been the case since Bryan Street opened a dozen years ago. "It's hard to be a neighborhood bar if you don't reinvest in the neighborhood," says Adam Navan, the area manager and part-owner.
But about that Provel. This is a processed cheese blend of provolone, cheddar, and Swiss made in St. Louis. The reason it doesn't really melt is its high smoke point. "The first time I ate it, I burned the hell out of my mouth. It stuck to my teeth and I couldn't get it off," Navan says. His business partner, Joe Hinkson, is a St. Louis native. Their pizza is modeled after the hometown chain Imo's, which made a Midwest empire on thin-crust pies covered in Provel cheese.
Navan says Bryan Street attracts plenty of St. Louisans who come here for the toasted ravioli (which is awesome) and the Lou, a Provel pie with Jimmy's spicy sausage. It's the only time the cheese shows up on the menu, winking at folks who are missing the Gateway Arch.
"That's the Malört of cheese," my buddy said after finishing a slice, referencing the similarly provincial Chicago liqueur. For the right person, that's a secret handshake. For the rest of us, both bars have mozzarella. — Matt Goodman
Get the SideDish Newsletter
Dallas' hottest dining news, recipes, and reviews served up fresh to your inbox each week.
Authors
Brian Reinhart became D Magazine's dining critic in 2022 after six years of writing about restaurants for the Dallas Observer and the Dallas Morning News.
Nataly Keomoungkhoun joined D Magazine as the online dining editor in 2022. She previously worked at the Dallas Morning News,…
Matt Goodman is the online editorial director for D Magazine. He's written about a surgeon who killed, a man who…