How North Texas Became a Craft Beer Empire
Looking back at the crucial decade that led to a craft-beer boom.
Once upon a time, North Texas was a craft-beer wasteland. Not that long ago, actually. Autumn 2011, just before Deep Ellum Brewing Co. and Peticolas Brewing Co. opened the first production breweries in Dallas since the late 1990s. Back then, only eight other brewing entities were active in the area. Like we said, a wasteland.
Then, on June 27, 2012, everything changed. At a meeting that day, the Dallas City Council voted unanimously to pass a new zoning law that would allow wineries, distilleries, and, yes, breweries to operate within the city limits. Surrounding cities followed suit.
Two years later, there were 24 breweries in North Texas. By May 2016, the count was over 30. Now? Almost 100 beer-making operations call North Texas home. As of 2019, Dallas had more craft breweries than Austin, Houston, and San Antonio. Even with a few brewers closing recently—not long before we published, Armadillo Ale Works shut down after 12 years in business in Denton—that number is only growing. We know of 20 projects in one phase or another of the planning process. And we would imagine that the Monster Beverage Corp.'s January acquisition of Deep Ellum Brewing Co. as part of a larger $330 million deal is not exactly going to scare away newcomers.
It's not just the number of breweries that has changed a decade on—the business continues to evolve. Taprooms didn't exist until they were legalized in 2013; Peticolas didn't open one until 2017. (Before then, production breweries hosted tours and tastings.) It took longer for direct-to-consumer sales to be allowed in 2019, but it was timely nonetheless, as beer-to-go was critical for brewers navigating the pandemic mandates of 2020 and beyond.
While it continues to evolve, the relative stability of the brewing community—as North Texas enters its golden (amber?) age—has allowed for experimentation, as well as the need for it. Hard seltzer and kombucha have been added to in-house menus, along with guest ciders and wines, to keep up in an increasingly crowded market. That said, beer is still the main draw, and style-wise, IPAs still reign. But soft and pillowy hazy IPAs have supplanted bright, bitter West Coast IPAs as the go-to hoppy brew. Dry, roasty stouts have become sweet, pastry-like pours, while traditional sour beers are being swapped out for super-fruited slushies, such as the ones you can find at Sherman's 903 Brewers. Some breweries follow the early formula of making year-round classics along with a few seasonal variants, but many offer a revolving door of recipes to meet calls for fresh new creations weekly.
The experimentation extends beyond the bottles and cans and kegs. To retain new customers and regulars alike, breweries are upgrading their accommodations. Basic taprooms are giving way to locales with food service, live music setups, and other attractions. Better to be an all-inclusive destination for dinner and drinks than a quick stop for a single beer before bedtime. And we do mean inclusive. Moving forward, it's on breweries to provide a welcoming environment to a more diverse drinking population.
All of this adds up to an extremely competitive marketplace. Ten years after North Texas was finally able to wet its beak with local beer, that's certainly a better problem to deal with. —Brian Brown
A brief history of the North Texas brewing scene
1857
Jean Monduel, a member of the La Réunion commune, founds Dallas' first brewery.
1881
Mayer's Garden, one of the city's first biergartens, opens. The name was resurrected in 2021 for a bar on Henderson Avenue.
1982
Reinheitsgebot Brewing Co., the first microbrewery in the Southwest, opens in Plano. It's only the sixth in the country.
1993
Texas legalizes brewpubs. Yegua Creek Brewing Company, on Henderson, is Dallas' first.
June 27, 2012
Dallas City Council approves a zoning change to allow breweries to operate within the city limits.
2013
Taprooms are legalized as part of a number of bills supported by the Texas Craft Brewers Guild.
September 1, 2019
Texas enacts the beer-to-go law, allowing breweries to sell cases and growlers directly to customers. It was the last state to do so.
January 2022
Deep Ellum Brewing Co. is acquired by Monster Beverage Corp. as part of a $330 million deal.
Beer Drinkers of the World, Unite
We know, we know: it's serious. Strangeways has the city's best taps list. Plus: Other bars and restaurants where you need to get a pour.
Don't let an unassuming brick façade and the tidy yet casual interior fool you. Strangeways on Fitzhugh Avenue is more than a mere neighborhood watering hole. It's a destination for beer lovers. When co-owners and siblings Rosie Ildemaro and Eric Sanchez opened the Old East Dallas spot a dozen years ago, they hadn't planned on providing an idiosyncratic tap list. "We never say we're a beer bar because our Fernet selection is out of this world, and our liquor selection is crazy out of this world," Ildemaro says. And yet, they've built an underrated beer lineup, honing it over time. "At first, we wouldn't even know how to pronounce them. And we just thought, if we haven't seen them, they must be underdog breweries," she says.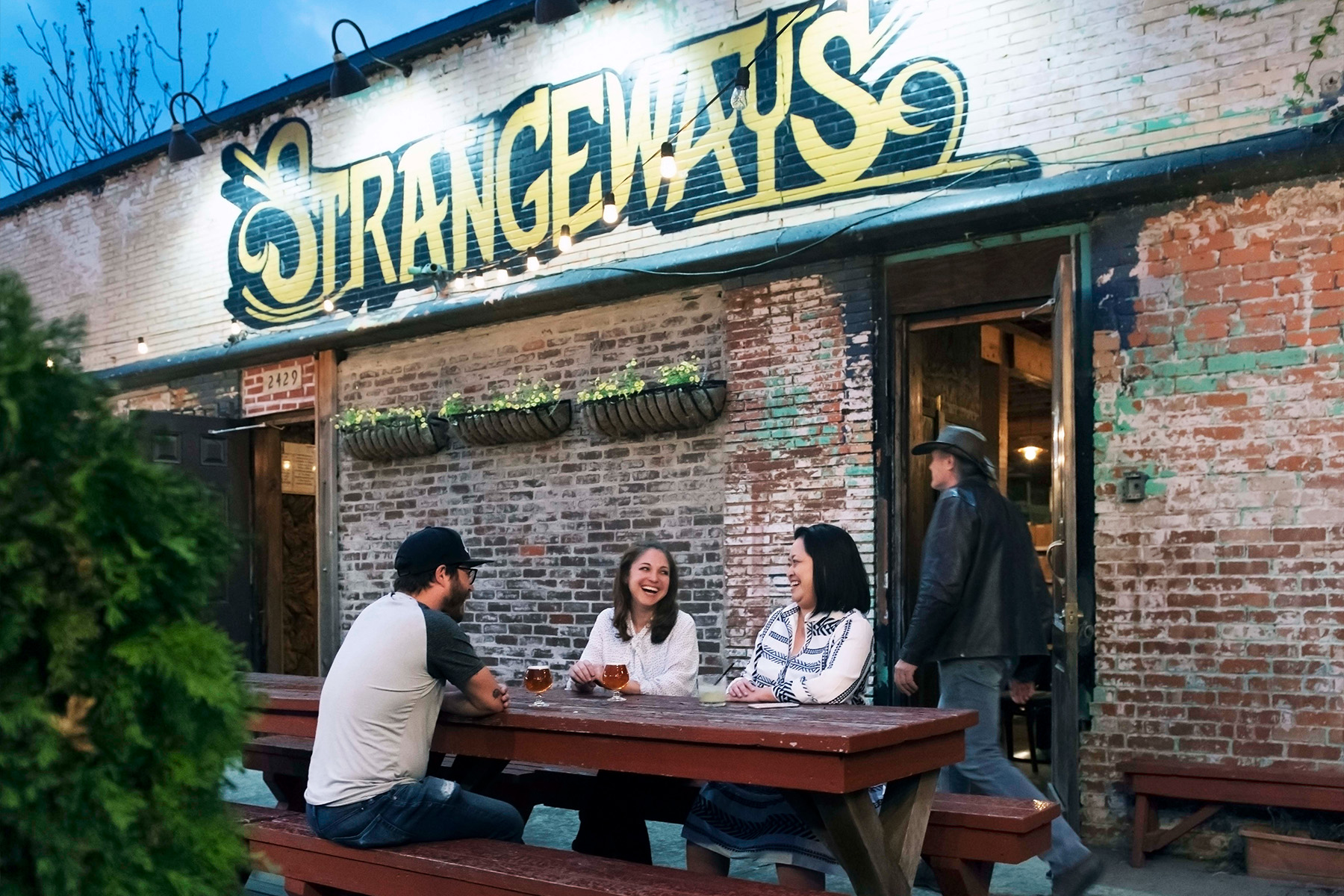 "We want to still surprise you with these little, underdog, tiny breweries out of Spain or Belgium or Italy," says Strangeways co-owner Rosie Ildemaro.
Now the bar is home to ales of all sorts, from the well known to those you don't see pouring from taps elsewhere. Indeed, the big, local, popular stuff often doesn't grab regulars' attention. It's about balance, Ildemaro says. "We want to show love for local friends, and then we want to still surprise you with these little, underdog, tiny breweries out of Spain or Belgium or Italy." Even lesser-known-to-us Oklahoma breweries such as Coop Ale Works pop up on the chalkboard.
Said draft list is divided by style: "hoppy" for the IPAs and such; "sour" for those goses; "dark" means barrel-aged brews or deep-brown porters and stouts. It's an ever-changing collection of the good-weird stuff. Lest there be any confusion, the name Strangeways references The Smiths, whose final studio album is titled Strangeways, Here We Come after the Manchester-area town and prison. (Sanchez is a big Smiths fan.) But it fits the curious and playful approach that has allowed the brother-and-sister team to go off the beaten path to find beers. —Rosin Saez
Strangeways, of course, is hardly the only game in town. Don't miss these other bars and pubs, which host a whole lot of local beers.
Best not to enter this Henderson Avenue beer haven, serving up suds since 1998, with a particular beer in mind. Oh, they'll likely have it. But it's better to be surprised by a constantly rotating selection, heavy on Belgian, British, and local brews. And that's just on draft. The list of bottles is even deeper.
At this shotgun-style bar on Greenville Avenue, the taps have a brew for everyone, even the fashionable gentleman in search of a sweet Ciderdaze from Bishop Cider. The current list has everything from a sour beer out of Kansas City to a classic hefeweizen from Fredericksburg's Altstadt.
The original Uptown location closed in early 2020, but the Frisco outpost (located in The Star, with a huge patio) hasn't hit last call. You'll find 20 beers on its list—largely sourced from Texas breweries, with a few from California and Colorado—most available in 10- or 20-ounce pours.
While the weather is right, it's time to spend a weekend afternoon knocking back cold ones in Lower Greenville's backyard. Truck Yard on Lower Greenville is a reliable standby for day-drinking. The self-described come-as-you-are beer garden and adult playground has draft cocktails that hit the spot and taps that just won't quit. For the latter, about 20 spouts dispense local favorites from Peticolas Velvet Hammer strong ale to Lakewood Brewing Co. lager to Manhattan Project's Half-Life hazy IPA. Weekend afternoons mean live music—and, hey, you just might hear a Shania Twain cover after three Lone Stars and feel, under the hot summer sun, like you're doing everything exactly right in life. Guess what? You probably are.
Owners Matt Tobin and Josh Yingling made an entire neighborhood cool when they opened this pioneering beer garden and burger spot a decade ago. They work alongside the best staff in town. Ask bar manager Carlos Bell about his selection of NA beers, and order the Bourdain burger.
"The original gastropub of Dallas" opened in 2010 in the Design District and has kept an ever-changing list of 40 drafts on its tap wall ever since. The restaurant also offers an extensive and rotating selection of 70 craft beers in the can or bottle, including European brews and barrel-aged beer.
Somehow there are just two bars easily accessible from the trail that winds around the lake. White Rock Alehouse & Brewery is the cyclists' favorite, with its plentiful outdoor seating, its many TVs inside, and its IPO IPA, a silver medalist at the 2019 U.S. Open Beer Championship.
Here is a reliable recipe: a cool canopy of trees, a picnic table, people to watch, a few friends, a summer beer, and you. Katy Trail Ice House's main draw is its delightful setting just a few steps away from the action on the trail. You could finish up a run and pop in for a quick bite to refuel. You could also just, you know, skip the run and the lunch, and simply grab a beer or two. Since 2011, people have gathered around the picnic tables at its communal beer garden to drink cold beer along with their burgers and barbecue. The 50-foot-long bar is complemented with 50 beers on tap. Most are Texas domestics, like Revolver Blood and Honey, Deep Ellum IPA, and the Ice House exclusive Live Oak Hefe. There are also regional and international imports on its tap list, and plenty of bottles, too. (Also, if you don't feel like hitting Uptown, they'll be opening another location in Allen.)
Bees buzz from bud to bud in the backyard patch of herbs and flowers. On the patio abutting the garden, diners in sunglasses sip micheladas spiked with Martin House Best Maid pickle beer and crisp cocktails of blood orange and hibiscus hard seltzer with house-made hibiscus tincture and muddled orange. But it wasn't always as buzzy or boozy at Garden Cafe in Old East Dallas.
The Junius Avenue restaurant, best known for its brunch, closed for nearly two years during the pandemic. Owner Mark Wootton knew it'd take a new beer and wine license to get them open again. They got just that last fall.
"We're still pretty new to the game. So you know, we're still working some things out," Wootton says. But his modesty obscures the truth. Garden Cafe has a nicely curated beer list that reads like a thoughtful roster of local and local-ish breweries. An American pale ale from Shreveport's Great Raft Brewing, Pegasus City Brewery's Texikaner Black Lager, the blood orange ale from 3 Nations Brewing in Carrollton—it's a savvy, well-rounded group.
All of the beer, wine, and cocktails made with them (there's no liquor here just yet) are the result of a collaborative effort, says Wootton, who relies on the passion and expertise of his staff. His confession: "I'm honestly not a huge beer drinker." —Rosin Saez
A Guide to North Texas' Finest Breweries
The Changing Face of Beer in Dallas
Hint: it doesn't have a beard!
"It's so important for people to see women who really know and love beer," says Molly Reynolds, co-founder and creative director of Celestial Beerworks, a craft brewery in Dallas whose staff is 40 percent women. A quick peek at Celestial's Instagram page reveals tasteful pinks, disco balls, a hand in a long satin evening glove pouring beer into a beaker. "I run our social media," Reynolds says. "I do the art in the taproom and on our cans. And I draw women in."
Though so many women in one taproom remains unusual in the male-dominated world of craft brewing, the demographics in the North Texas beer scene might be shifting. The women at the helm of some of the best breweries around the area—Reynolds at Celestial, Corrie Watson at Fort Brewery, Veronica Bradley at Vector, and Lindsay Sloan at On Rotation, to name a few—are changing the bearded-bro beerscape with their business brains, their eye for detail, and their refusal to affirm that this beloved beverage should be gendered.
The women foster inclusive environments. Fort Brewery, for example, has plenty of outdoor turf so kids can run around. At Vector, Bradley created a family-friendly space where people could grab a beer without leaving Lake Highlands. On Rotation has Nintendo, Connect 4, and kids' meals. Celestial even has programming for parents—recently an expert came in to give a talk about children's sleep patterns.
"There is some sexism in the beer world," Reynolds says. "Like, 'Oh, you're a girl, let us explain beer to you,' or, 'Oh, you're a girl, you'll probably like seltzer.' " But in general, these women are too busy to pay that kind of ignorance much mind. When I spoke with Bradley, she was about to fix a broken washing machine. ("I always have a screwdriver in my hand.") Sloan keeps 40 beers on tap and trains her bartenders to ask customers the right questions to match them with a flavor profile. Watson and her twin brother, also her Fort Brewery co-owner, recently launched an intiative to get money to a brewery in Ukraine that had to close operations to make Molotov cocktails instead of beer.
"DFW's beer scene is still relatively young," Reynolds says. "So the future is up to us. There will be a stronger voice for women. It's exciting to be part of it." —Diana Spechler
What's a Cicerone?
One Dallas beer expert spills the sudsy intel on the certified title.
As the wine director at Oak Lawn restaurant Homewood, Lauren Loiselle writes wine lists that brim with selections made with bio-dynamic, low-intervention methods, from savory skin-contact orange wines to effervescent pét-nats. As knowledgeable as Loiselle is about the bottles she pours, her first love was beer. She's a certified cicerone, or what some like to think of as a beer sommelier.
"It's not as glamorous as being a somm," Loiselle concedes. Still, it's a flex in the drinks world. She's one of about 30 certified cicerones in Dallas. Her journey started 12 years ago, first at Meddlesome Moth, the Design District restaurant where beer abounds, and then took her to San Francisco. There, Loiselle joined the team at renowned beer bar Monk's Kettle, a place where you can't throw a pint glass without hitting a cicerone. Now at Homewood, Loiselle treats wine with a similar unfussy attitude—still thoughtful, of course. "I just want you to have a good time. I don't want anybody to come in and feel like they're not cool enough to be there." Same with beer. She doesn't feel she needs to prove her serious chops by drinking the most bombastic styles. "I almost never drink beer anymore. And when I do, it's like a really basic lager or pilsner." Loiselle's beer of choice these days: a bottle of Modelo with lime. —R.S.
Not everything in the Dallas beer scene is getting bigger.
Some operations, such as Malai Kitchen, have found joy in being small. Here are the nano-breweries you need to be familiar with.
Wok-seared jasmine rice noodles buoyed by bird's- eye chiles and sweet Thai basil, lemongrass-fragrant steamed mussels in Thai coconut broth, 15-ingredient curries made from scratch—the heady spices of Southeast Asian food need beverages that can keep up with bombastic flavors. So Malai Kitchen entered the beer fray.
Owners (and couple) Yasmin and Braden (the chef) Wage started brewing beer for their Thai-Vietnamese restaurant in 2014. This was a time when Dallas' craft beer scene was still learning to walk and talk. (There were fewer than 100 independent breweries in all of Texas then.) So the Wages took it upon themselves to launch a nano-brewery inside the West Village location (since moved to its Southlake outpost). All the better to engineer beers perfectly paired with Asian cuisine.
Find six styles, including Bia Hoi, a clean and refreshing Vietnamese lager made with rice and pilsner malt that goes with just about anything, especially on a hot day. The Jungle IPA is a dry-hopped hazy with juicy, tropical flavors. Thai PA, Malai's house IPA, is perhaps the most culinary and ambitious of the set: lemongrass, ginger, galangal, kaffir lime, turmeric, coriander, and hops aplenty stand up to green curry or simply stand alone as a well-crafted beer. —R.S.
John Reardon's origin story as a local pioneer in the beer world began in 2011, when he founded Dallas' first craft brewery, Deep Ellum Brewery Co. After being ousted from the brewery he literally built in 2020 (he sold the majority of his company in 2018), Reardon's gone small—micro, rather. His latest endeavor, Lead Belly Beer Co., launched last year as a nod to the blues legend who played in Dallas clubs and on street corners. His first two beers are In the Pines IPA and Lead Belly Blonde Ale. Eventually he'll add in some barrel-​aged projects. He's in no rush to go big.
The Exposition Park taproom and growler filling station—ahem, the first freestanding bar focused on craft beers and growlers to-go in Dallas—is harboring a little-known secret. It's a nano-brewery specializing in hazy IPAs, fruited sours, and pastry stouts. So fill 'er up.
The Happy Hippie Brewing Co. intentionally began small to curate a particular aesthetic. "Groovy beer. Groovy time. Groovy vibe," says founder Michael Frederick. You don't have to be in its Richardson home base to sample its far-out brews. Strangeways (and others) have its Honey Magnolia Witbier on tap.
Piece of the Pie
How Vector Brewing stands out? Pizza and partnerships.
Good beer doesn't require good food, but it sure is nice when the two converge. Such cosmic alignment occurs at Vector Brewing, the Lake Highlands brewpub that recently turned two years old. Thankfully, both its beer offerings and dining menu belie its youth. It helps that Craig Bradley, who owns Vector with his wife, Veronica, got his start at Lakewood Brewing (which he helped open back in 2012). "We always wanted it to be a brewpub that lives and dies by their food," Bradley says.
It's not really groundbreaking to serve pizza in a taproom, but at Vector, sourdough is made with superfine Italian 00 Caputo flour and a touch of spent brewing grain. It's made in-house daily, hand stretched to 14-ish inches, and then crowned with scratch red sauce.
Vector's scratch-made ethos doesn't stop at what it throws into the stone deck oven. From the fermentation tanks come "weird but cool" beers based on tried-and-true styles, Bradley says. There are mainstays regulars love, such as Mountain Child pilsner, Bullpen light lager, and Moonsmoke smoked lager. The latter is based on a centuries-old German lictenhainer.
"We like to make those kinds of beers that people are like, I've never had a beer like that!" says Bradley, "and we're like, I know!" An oak-aged kvass made with sourdough pizza and a mess of berries? Sure, why not. Vector head brewer Tomás "Tommy" Gutierrez is the type to go out into the woods and forage wild oyster mushrooms for a saison. That's just plain old having fun with beer. And they host pop-ups by the likes of Smittox Brewing.
"We got into beer to make the best beer that we can and to challenge ourselves to always get better," says Bradley. It helps to make weird, cool stuff. —R.S.
Twenty minutes south of Dallas in Cedar Hill, Ash & Ember Brewing is a quintessential community-driven brewery. With the recent partnership with Mija Barbecue, the experience has been elevated, the smoky caramelized meats combining with caramelized malts in beer to create an ideal match. The barbecue is Tex-Mex forward, so you'll find street tacos with juicy barbacoa or sloppy birria style tacos that you dip in their flavorful birria sauce. You can also order brisket by the slice or sausage by the link. (Don't skimp on either.) Pair with any of Ash & Ember's many styles of beer on tap, and you're in for a treat deep in the heart of Cedar Hill.
"I started brewing, I'm thinking it was 2013. That first batch you're super nervous. It was a terrible beer with too much bitter and hops. But that taught me to slow down, relax. Once you start getting comfortable and you start knowing how the malts work, how the yeast works, how the hops work, it just becomes like second nature. I want to make all styles well. But if I had to be known for something, you know, it's probably the porters, the stouts, the kettle sours. I don't want to be known as the Black brewery, I want to be known as a person of color who bridges that gap and makes people feel comfortable. There's room for everybody." —Kuumba "Smitty" Smith, Smittox Brewing
Get the SideDish Newsletter
Dallas' hottest dining news, recipes, and reviews served up fresh to your inbox each week.
Authors
Zac, senior editor of D Magazine, has written about the explosion in West, Texas; legendary country singer Charley Pride; Tony…
Mike Piellucci is D Magazine's sports editor. He is a former staffer at The Athletic and VICE, and his freelance…
Rosin Saez is the online dining editor for D Magazine's food blog SideDish. She hails from Seattle, Washington, where she…