Kuumba Smith thinks he got into the brewing game a little later than he should have. When he brewed his first batch of beer in 2013, he was 35 years old. He watched his friends brew a few times and wondered if he could do it, too.
Smith, who goes by Smitty, picked up enough ingredients from Richardson's Homebrew Headquarters to make about two-and-a-half gallons of porter. He didn't follow the instructions. Smitty dumped an entire 1 oz. bag of hops—for a porter, that typically would brew five gallons—into the water and learned that they "separate very, very quickly."
"As soon as you put them in hot water, it starts to draw out that bitterness," he says.
Smitty called up a friend who said he should try to bottle it anyway, so he did. He brewed another batch and corrected his error. He waited a few weeks before cracking open a bottle from the first batch. It was terrible.
That second batch, though, wasn't bad. This could work, he thought.
Since that tragic first brew in 2013, he's spent time learning the ropes of the business and the beers at breweries across Dallas-Fort Worth. He's proving that it's never too late to start brewing beer or perfecting the craft, even if he wishes he'd have started sooner: his brewery, Smittox Brewing, is on track to be one of the first Black-owned breweries in North Texas. (Neutral Ground Brewing Company in Fort Worth opened in 2021 and has 50 percent Black ownership.)
Smitty has been around for a few years, and you may have had one of his brews before. He started Smittox Brewing in 2018, the name being a combination of "Smitty" and "Big Ox," a nickname one of his friends gave him. That same year, he brewed his first collaboration at Martin House Brewing Company in Fort Worth after winning the brewery's Riverside Shootout Homebrew Competition.
The beer was an imperial breakfast porter called the Short Order Porter, which was infused with coffee, maple syrup, cacao nibs, and hazelnut. One beer critic's review said the porter was "overflowing with the best flavors of breakfast, it's ridiculous."
He's since brewed nearly 20 collaborations, including an oat lager called Oatloads of Fun at White Rock Brewing Co.; a fruited kettle sour called the Destructive Criticisms at Vector Brewing; and a chocolate, cinnamon, and coconut stout called the Cambio at Odd Muse Brewing Company. Right now, you can try the Rooftop Pillager, a Moroccan-style spiced coffee stout, at Siren Rock Brewing. Vector Brewing is currently pouring his Roast Negligence, a dark lager with coffee.
Smitty's preference is stouts, porters, and darker beers, but he's not opposed to a lighter brew if that's what the people want, he says. After years of collaborations, Smitty realized most Smittox fans wanted him to start his own brewery, and he's making it happen with support from other brewers and critics, too.
Smitty spent a lot of time learning how to brew beer and run a business, which he says was by design. After seeing how some small businesses were run into the ground by the pandemic, he felt that if he was going to start a brewery—as a Black man in an industry dominated by White men—he needed to do it right the first time. But even when he was in the early stages of brewing, he got some flack for putting a graphic of his face on a beer can.
"As a Black man, I've got it harder, it's just facts," he says. "People of color, they've been in beer for a long time. They just haven't had the means to make the money off of it."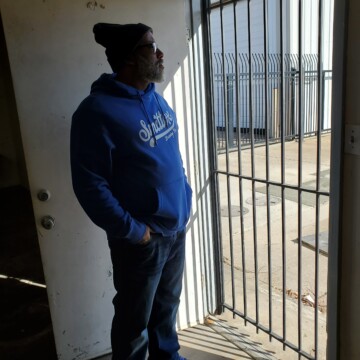 Smitty attempted to fundraise for the brewery through Kickstarter in 2020. It was unsuccessful, but he's since been able to apply for loans and sell some Smittox merchandise and memberships through his website. His support system, comprised of his family—most notably his wife—and other brewers, has kept him going, too.
Smitty found a property close to the Dallas Zoo, and he plans to open the brewery by this summer, permits willing. 930 E. Clarendon Dr. is adjacent to the forthcoming Southern Gateway Park over Interstate 35E and situated along the DART rail line. One day, when it's up and running, he wants to invite some animals over on the weekends and host a petting zoo. In the meantime, getting to Smittox will be a bit of a commute for him; he's an Allen resident but wasn't able to find a place in Collin County. He says it'll be worth the drive.
"We're trying to create an environment for the people of Oak Cliff and Dallas-Fort Worth," he says. "A lot of the breweries that I've been to around here, most of them have welcomed me with open arms, and now I want to do the exact same thing."
You can follow his brewery updates and buy merch or memberships on his website.
Get the SideDish Newsletter
Dallas' hottest dining news, recipes, and reviews served up fresh to your inbox each week.
Author
Nataly Keomoungkhoun joined D Magazine as the online dining editor in 2022. She previously worked at the Dallas Morning News,…