Before I get to the holiday part (scroll down if that's what you're after), I'd like to explain how my obsession with Bullion To Go started. It began with my wedding anniversary, back in October, that I basically forgot about until the day before because, you know, COVID. We always celebrated our anniversary at Bullion, with gin and tonics at the bar followed by gougères au gruyère, some sort of handmade pasta covered in a ridiculous excess of truffle shavings, and perhaps the côtes de boeuf for two (although it is hard to stay in a romantic mood when you are fighting over the last pomme frite).
I knew the dining room was closed, but I wasn't sure if they were still offering takeout, so I went to the website to check. And that's when I discovered the newly birthed Bullion To Go. I was able to order Bullion's house gin and tonic syrup, a four-pack of sparkling wine, a cheese and charcuterie board, and a beef tenderloin dinner for two (with demi jus, brussels sprouts, garlic roasted potatoes, and olive-studded Parker House rolls). Had I been so inclined, I could have opted for Russian Osetra caviar (to recall our pre-wedding night at the Russian Samovar in New York) or a cream puff kit (as an homage to our Valentine's Day trip to Paris a decade earlier).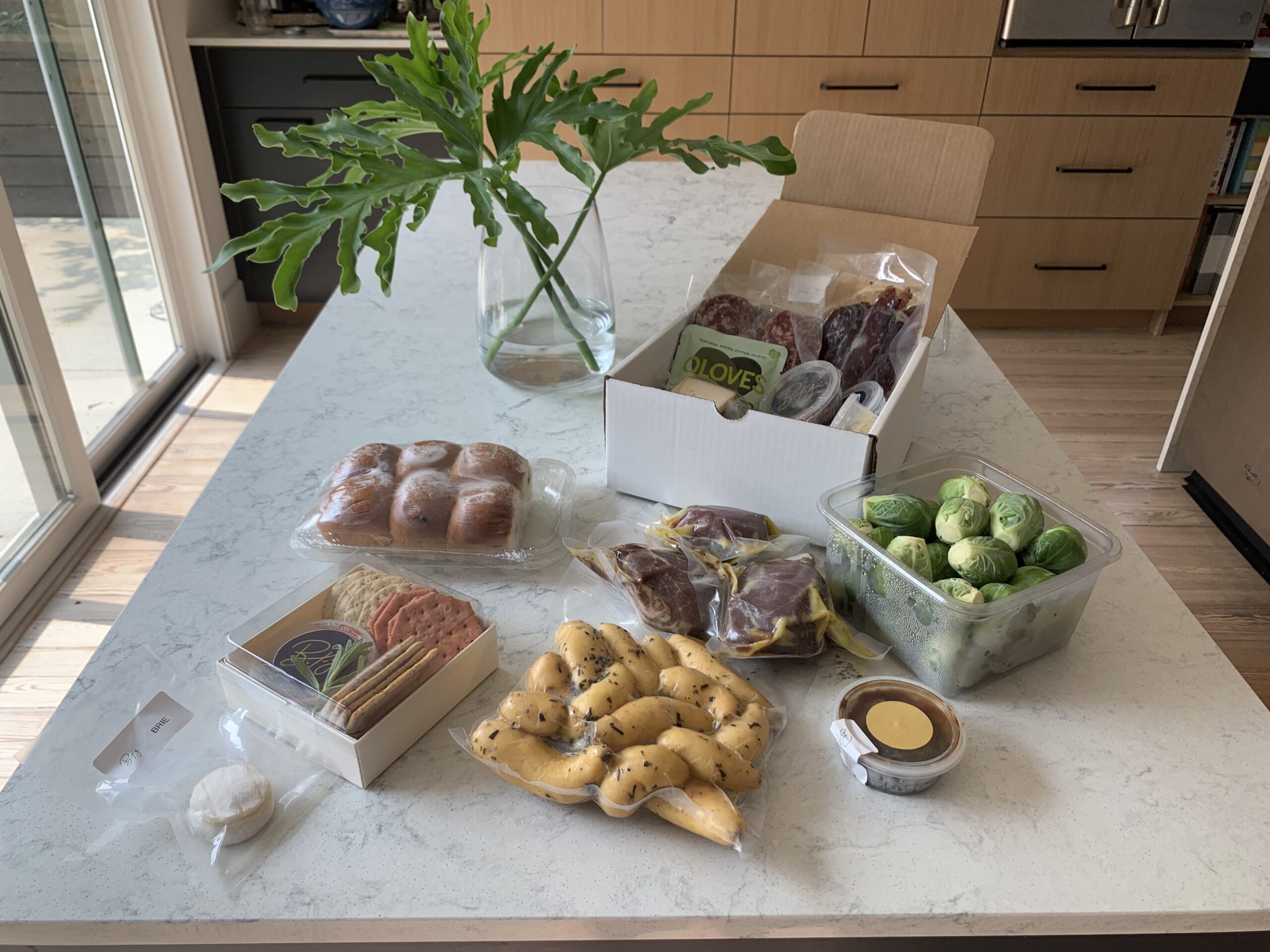 Later, I ordered all of my picnic fixings for a socially distant trip with another couple to The Art of the Pumpkin at the Dallas Arboretum (the charcuterie board again, plus freshly baked pitas and hummus, grapes, and a four-pack of frozen Harvey Wallbangers to keep it all cold). Then, because I realized you can get so many fresh ingredients and it is all gorgeously packaged in reusable insulated thermal bags, I decided to place another order when I rented a house in Colorado for a week with my sister and her family.
This time I chose a red and white wine selection, fresh macaroni creste di gallo and marinara sauce for the kiddos, a wagyu burger kit, smoked beef kielbasa, corn, green beans, blueberries, grapefruits, and a quiche for breakfast. I pulled up to the curb at my scheduled time, they loaded up my trunk, and I had nothing else to do but drive the 10 hours to Westcliffe. I could have added a Made In cookware frying pan, sanitizer spray, a contactless thermometer, and an N95 respirator mask if I wanted to. During our visit, we never needed to eat out or waste time in the grocery store (except to get our fishing licenses), and we ate like kings. It's no dining hack. By design, Bullion was gearing up to deliver such a luxe-on-the-go experience.
Jason Cotton, Labora Group's vice president of hospitality, oversees all of the Hartland-Mackie family's hospitality endeavors, which include everything from the family's residences and private chefs to the building at 400 Record that houses Bullion. Even pre-COVID, Cotton says, his plan had been to build out Bullion with a grab-and-go kiosk. Once the restaurant had to shutter, he took that opportunity to fully develop and implement the Bullion To Go concept.
"Whether it's delivering the gin and tonic syrup—the syrup itself we make in-house, which is an eight-day process—or our stocks and demi-glaces, and leveraging our relationships with the various purveyors that we use, we wanted to be able to offer that as sort of a gourmet grocery store," he says. "But once we get Bullion back up, the goal would be to take our seasonal menus and basically develop meal kits where you could cook the same exact dishes at home. Some of those items obviously need specialized equipment that most people don't have at their home, so we would do that here at the restaurant. But we could essentially provide a recipe card with step-by-step instructions and do virtual demos so folks could make the same dishes that we currently have on the menu at home."
He's currently looking at various properties in Dallas and as far north as Richardson and Plano to serve as a Bullion To Go storefront. "One of the challenges that we had before, when the restaurant was open, was the limited space to be able to create those meal kits," Cotton says. "With production for lunch and dinner service, it just wasn't feasible from a refrigeration and prep space perspective. So now that we've got BTG up and running, I think our next goal is to get it out of this location, so that then we can really start to do training and bring back on a team."
As for why the Bullion To Go menu includes N95 masks, Cotton says it was to fill a need his own staff couldn't get met elsewhere. "It's the same reason that we started to do COVID testing," he says. "After coming out of the quarantine shelter in place that all of us were in in March and April, not being able to find N95 masks, or the proper PPE such as basic hand sanitizer, was a real challenge. And every time I went to go get a COVID test, or tried to find a source for me and the team so we could come back into the building to work, we kept getting rejected and turned away. None of us had symptoms. And so, really, it became more of a personal mission just to sort of serve the community, to provide those options to them. I secured N95 masks and 200 proof ethanol alcohol, which is a kosher, food safe alcohol that you can spray directly on your hands. It's far healthier than breathing isopropyl alcohol. So just like with our ingredients, whether it be produce or our duck, we're sourcing the best of the best."
The 12 Days of Bullion
Mon, Dec 7–Sat, Dec 12 and Mon, Dec 14–Sat, Dec 19
The special menu items are available for two weeks, per the dates above. In addition to gingerbread kits ($25 each, with a portion of proceeds going to Children's Medical Center Dallas) and a holiday cocktail box (featuring house-made eggnog, Irish coffee, Paloma, and hot buttered rum cocktails), you'll be able to add a BTG-administered COVID test or any of the following to your order.
A Partridge in a Pear Tree: spiced white pear sangria, buy one, get one free.
Two Turtle Doves: four dark chocolate and hazelnut truffles and a Paloma cocktail, $6.
Three French Hens: buy one, get one poussin free.
Four Calling Birds: 50 percent off all poultry.
Five Golden Rings:  "golden" caviar with blinis, potato chips, and creme fraiche, $65.
Six Geese a Laying: free dozen eggs with every order.
Seven Swans a Swimming:  seven swan profiteroles, $7
Eight Maids a Milking: house-made eggnog cocktail, buy one, get one free.
Nine Ladies Dancing:  lemon drop and cosmo cocktails, $3.
Ten Lords a Leaping: leaping holiday shortbread cookies, 10 for $3.
Eleven Pipers Piping: penicillin cocktail, $3.
Twelve Drummers Drumming: free pound of chicken drumsticks with every order.
Get the SideDish Newsletter
Dallas' hottest dining news, recipes, and reviews served up fresh to your inbox each week.