Thunderbird Station's pointed roof seems to thrust itself into the sky like the winged mascot that stands guard above. The neon-lit bird perches on the apex like a hood ornament, which is fitting for this historic service station turned bar on the corner of Commerce and Exposition at the edge of Deep Ellum. After a year in the making, Kim Finch has opened her third bar, Thunderbird Station.
It's Finch's second bar in Deep Ellum (it sits across the street from The Double Wide), and while it's the newest watering hole to grace the bar-packed neighborhood, Thunderbird Station is also steeped in history. Originally built in 1922, the building was home to Maynard Riegel's service shop for 62 years until 2002 (most recently it was Bowls and Tacos). Finch fondly remembers "Old Man Maynard" with cars parked out front.
"I've loved this building for as long as I've been over at Double Wide," Finch says. "For the 17 years I've been over there, I drooled over it for forever."
There's been change afoot in Deep Ellum for years. From tech types flocking to office space to the new high-rise mixed-use apartment buildings, recent interest and development make for a rapidly evolving neighborhood. But Deep Ellum's grit and history is a big part of its charm and the reason why Finch didn't want to mess with her new bar's old space.
"I love old things, whether it's mid-century or this. I just hate to see things like that go away, like I wanted to preserve this building. I didn't want it to be knocked down. And I didn't want to come in and change it to where you couldn't tell what it was before," she says.
Her love of funky old buildings means she worked the old bones and kept the facade mostly as is. There wasn't a detail too small that wasn't worth keeping if Finch could help it, even down to the patina of the brick. "It just felt right to do," she says.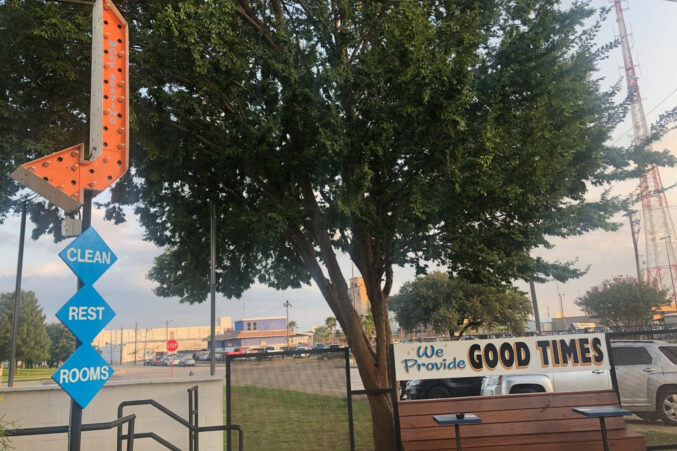 This bar has a full kitchen, a first for Finch, but she's enlisted the help of Jeana Johnson to craft a menu that feels like a walk down memory lane. Together Finch and Johnson, who you'll remember from Good 2 Go Taco near White Rock, laughed their way through building a fun menu. "How did your mom make you this or that?" they'd quiz each other.
So you'll find sloppy joes, frito pie, and bologna sandwiches at Thunderbird. Finch recognizes that this isn't some high-brow display of food, "but if you make them with a little bit of love or some memories," she says, "they turn out so much better."
"My grandma was the big cook in the family," she says. Big pots of chili. Big pots of beans. The tuna salad sandwich that Finch remembers eating in the summertime out by the pool. Comfort food always leads back to our earliest memories. 
Nodding to the building's gas station past, Finch had old-fashioned sodas—root beer or strawberry soda or cream soda—incorporated into cocktails. There's nary a bit of nostalgia unexplored here.
"I always remembered growing up and seeing old men put peanuts in their Coke—I feel like a mechanic would do that," Finch says, and thus the RattleTrap, a peanut butter whiskey drink, was born. It's eyebrow-raising, to be sure, but it somehow works. Much of the drink menu works that kind of magic. The Lemon Cream Pie will have you convinced that some sort of alchemy turned a baked good into a boozy good. (Me? I'm partial to the White Walls cocktail: blanco tequila, cucumber, cream of coconut, and lime.)
So here we are. Day 200-something into the pandemic.
Back in June, in that small window when bars were allowed to reopen, Finch brought back her Single Wide and Double Wide bars. They were only open for a week until Texas shut down bars for a second time. "I was really worried that this was going to happen here [at Thunderbird], that we're going to do all this, we're going to over-staff and then nobody's going to come out."
Luckily, what we seem to seek out most these days is comfort. With Thunderbird Station, that's exactly what Finch is offering to us barflies that swarm on the huge, 5,400-square-foot patio. There are only so many warm evenings left. 
Get the SideDish Newsletter
Dallas' hottest dining news, recipes, and reviews served up fresh to your inbox each week.