Head to the Dallas Farmers Market on a weekend, and you'll find that Angela Faughtenberry of 413 Farm in Oklahoma is the only farmer who's selling her pastured, organic, non-GMO-raised meat directly to you: handing you a grilled cheddar-jalapeño bratwurst or smoked pulled pork sandwich. Plying you with four-packs of maple-blueberry links to take home for breakfast tomorrow, and savory German sausages to throw on the grill tonight.
The young farmer, in her thirties, born and raised in Arlington, began her farming life at age ten, when her aunt and uncle in Decatur bought her first mobile-range chicken coop. (She was a chicken-raiser in Decatur during the summers, then returned to school in the fall.) Later, Faughtenberry attended El Centro College for culinary school.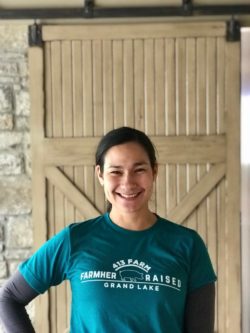 "I had this love of both farm and food all my life. It's merged together later in life," she says.
She and her husband looked for land near a city where he could continue his job. "Land opened up in Tulsa," she says. And four years ago, they established 413 Farm, with meat (rather than egg-laying) chickens, pigs, and cows. "I kept having this drive to keep feeding people," she says, imagining herself as a one-stop shop for chefs, with thoughtfully raised eggs, chicken, pork, and beef. The Tulsa chef community embraced her, and chefs asked for various breeds. She's raising Mangalista for one, slower-growing, but considered the Wagyu of pork.
Dallas, though, was where the farmers market community was, far larger and more vibrant than in Tulsa, and so every weekend since April, Faughtenberry has arrived and started grilling.
Buyers wouldn't go over $10 for a four-pack to take home. "But they'll buy it for $9 hot and ready for one link." They crave the convenience of a farm product, served to them: "If you just spend the time to cook it and make it for someone," she says. A Millenial generation desiring farm-fresh, organic, pasture-raised meat 'is stretching us,'" she says.
She's gone through various ways of cooking the sausages: holding them warm in a bit of beer, but making sure that when they hit the grill, there's that crisp snap and bite. It's been trial and error.
On the farm, the free-range hogs follow their feeder, rotating through forested areas and pasture. "They turn over the grass, and that helps brings new growth. It's almost like they're aerators, because they're rooting around [with] their little noses," Faughtenberry says. 413 Farm is 40 acres: "We graze them across almost every bit of it," (save the pasture with chickens, turkeys, and a horse). Faughenberry takes the hogs to the USDA-inspected butcher five miles away, who makes the sausage.
Her dream: she would love to open a beef barbecue joint. "That way," she says, "we can move the whole animal." She's looked at one place around Dallas. "I'm on the look-out," she says.
Meanwhile, she's our only female hog-raising bratwurst-maker, selling upwards of 100 grilled links per weekend. This is grilling season. It's a match made in heaven.
Get the SideDish Newsletter
Dallas' hottest dining news, recipes, and reviews served up fresh to your inbox each week.