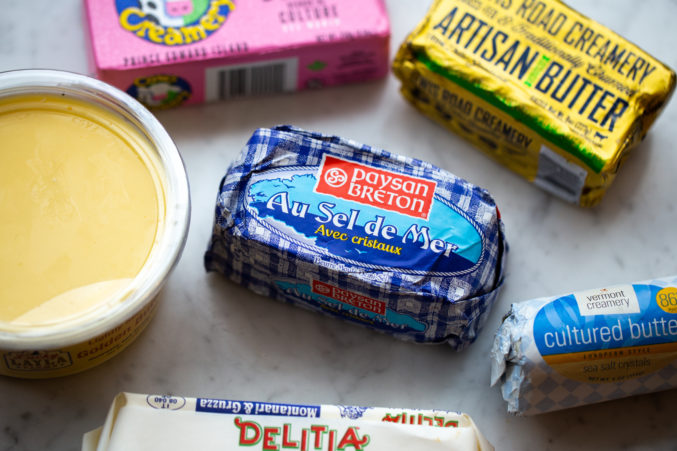 Taste Test: Cultured Butter
Which fancy butter is the best according to the D Magazine staff?
We gathered some of the fanciest butter we could find for our pre-holiday Taste Test. In light of the festivities to come, we wanted to know which creamy shmears would make a stellar appearance to slather on crumpets on Boxing Day morning. Which we might bake into delicately flavored sablé butter cookies. Which would be great spread on rolls, whether crescent or pull-apart?
All are artisanal and cultured, with the tang that comes from slightly soured cream. They come from Europe, New Zealand, Canada, and the United States. And you can get them all at Central Market.
The rules: Taste-testers were encouraged to taste the butter plain. Sourdough bread and crumpets were on hand, if they absolutely had to have it on a slice. Which are creamy? Which have a rich and nutty flavor? We took into consideration appearance, flavor, texture. Here's what people thought.
The butter contestants:
From Prince Edward Island, Canada, cultured butter with sea salt
From Italy, made with milk collected from farms in the Parma and Reggio Emilia regions
From New Zealand, grass-fed and traditionally churned cultured butter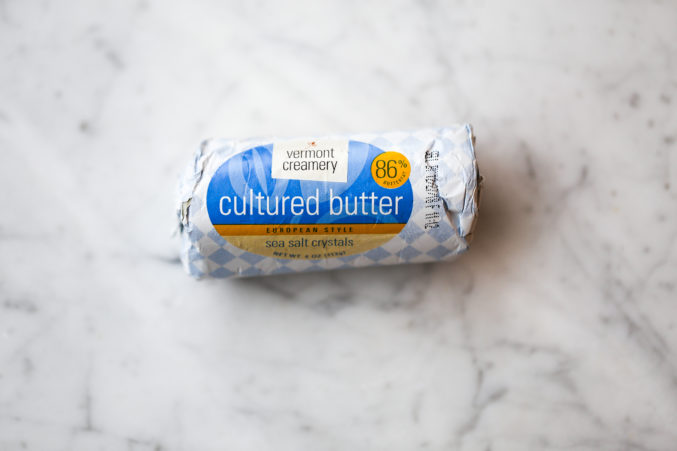 D. Vermont Creamery
From Vermont, U.S.A., European-style cultured butter with sea salt crystals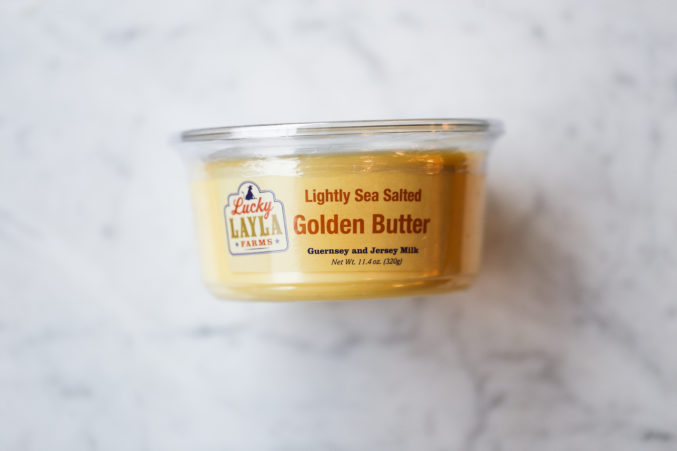 E. Lucky Layla (the local option)
From Garland, TX, lightly sea-salted cultured butter from Guernsey and Jersey milk
From France, cultured butter with Breton sea salt
The tasting notes:
A.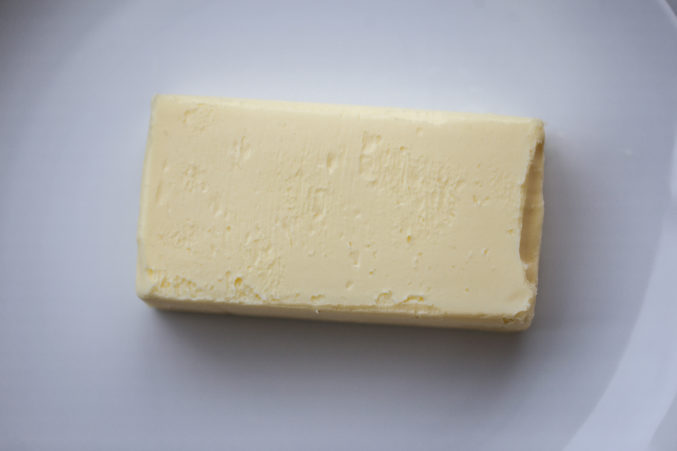 "Strong, savory kind of funky taste."
"This cow definitely grew up listening to Parliament. I bet her first album was Mothership Connection. This butter is funky."
"Surprisingly flavorful. Kind of cheesy? Maybe … too cheesy? IDK if I like."
"Creamy and not too sweet or salty. Good flavor."
"Corn-like aftertaste."
"Rich, salty, a bit oily, full-bodied flavor—probably European?"
"Salty and funky! Almost like if movie theater butter were good. This is the flavor that fake butter oil is going after."
"Started out tasting like birthday cake, then suddenly morphed into a strange, unpleasant flavor reminiscent of rancid olive oil. A weird rollercoaster. Never again."
"Huh. Very nutty, kind of like olive oil. I'm not horrified, but I can't say that I enjoy it."
"Almost nutty/savory. More of an oil-based texture. Wasn't the most spreadable."
"Super-funk. Not a fan. It's like seaweed."
B.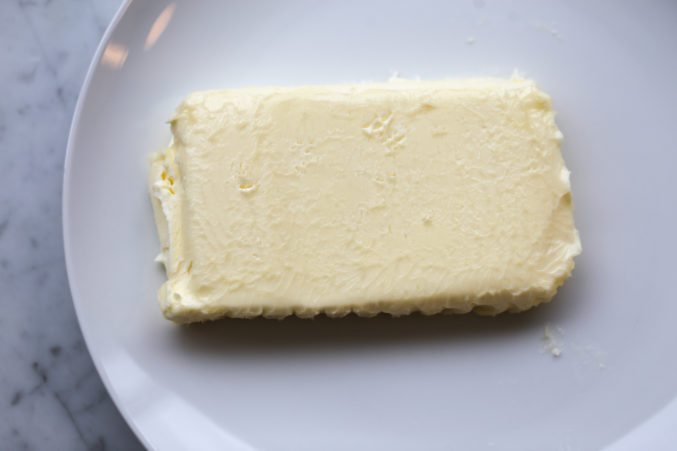 "More mild."
"This cow grew up listening to its sibling cow's T-Connection records through the barn wall. It's funky but not in-your-face. Kind of a muted, non-committal funk."
"Tastes like butter. Meh."
"Not much flavor at all, but very creamy. Nice texture."
"Light, a bit sweet."
"More unusual, tangy, reminiscent of goat? Light texture."
"Creamy and rich. This is decadent, and a nice palate cleanser from the last one. Is there such a thing as a dessert butter?"
"Flavor is as light as the color. What is the point of butter if it simply tastes like Crisco? Which is to say, like nothing at all?"
"Not much flavor to it. Just kind of moistens the bread."
"Kind of overpowering. Didn't complement the bread. Slight olive taste."
"Ew. Yucky, sour flavor. Light, whipped texture but greasy at the same time. Reminds me of shortening."
C.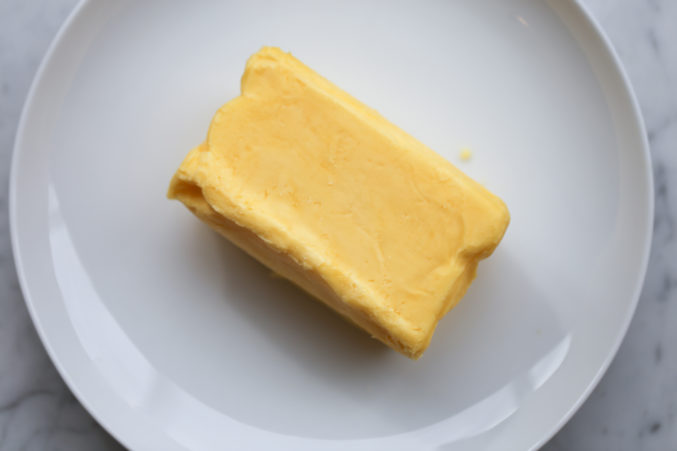 "Tastes like a buttered biscuit."
"This cow owns every Al Green album ever manufactured. I want to play 'Let's Stay Together' on repeat for 7 hours straight while I slather this rich and creamy delicacy all over my bare skin."
"Very flavorful. Wanted to like because of the color."
"Same as above. [Not much flavor at all, but very creamy. Nice texture.]"
"Saltier, more like traditional butter."
"Homey, clean flavor, classic butter taste."
"This is the yellowest of the bunch, and closer so far to Land O' Lakes and the like. It's nice with bread, but it ain't interesting."
"Tastes and looks the most like traditional butter. A real kid-pleaser."
"Mmmmm. Has the most salt, so far, and therefore my favorite."
"This one tastes fresh/homemade. Very rich."
"Deep, amazing golden-yellow color, like a newborn chick. Flavor is light. It would bake well."
D.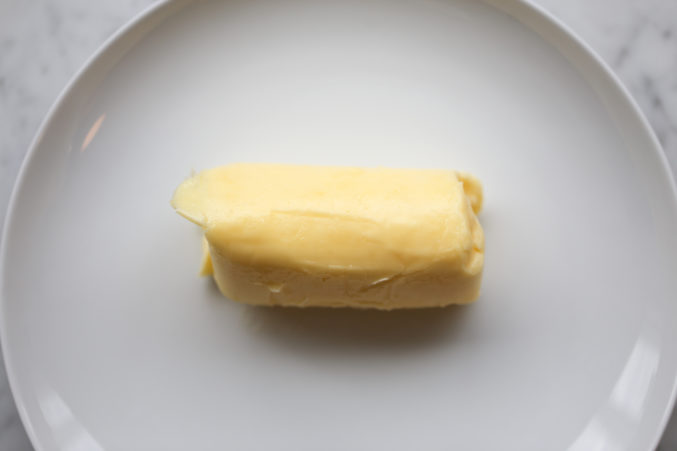 "Would be amazing on buttered toast rosemary sourdough."
"Chicago rapper Chief Keef wrote his 2013 hit 'Salty' about this cow. He bought her a million-dollar house but she only wanna top him cause her cow boyfriend is out of town or something. This is getting weird. He didn't write this song about a cow. But this butter is salty."
"Very soft, also flavorful. Salty, but not too salty. Tasted great on bread."
"Very salty, but good flavor. Cow after-taste!"
"Even more salty."
"So good! Rich but silky, salty, yum. Could eat on bread all day."
"This is so salty and creamy. I would spread this over anything."
"This one is smooth and creamy with a fair bit of added (sea?) salt, making it good for bread. But on review, a tad too salty, like my best friend's grandpa after his third whiskey."
"Oh wait. Maybe that was my favorite. Also salty."
"Really, really salty. I like it a lot because I like salt, but I wasn't expecting it."
"A nice little tang, savory, almost tastes like cheese. Super salty."
E.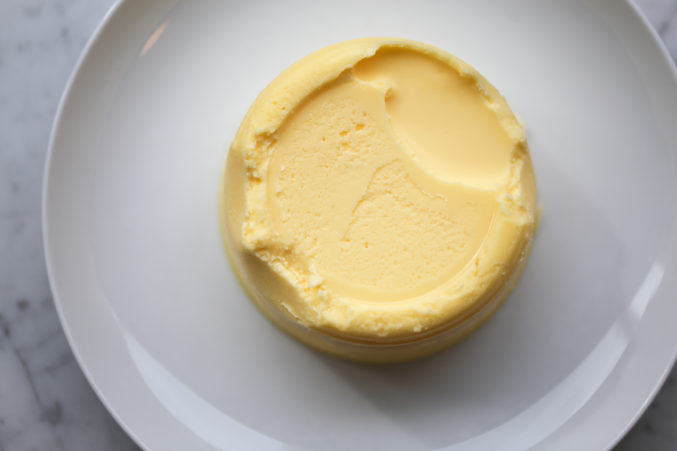 "Most mild. Not that strong of a flavor."
"This cow is a big fan of Neutral Milk Hotel's 1998 release In the Aeroplane Over the Sea. Her butter is dense and heavy but with an earthy, vaguely floral, overtone."
"Buttery—okay."
"Less salty than #4, but not very much flavor."
"Almost no flavor at all."
"Wholesome, creamy flavor, lower salt, sort of harder texture."
"This one's really light and subtle, but has a bold, rich aftertaste. Like a gift."
"This tastes like the butter I ate in Paris on radishes. Rich and thick, with enough flavor to stand alone. Delish."
"I'm running out of things to say about butter. Either it didn't have a lot of taste to it, or my taste buds are simply unrefined (probably the latter)."
"My favorite. Very subtle in a good way."
"So silky-smooth and rich. It's really like silk, and tender buttercup yellow. The rich, creamy flavor is outstanding."
F.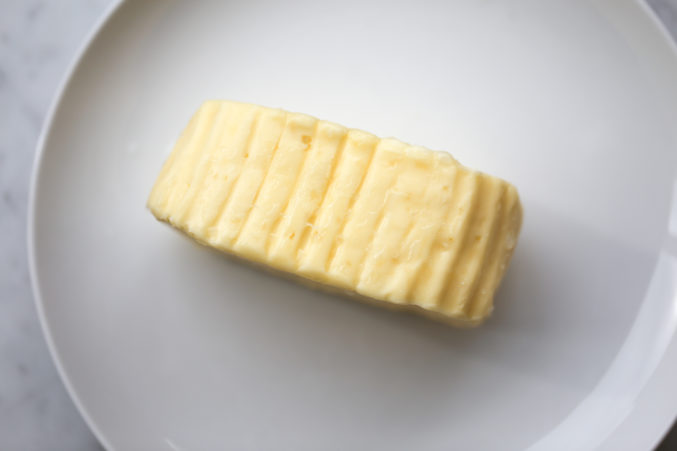 "Salty salty salty … in a good way."
"This cow started curating her record collection at a young age. Her tastes are wide ranging but she tends to gravitate toward modern, highly-produced pop music. Her butter is rich without being mucky, and it has the perfect amount of salt to cream ratio. This stuff has mass appeal."
"Tastes like general butter."
"Good flavor, not creamy."
"A good balance of salt and traditional butter taste."
"Savory, slight tang, salty, rich."
"This one's fine. Salt bomb. Nothing really to say."
"Less salty than 4, but with enough of a pop to make it sparkle. The perfect holiday bread spread."
"If I were going to buy a butter that the whole family would enjoy on their rolls this holiday, this would be it."
"Taste is a little too concentrated for me—almost a little bit of fake aftertaste."
"Super-nutty. I loved this. It tastes like it wants to be spread on bread. Super salty, with big salt crystals—that crunch."
The votes:
A. 1
B. none
C. 1
D. 6
E. 1
F. 3
With six votes, the winner is Vermont Creamery, from one of our country's first artisan creameries (they also make creme fraiche, mascarpone, and goat cheese that's outstanding—just saying). People also seemed to enjoy our local Guernsey and Jersey butter from Lucky Layla. And, of course (says the French person), the French butter with sea salt harvested off the coast of Brittany.