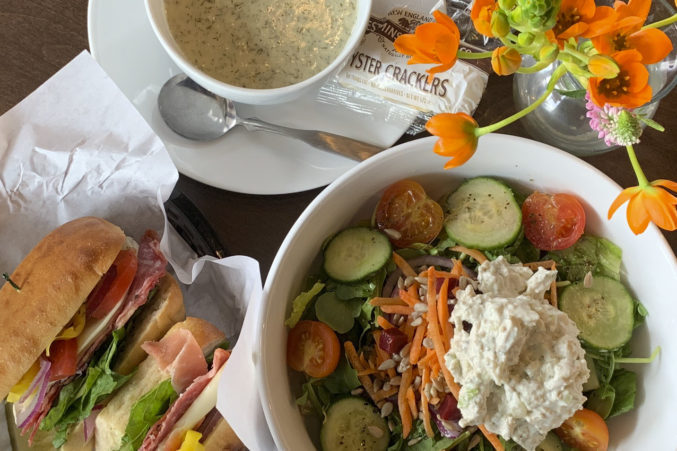 Shayna's Place, Now Open in Sylvan 30, Has Feel-Good Food and a Story to Match
All you need is love. And a sandwich.
By Steven Lindsey
Published in Food & Drink
November 16, 2018
10:50 am
"All you need is love—and a sandwich," this is the message written on a chalkboard sign out front of Shayna's Place at Sylvan 30 in West Dallas. Not only does it give a pretty spot-on preview of the restaurant's concept, but it's also a pretty darn good motto to live by.
When Lou Olero, a homebuilder by trade and occasional restaurant investor, decided to open a new concept, he turned to his uncle Matt's successful family business in Rhode Island because of its great story and product. "Shayna's my first cousin, Matt's daughter," he says. "She has Down syndrome and he started the first location in Rhode Island as a place for her to hang out. And it really caught on. They're doing huge numbers and people love them."
Though neither location operates completely with a staff of special needs employees, providing those opportunities is a vital part of their history and mission. Best of all, they can adapt the training and working environment to best suit a variety of special needs, from vision and hearing impairment to autism and Down syndrome.
In addition to being a major foodie and cookbook collector, Olerio says his 21-year-old cousin is a bit of a music savant. She DJs often and has even curated each of the restaurant's playlists. Soon, Olero will incorporate this passion of Shayna's to his location as a way to connect with the community.
"We're going to have a portable DJ booth where other kids can come in and DJ. It'll be really fun," he says. Other ideas he's floating around include merchandise and select days where proceeds benefit non-profits that focus on people with special needs.
Yet no matter how touching a story may be—or idealistic a concept—if the food doesn't have the same high standards, success can be a challenge. Fortunately, everything sampled on a recent visit warranted enthusiastic thumbs up by everyone at the table and, more importantly, a desire to return for more.
The counter-service restaurant focuses heavily on sandwiches for breakfast and lunch with salads and soups filling in the gaps. A dedicated dinner menu highlighted by charcuterie and flatbreads is in the works and expected to roll out by the end of the month. Date night here can be super affordable, too, thanks to a BYOB policy for beer and wine.
Their Italian-style sandwich, Vinny's Kitchen, won the distinction of "Best Grinder" in Rhode Island by USA Today, so that was the first must-order. After devouring every bite, the accolades are worthy. The sandwich gathers imported prosciutto di parma, salami, capicola, sharp provolone, tomato, red onion, hot peppers, romaine and Shayna's dressing (a blend of white vinegar, olive oil, and a blend of spices) and puts it all between ciabatta.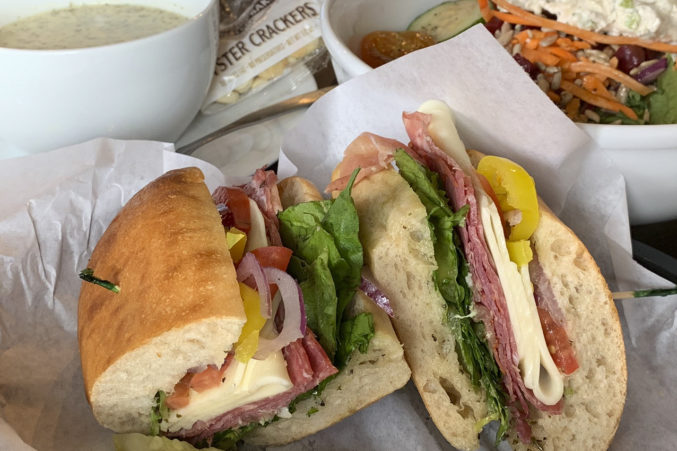 Sandwiches all ring up around $10, give or take, but any can be ordered as a half and paired with the homemade tomato basil or signature clam chowder for a budget-friendly $9.95. The clam chowder has a lighter touch than most potato-soupy versions, thanks to generous amounts of fresh dill and plenty of clam chunks in favor of spuds.
Salads offer beautiful displays of colors, shapes, and textures, as well as the option to be topped with tarragon or curried chicken salad, tuna salad, grilled chicken or avocado. The large portions make them ideal as stand-alone meals or to share with the table.
Hyper-local touches can be found throughout Shayna's Place, too, whether it's coffee from Oak Cliff Coffee Roasters for their espresso drinks and nitro cold brew on tap, sodas from Oak Cliff Beverages, and pies from Emporium Pies. Cookies and muffins are baked in-house and raw juices are pressed to order.
"I felt like there was a gap in the market down here for good sandwiches and I wanted to find a good place for a neighborhood concept where people can come in the morning for coffee, come back for a sandwich at lunch and feel comfortable bringing their family," Olerio says.