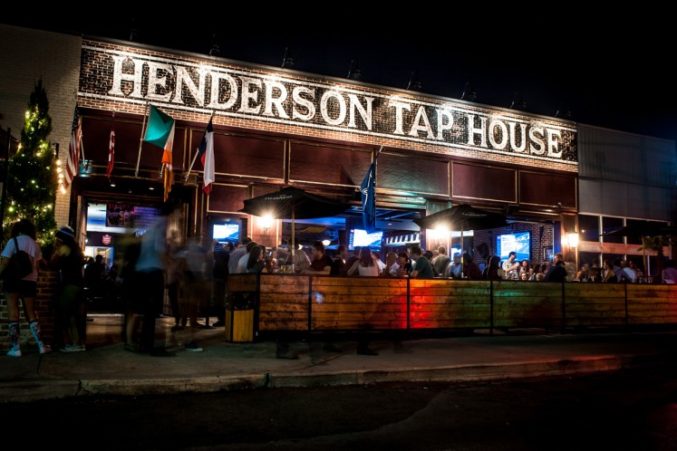 Bits & Bites: Things to Do and Chew in Dallas This Weekend
Your guide to the city's best dining events.
By Ginni Beam
Published in Food & Drink
March 3, 2017
11:00 am
Photo by Bret Redman
Sweet or savory, classy or casual—there's something for every food lover this weekend, from a Shakespeare Dallas pub crawl and a Vietnamese pop-up to a charity crawfish boil at Lakewood Brewing Co. and the can't-miss North Texas Irish Festival.
Friday, March 3
Decanting France – Exploring French Wine & Chocolate
Treat yourself or someone special to a Paris-inspired evening at specialty winery The Art of Wine. From 7-9 p.m., you'll have the opportunity to try five French wines paired with chocolate. Find something you love? Bottles will be available for purchase. Tickets are $25; buy here.
Saturday, March 4
Sandwich Hag Pop Up at Full City Rooster
Sandwich Hag is selling their authentic Vietnamese cuisine, all made with love from scratch, at Full City Rooster. The pop up is scheduled from 11 a.m. to 2 p.m. or until they sell out. Choose from Banh Mi sandwiches (with Vietnamese pork sausage, lemongrass pork, ginger chicken, or ginger tofu) and Vietnamese chicken curry with French baguettes.
Don your best gowns and doublets for Shakespeare Dallas' annual pub crawl. A wristband grants you access to drink specials at Twilite Lounge, Armoury D.E., High and Tight Barbershop, and Uncle Uber's Sammich Shop (where you can try your hand at Shakespeare Trivia) from 2:30-6:30 p.m. Tickets are $10 for non-members and can be purchased here.
Rain or shine, we're flaunting our Texas Pride at downtown Carrollton's annual celebration of all things Lone Star. Drop in any time between 3-9 p.m. for live music (Texas country, of course), more than 10 local craft beers for sale and sample, and wine from a local vineyard. Don't forget to snap a selfie with a longhorn steer before you go.
Sunday, March 5
LUCK at Trinity Groves has hit on a winning combination—beer and baking. For $18, participants will get beers from four North Texas craft breweries (Legal Draft Beer Co., Revolver Brewing, Rabbit Hole Brewing, and Texas Ale Project) and four uniquely flavored donuts (cinnamon peach cake, key lime, chocolate coconutty, and toasted marshmallow). Only the 11 a.m. time slot is still available, so grab your ticket quickly.
Bugs & Brews Charity Crawfish Boil
The Guns & Hoses Foundation of North Texas is cooking good grub for a good cause at Lakewood Brewing Company. Between 1-5 p.m., enjoy live music in the beer garden and snag all-you-can-eat crawfish for $25 or a hamburger, hot dog, or bratwurst with a bag of chips for $10. Both come with one draft beer of your choice. All funds raised will help pay for a Lakewood Brewing Company employee's cancer treatment.
Various Dates
3-Year Anniversary Henderson Tap House
Henderson Tap House is pulling out all the stops for their two-day anniversary bash. Friday night's planned festivities include a VIP Happy Hour with a free appetizer buffet from 6 to 8 p.m., a live DJ at 10 p.m., discounted drinks, cigar rolling, and a $3,000 balloon drop at midnight. Come back at 8 p.m. Saturday for Charley Crockett. Admission is free, but space is limited. RSVP to be added to the VIP list or email for more information or to reserve a table.
There's plenty to see and do at the weekend-long North Texas Irish Festival at Fair Park. The largest of its kind in the southwest, the festival features Deloreans, chalk artists, horse and sheep herding demonstrations, free music workshops, and live concerts. For foodies, though, the main attraction will be the culinary showcase in the Women's Museum, where top Dallas chefs and local food vendors will offer delicious samples. Wash it down with whiskey, beer, Irish ales and ciders, and more from the Durty Nelly's bar.
Make and devour a mouth-watering three-course meal at a three-hour class from Cookery Dallas. Choose delicious Japanese fare at 6:30 p.m. Friday, savory brunch staples at noon Saturday, or a Spanish spread at 5 p.m. Sunday. Cost is $95 per class; purchase tickets or see menus here.
Ginni Beam is a DMagazine.com intern.