This beautiful, temperamental variety produces some of the most beloved wines in the world. If you are a Pinot Noir lover, then you likely have your favorites. I certainly do. But, I continue to be surprised by the quality of wines from various regions and specific vineyards within them. Here are a few stellar Pinot Noir wines to enjoy this summer. (A few selections were sent for editorial consideration, and the tasting with Patz & Hall was gratis.)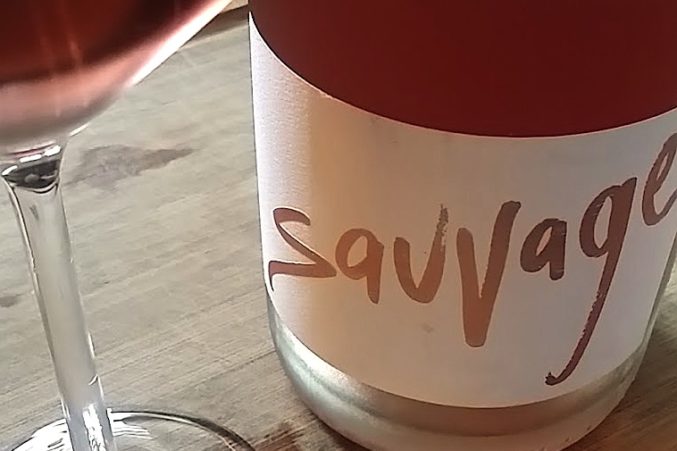 Pinot Noir is the ideal base for a bubbly, with the new zero dosage, traditional method sparkler from Gruet in New Mexico proving that even in nontraditional places great wine can be made. Specializing in Chardonnay and Pinot Noir, the sparkling wine house has been able to grow stellar fruit for their sparkling wines in the normally quite hot state thanks to the high elevations of their vineyards, and the strong shift in temperatures from hot days to very cool nights. Their new line of sparklers, Sauvage, was created to showcase a bone dry style, highlighting the freshness and acidity of the fruit, along with great texture and length thanks to 2 years of aging on the lees (yeasts.) Gruet Sauvage Rose is 100% Pinot Noir filled with juicy strawberry, raspberry and orange blossom. Lively, fresh and inviting, $20, available via the winery.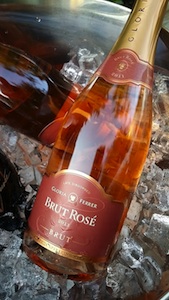 Gloria Ferrer has also established themselves as one of the leading sparkling winemakers in California, showcasing classic varieties planted in cool, Carneros soils. Their 2007  late disgorged Gloria Ferrer Royal Cuvee Brut is only 67% Pinot Noir, with the remaining blend Chardonnay, but the wine is filled with classic flavors of Champagne, rounded out by the 7 years of sur-lie aging before disgorgement, creating a textured, creamy wine with black cherry, red apple, brioche and Asian spice notes. $26, available at Goody-Goody stores. Their Gloria Ferrer Brut Rose of 90% Pinot Noir/10% Chardonnay from sustainably grown fruit in their estate vineyards. Fresh, vibrant and juicy with red berry, cherry and red grapefruit notes. $50, via their website.
I recently had a chance to taste with Patz & Hall Winery Winemaker and Co-founder James Hall, just hours before announcing very big news that the winery was acquired by Ste. Michelle Wines Estates, proving just how far this special winery has come in 30 years as they were often just steps away from bankruptcy in the early years.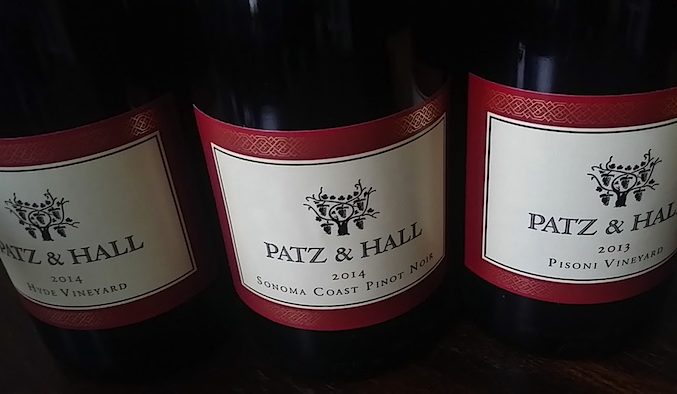 Started by Donald Patz, Heather Patz, Anne Moses and James Hall in 1988, after Donald Patz & James Hall had worked together at Flora Springs in Napa. With similar winemaking philosophies, mutual love of Pinot Noir and Chardonnay, and a desire to highlight special, single vineyards drove them to start their Sonoma winery working with some of the finest growers in Northern California, and then taking their highly regarded wine out to the people. Donald Patz, as Founder and National Sales Manager, has spent the last almost 30 years showcasing the quality, consistency and approachability of their premium and simply delicious wines.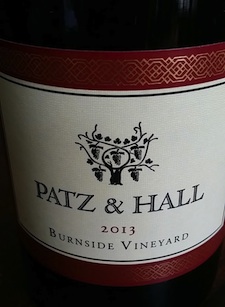 The entire team has spent the last 30 years fostering relationships with their vineyard owners, working closely with growers like Larry Hyde of Hyde Vineyards in Carneros, producing concentrated, elegant and finessed Hyde Vineyard Pinot Noir ($70) from the Hyde-Calera clone from vineyard blocks farmed specifically for Patz & Hall. Their Burnside Vineyard Pinot Noir ($75) is in Sonoma County near Petaluma Gap, known for growing stellar Pinot thanks to the cooling temperatures and constant breezes off the coast. Owned by the Martinelli family, with grape growing California roots dating back to 1887, the wine is layered with dried and stewed berry notes, dark chocolate and toffee. Also dating back to the 1800's, Chenoweth Ranch was a former family apple orchard in Russian River that in 2000 was planted to Pinot Noir by Charlie Chenoweth, son of now owner, Bud Chenoweth. From a warmer part of the Russian River Valley, their Chenoweth Ranch Pinot Noir ($60) fruit gets very ripe, filling the wine with juicy red berry, cherry and cola notes layered with a touch of earthy woody herb notes. A side note, I spoke with a few friends from Ste. Michelle Wine Estates and my understanding is the plan now is to keep the winery team in place, similar to the approach they have taken with other winery acquisitions they have made, like Spring Valley Vineyards in Walla Walla. Patz & Hall wines are carried locally by Sigel's or are available via their website.
Russian River Valley truly is one of the most ideal place to grow both Chardonnay and Pinot Noir. In addition to the stellar vineyards Patz & Hall works with, wineries like Rochioli, Gary Farrell, Vision Cellars and MacRostie produce some of my favorite Pinot Noir wines from the region. MacRostie Russian River Pinot Noir showcases juicy ripe fruit, soft herbal notes and a touch of creamy mocha on the finish. $42, available via their website.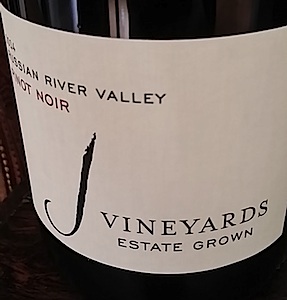 For the past 30 years J Vineyards has crafted not only stellar sparklers in Sonoma County, but also lovely still wines from Pinot Noir and Chardonnay fruit grown within the region. Their J Vineyards Russian River Pinot Noir is filled with ripe red cherry, red berry and spice with a touch of spice and herbaceaous notes on the finish. $35, available at Total Wine & More stores.
Wind Racer Pinot Noir, from the Spire Collection a part of Jackson Family Wines with co-proprietors Barbara Banke and Peggy Furth focuses on each's favorite maritime appellations Anderson Valley and Russian River Valley. Their Wind Racer Russian River Pinot Noir is a bolder expression than some I have tried from the region. Layers of black fruit, chocolate, black licorice and spice fill the palate of this textured, concentrated wine. $50, available via their website.
August Sebastiani started his Gehricke Winery out of a love of the Sonoma region he grew up in, the undiscovered roads that led to old vineyards he played in as a child. Small production, special wines that tell the story of the land. His Gehricke Russian River Pinot Noir is filled with red fruit notes, pomegranate, rhubarb and strawberry with freshness, elegance and balance. $45, available via wine.com or their website.
Seeing the potential in an undeveloped region can be rather daunting, but for David Adelsheim it was his main driver. In 1971 David & Ginny Adelsheim purchased 19 acres of land, filled with wild flowers, in what is now known as the Chehalem Mountain AVA. Over the last 40+ years Adelsheim, along with Winemaker David Paige, who joined in 2001 after the two quickly learned they shared a mutual belief that restrained winemaking methods create much more interesting, complex wines, and Vineyard Manager, Chad Vargas, who joined in 2006, has become one of the most respected and honored winemakers in Willamette Valley, putting not only the winery, but also the Chehalem Mountain AVA on the respected wine region map. David Adelsheim can be thanked quite literally for this, as he led the efforts beginning in 2003 to establish the Chehalem Mountains as an AVA within Willamette, which became official in 2006.
Today the winery manages 183 acres of LIVE Certified Sustainable vineyards in the AVA, and they have just introduced a new wine to celebrate this, as well as all of their achievements within Willamette Valley. Their brand new wine, Adelsheim Breaking Ground Chehalem Mountain Pinot Noir, from dry farmed vineyards planted in volcanic basalt, marine sedimentary & windblown loess soils, is earthy and bold, highlighting the concentration of fruit grown in the area. Blackberries, wild raspberry, black licorice, toasted spice and wild flower fill the wine, that is subtle, smooth and simply delicious, exactly what I would anticipate from all Adelsheim wines. $45, the new wine is just not becoming available in Dallas so keep an eye out, it is available via their website now.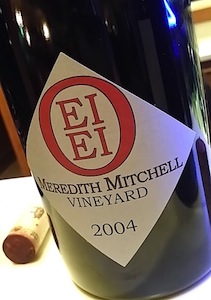 For anyone who doesn't believe New World Pinot Noir can age well, I say grab a few bottles of gorgeous EIEIO Pinot Noir from Willamette Valley open one now, open one in 5 years and then another in 10 (making sure you care for it well, i.e. don't "age" it on top of your refrigerator, find a nice dark, cool spot in your home or cellar.) I recently tried a 2004 EIEIO Meredith Mitchell Vineyard Pinot Noir from Winemaker & Owner, Jay McDonald from fruit grown just outside of McMinnville. Now managed by another favorite, Winderlea, but planted over 25 years ago by owners Susan Meredith and her husband Frank Mitchell. Known for producing very textured, concentrated and well structured wines, now at 12 years after the harvest of this vintage the wine was simply sublime, filled with dried black fruit, truffle and woody herbal notes. There are several older vintage offerings on Jay's website, along with a handful of special library wines available, inquire with him directly.
The Dundee Hills, with their volcanic, red, iron rich Jory soils is the ideal place for Pinot Noir. Farming sustainably, allowing the true flavors of the soils to come through, Stoller Family Vineyard, with the delicate touch of Winemaker Melissa Burr, crafts exceptional, elegant layered wines with character from their estate vineyards. Stoller Estate Reserve Pinot Noir is filled with wild rose, lilac and herb aromas leading into raspberry, wild strawberry and herbal flavors with a touch of sweet spice on the finish. $45, via their website. Their Stoller Estate Pinot Noir is available at Total Wine & More for $25.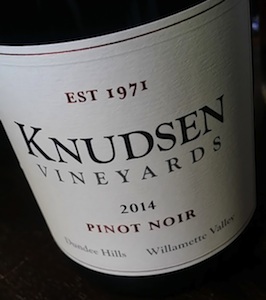 Also from the Dundee Hills, Knudsen was established in 1971, one of the oldest in Willamette producing Chardonnay, Pinot Noir and Pinot Meunier (with the blend of all three going into their stellar sparkling wine.) Their Knudsen Vineyards Pinot Noir is crafted from 4 blocks of vines ranging in age from 12-22 years old, creating a concentrated, fresh and inviting wine with ripe berry, earthy minerality and spice notes. $55, available via their website.
Undeveloped areas could be the motto for Anderson Valley in far Northern California as much of the rural region is uncultivated. However, for winemaker Michael Fay with Goldeneye this is why he loves not only Pinot Noir wine, but the ability to make it, because Pinot Noir is truly a variety that fully expresses the terroir it is grown in. Goldeneye Gowan Creek Pinot Noir is the most consistent from the area, outside of their Goldeneye Anderson Valley Pinot Noir ($55), that is a mix of fruit from their 4 estate vineyards in the area. Gowan Creek Pinot Noir ($82,) though, is known for the ripeness and juiciness of the wine produced from the vineyard. Blackberry, black plum, ripe cherry with lilac and lavendar notes melding with the fruit, available at Total Wine & More stores. Conversely, their Goldeneye The Narrows Vineyard Pinot Noir is from one of the coolest parts of the region, so fruit often has difficulty getting fully ripe, and when it does the yields are very low. But also very concentrated, making the wine very rustic, intense and earthy, and completely individual. $82, via their website.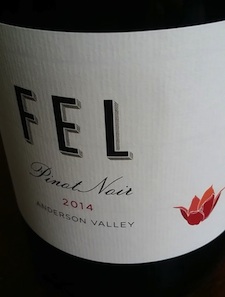 FEL Anderson Valley Pinot Noir melds ripe red fruit, rose and lilac and spice notes together for a harmonious, textured wine that is perfect now, especially paired with mushroom risotto to enhance a touch of truffle and earthiness in the wine, but will also age well for the next 5 – 10 years. $40, available at wine.com.
Twomey Anderson Valley Pinot Noir, from their sustainably farmed Monument Tree estate vineyard, is filled with similar ripe fruit notes to the Goldeneye Gowan Creek, however there is an additional layer of toasted spice, chocolate and dried flower notes. Lush, lingering and savory with just a touch of earthiness expected from this part of Mendocino County. $45, via their website.
The California Coastal regions from Santa Barbara to Sonoma are ideal for growing great Pinot Noir. From Santa Maria and the Santa Rita Hills to Santa Lucia Highlands, Pinot can thrive thanks to cool coastal breezes from the Pacific, fog filled mornings and nights and varying elevations and evening temperature drops to keep acidity high, even during hot summers when days are very hot, but nights are cool. Presqu'ile Winery recently began releasing a special Pinot Noir from Steiner Creek Vineyard in San Luis Obispo County. The close proximity to the Ocean, along with sand and cobble stone filled soils create a mineral, earth and ripe fruit filled with with a slight saltiness mingling with floral and spice notes. $48, via their website.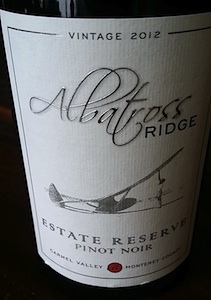 Albatros Ridge grows their aromatic Pinot Noir for their Albatros Ridge Estate Reserve Pinot Noir from vineyards sitting at 1250 feet above sea level in Carmel Valley, Monterey County. From select barrels, each chosen based on their superior quality in a blind tasting, the small production wine balanced acidity and freshness with ripe red fruit and subtle earthiness. $55, via their website.
Easily one of the finest examples of stellar cool climate, Central Coast Pinot Noir comes from Sea Smoke. Beloved by many, their wines are consistently elegant, refined and precise, with texture and definite character. Sea Smoke "Ten" Pinot Noir is crafted from the 10 different French clones of the variety the winery grows in their estate vineyard. Powerful and bold, the ripe black fruit filled wine is extremely expressive with a good mix of tannins and acidity, meaning this is a wine that will age beautifully. $82, available via allocation via their website.
Pali Wines has made a point of celebrating great regions, and delivering delicious, varietally correct wines that are also at great prices, with their regional Pinot Noir wines usually priced between $20-$30, incredible for the quality each and every bottle delivers. Their Pali Summit Pinot Noir from Sta. Rita Hills is filled with juicy blackberry, black cherry, Asian spice and toasted toffee. $29, available at Whole Foods stores, Spec's or via their website.
From Santa Rita Hills, Three Sticks Bien Nacido Vineyard Pinot Noir benefits from the cool, coastal influence in both the soils and the climate, as cooling fog settles into the vineyard each morning, swept away in the afternoon by cool Pacific breezes. The result, bright, fresh wine with wild flower and lavender, red berry and cherry. $60, via their website.
A new wine for the Moet-Hennessey portfolio is designed to showcase the cool climate and refined nature of Sonoma County Pinot Noir and Chardonnay. Smoke Tree Wines has just released their first vintages of both varieties, 2014, and both seem to have benefited from the great growing season California experienced in 2014. Their Pinot Noir is a blend for fruit from 40 different blocks in areas like the Petaluma Gap, Carneros and Russian River blended to allow the best of the fruit to shine through. $22, via wine.com.
Get the SideDish Newsletter
Dallas' hottest dining news, recipes, and reviews served up fresh to your inbox each week.