Postcard from Italy: Tuscany with Arcanum
Traveling through vineyards with Pierre Seillan and Jackson Family Wine.
Rolling hills of sun-soaked vines interspersed with fragrant honeysuckle, fig and citrus trees, surrounding grove after grove of olive trees. This is Chianti Classico, the celebrated region of Italy known for their mouthwatering Sangiovese wines and powerful Super Tuscan options.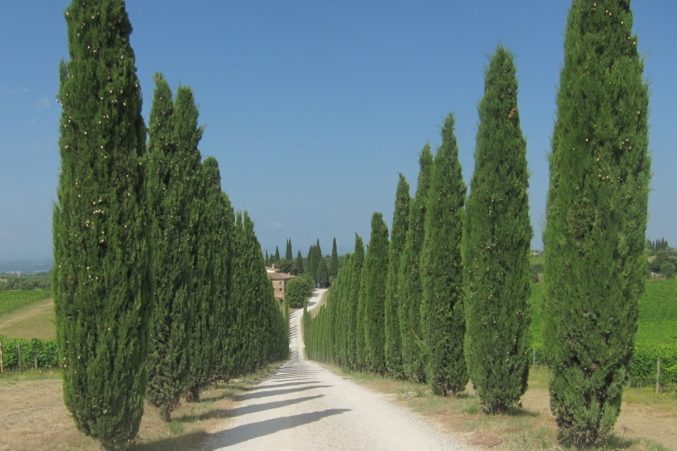 Walking along cypress tree lined paths flanked by vines, looking out over small red tiled roofed villages, you truly feel like you are inside the film "Under the Tuscan Sun.," however no film or camera can truly show the beauty of the picturesque region. I recently returned from a trip to Tuscany, traveling as a guest of Jackson Family Wines, specifically to visit their Tenuta di Arceno estate and vineyards outside of the ancient, walled village of San Gusmé, in the commune of Castelnuovo Berardenga.
Their vineyards produce Bordeaux variety based wines for Arcanum, Valadorna, and Il Fauno di Arcanum, as well as their flagship, single vineyard Strada Al Sasso Chianti Classico Riserva and Tenuta di Arceno Chianti Classico Riserva.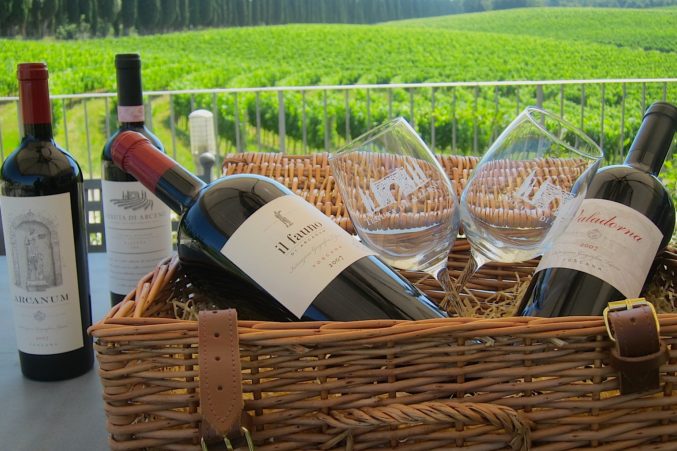 Not far from Siena, in the southeast corner of Chianti Classico, the 200+ acres of planted vineyards rise from 1000 feet to 1500 feet elevation, with 10 different mesoclimates and 12 different soil types. This combination allows celebrated, international winemaker, Pierre Seillan and on-site winemaker, Lawrence Cronin, the ability to produced authentic, expressive, powerful wines, melding with elegance, refinement and character.
Perhaps best known for his Sonoma wine, Verite, and St. Emillion, Bordeaux wine, Chateau Lassègue, Seillan is regarded as one of the most gifted winemakers in the world, filled with unwavering enthusiasm, authenticity and passion for his craft. Celebrating his 50th vintage this year, the charming Seillan has the energy and excitement of a child with a new toy, as every vintage of Arcanum and Valadorna, his two Right Bank, Bordeaux style wines, continue to exceed expectations.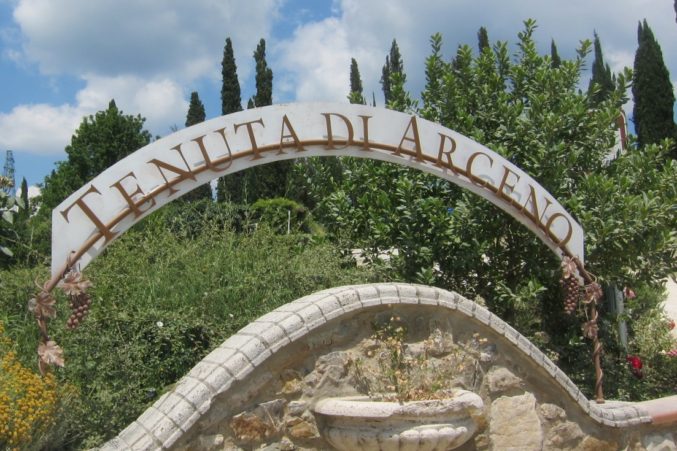 The 2,500 acre Tenuta di Arceno estate was purchased by the late Jess Jackson and his wife & partner, Barbara Banke, in 1994, with Seillan joining to start Arcanum in 2002. Today these young vines, as many were planted in the late 1990's and early 2000's, have begun to show the finesse and elegance Seillan strives for in all of his Merlot and beloved Cabernet Franc based wines.
However, though the varieties are international, the wines are very much Italian, as these terroir driven wines shine due to the diversity of the soils and the distinct climate they grow in. Vines for both of these wines, and their third more introductory wine, Il Fauno di Arcanum, average in age from 10-15 years with well draining soils filled with river rocks, basalt, sand, granite, schist, blue and red clay.
Block by block, the diversity of the estate allows each grape variety the ability to shine in the best soil for its type. This is why the wines of Tuscany are so unique and special, it is in this diversity that the beauty lies. The estate is broken up into 63 different blocks, each planted to the variety perfect for that terroir. Seillan calls it a vigneron style of making wine, as each wine is truly made in the vineyard.
When Seillan joined Jackson in the venture, the Cabernet Franc loving winemaker saw the potential of the estate for growing the variety. Born and raised in Armagnac, in the home of a cork maker who had family vines on his home estate, Seillan had always had a love of wine, first learning about Cabernet Franc at his home vineyard. His passion for Cabernet Franc came when he moved to Loire as winemaker for Château de Targé in the Saumur-Champigny AOC, learning the nuances of the cool climate on the grape and the influence of the Loire soils.
He later moved to Bordeaux as winemaker and technical director for seven different Chateau, spending over 20 years there. When he met Jackson the two formed a quick bond and friendship, believing in the same vision of crafting premium wines from international varieties, particularly Cabernet Franc, from hillside and mountain vineyards with varying soil types to highlight the true personality of the vineyard and character of the land. Seillan bases each wine produced on a philosophy to let the vineyard shine, creating wines without compromise.
He moved to Sonoma to start Verite in the mid-1990's, followed shortly thereafter with Arcanum in 2002 and Lassègue in 2003. Each wine displays the uniqueness of terroir, while reflecting an elegance and style Seillan brings to each wine.
With the help of New York raised, California trained winemaker, Lawrence Cronin, winemaker for Tenuta di Arceno, the duo are creating wines that continue to define quality in the region. Cronin arrived at the estate 16 years ago with Seillan, thinking he would stay a few months then move on to his next phase of his career. He had previously been Assistant Winemaker for Edmeades Winery in the Anderson Valley since 1995, and had worked in Sicily, New Zealand, Australia and Chile before that. Seillan asked him to stay on, overseeing the day to day operations of the winery along with vineyard manager, Michele Pezzicoli, and leading the production of the Chianti Classico Riserva wines.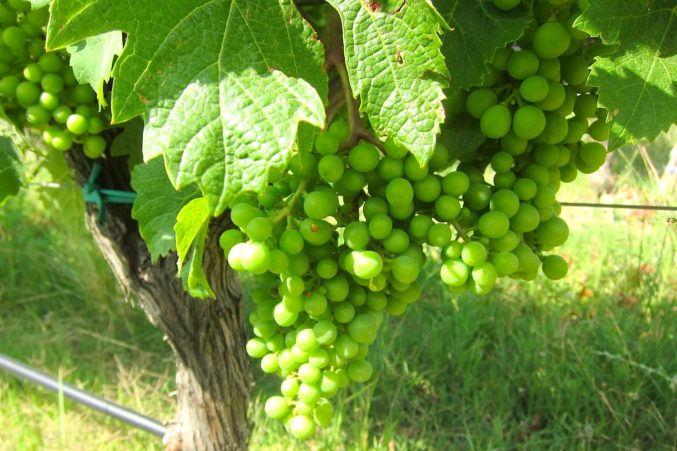 In speaking with Cronin he mentioned that he didn't know if the move would be permanent, but his Italian roots, with his family still owning an estate in Sicily, drove him to accept. And then, as every good story of love and passion goes, he met his now wife, who was visiting her mother in the village of San Gusmé. The two fell in love, and today have a young son and run a local B&B in Castelnuovo Berardenga.
And, now 16 years after his move to the region, he and Seillan have successfully elevated this historic estate into the premium tier of producers in Tuscany.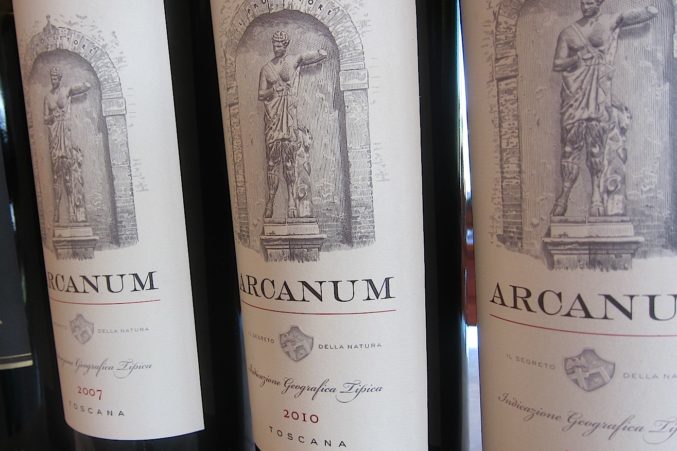 Arcanum is the premier wine of the estate, crafted from predominantly Cabernet Franc. Early ripening, ensuring the fruit, which grows at some of the highest elevations on the estate, reaches the desired level of ripeness, without green tannins from under-ripe fruit, before autumn rains and destructive hail set in, something the region is constantly fighting.
Instead, earthy notes of wild herb, ripe berry, violets and lilac fill the palate of the Arcanum wines. The wines are big, so will always benefit from a period of bottle aging, beyond the year or so the winery does before each vintage release. But, even upon their traditional release, they are complex, sophisticated, concentrated and elegant.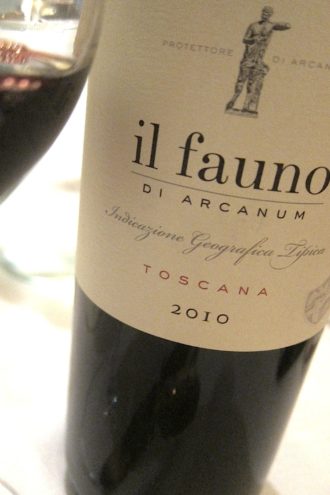 Il Fauno di Acanum is meant to be a lighter, more approachable wine, blending the international varieties from some of the youngest vines on the estate, to make an easy drinking, food friendly wine perfect for any time of year, or day.
Though Arcanum is the pinnacle of Seillan's vision for Tuscany, celebrating great Cabernet Franc, the Right Bank, Bordeaux lover also holds a special place in his heart for Merlot.
Especially when the variety is crafted with care, dedication and produces the highest quality wine. Yes, Merlot got a bad wrap in the past, thanks to over-production of the variety and films like "Sideways." However, when managed with care and a delicate touch the variety is easily one of the most luscious, delicious and refined in the world.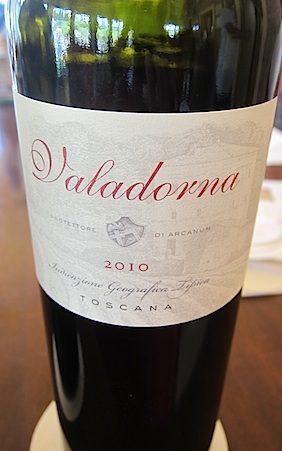 Merlot is often added to a blend to round out the palate and add finesse to a wine. However, when it is allowed to be a star, Merlot can often shine brighter, longer. Sometimes longer than many Cabernet Sauvignon counterparts. Where Cabernet Sauvignon leaps out of the gate running, with big fruit and big tannin, Merlot is softer, more subtle, more approachable upon release and will be very good for 3-5 years. But, it is also delicious 10-15 years later, as bottle age helps the wine exceed expectations, filling the palate with earthy espresso, mushroom and tobacco notes, layered with dark plum and cherry.
At this 10-15 year old stage, Merlot shines, as is evident in some older vintages of Seillan's Merlot based wine, Valadorna. And, the older Valadorna wines have been produced, at the time, with some of the youngest vines on the property. Just another element of why the estate is so exciting for Seillan, because as these vines continue to age and develop the resulting wines will become more concentrated, textured and refined.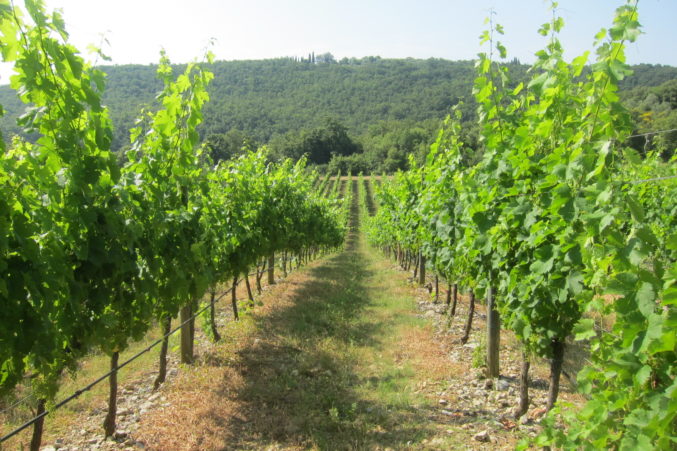 Merlot for Valadorna is grown in 3 vineyards on the estate, each protected from some of the hottest temperatures and sunlight of the warm Tuscan days, sitting at lower elevations in soils filled with clay to trap moisture, and each surrounded by forest land, adding an additional herbal and floral element to the wine. As with the Arcanum and Il Fauno di Arcanum, a small percentage of other varieties, like Cabernet Sauvignon, Cabernet Franc, Petit Verdot or Sangiovese are added in to the Valadorna wine to create a harmonious palate with expressive, balanced flavors. This may not always be the case though.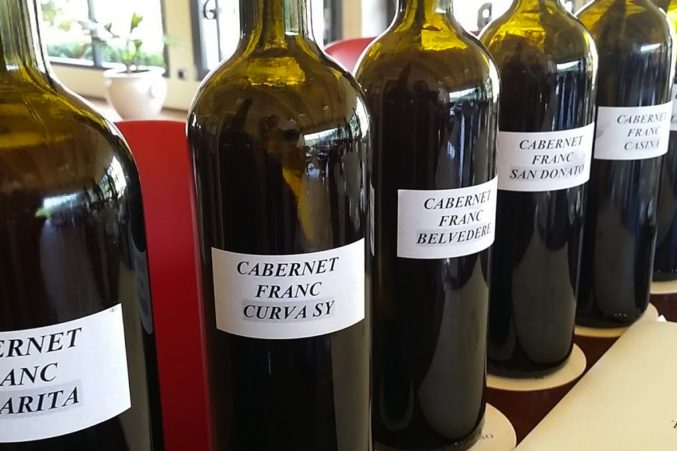 As vineyards develop, there may be a time that the Arcanum is 100% Cabernet Fran and the Valadorna becomes 100% Merlot. We tasted the current 2015 vintage of Cabernet Franc from 5 different vineyard blocks of fruit, varying in elevations, soils types, root stocks, clones and microclimates. Though an overall similarity consisted through each wine, the young fruit showed various layers of concentration, texture and flavor, that when blended together created a harmonious, although very young wine.
The earliest blends of Arcanum consisted of predominantly Cabernet Franc (as did Seillan's first, highly prized vintage of Verite in Sonoma.) The current release 2011 blends 77% Cabernet Franc with 14% Merlot, 7% Cabernet Sauvignon and 2% Petit Verdot to produce a wine with violet and wild rose notes, red cherry, berry and spice with a line of earthy graphite and pencil lead.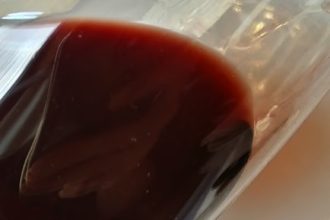 Tasting the first vintage, 2002, the wine from young vines still had great fruit and acidity, though moving more towards the dried cherry, stewed prune and toasted spice. These are definitely wines that will age beautifully.
There is a softness and delicate touch to these wines that shines, especially when tasting them side by side in comparison to some of the other noteworthy wines of the region. In comparison to the highly famed Sassicaia, a blend of predominantly Cabernet Sauvignon with just 15% Cabernet Franc with bracing, intense aromas of dusty tobacco, earthy forest floor, toasted oak and dominant smoke notes, the Arcanum is soft, lively and fresh, highlighting subtly and refinement.
The estate is located near the fork of two rivers: the Ambra, which flows to Florence, and the Ombrone, which flows to the Mediterranean. In honor of its history, the name Arceno comes from the Etruscan word Archè, meaning "point of origin." Wines have been made in this vineyard, rising between 1000-1750 feet above sea level, between Florence and Siena for nearly 3000 years.
Just two families had owned the land prior to Jackson Family's purchase in the 1990's. In 1504 the Del Taja family began purchasing the land, block by block, expanding the estate. In 1829 the Piccolominis family from Siena acquired the property, adding in various architectural and aesthetic elements that still stand today.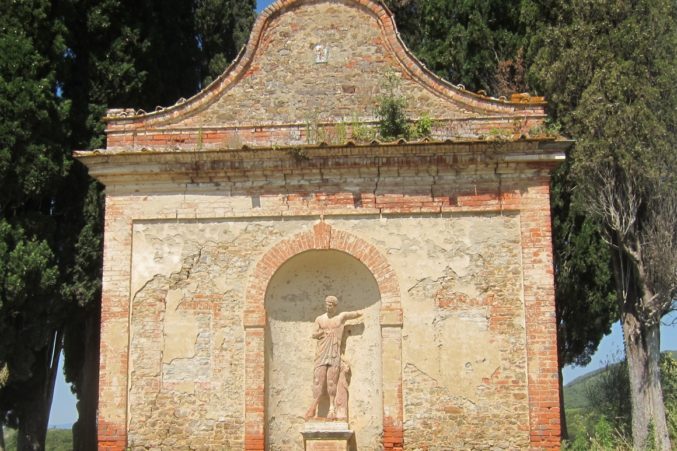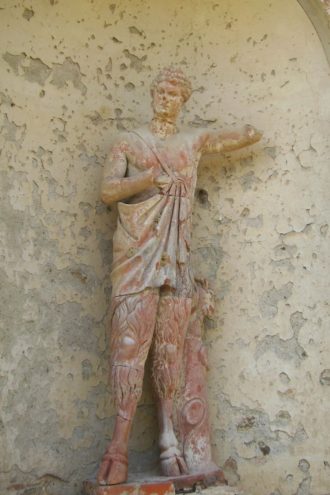 The inspiration for the Arcanum label, and that of Il Fauno came from an ancient statue located not far from San Gusme.  In Roman mythology Il Fauno is the Roman God of nature, the countryside and the woods, which this sprawling estate has in abundance. Il Fauno watches over the estate and acts as its protector.
The week of our visit a new piece of property had just been acquired, and the enthusiasm and anticipation was easy to see from all as the property vineyards sit at one of the highest elevations in the region, upwards of 2000 feet above sea level. Though the vineyard is in a bit of disarray now, once restored, these vines will be able to add a new character to the thoughtful story of these wines.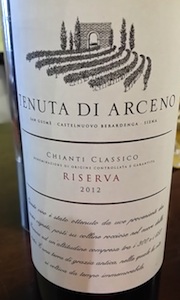 In addition to their Bordeaux varieties, the winery produces their Strada Al Sasso Chianti Classico Riserva single vineyard 100% Sangiovese and their Tenuta di Arceno Chianti Classico Riserva, which since Jackson Family purchased the property, has continued to gain recognition and respect.
Mouthwatering, juicy and luscious, these are wines that are meant to be enjoyed with food, highlighting simple ingredients that produce flavors that make this region so iconic, like simple platters of olives, artichokes, prosciutto & pecorino, or a Bistecca alla Fiorentina (steak Florentine,) Pici con Ragù di Cinghiale, the local, hand rolled, thick flour and water pasta layered with a ragu of wild boar (often caught from the vineyards that morning as the destructive boar have become a huge problem plaguing vintners by destroying their vines.)
The acidity and freshness of the wine cut through the richness of the simple grilled steak and hearty cinghiale creating a harmonious balance of flavor.
The dish and pairing that I am still dreaming about is the Strada Al Sasso Chianti Classico Riserva with Pici Cacio e Pepe, an incredibly simple, heavenly pile of fresh Pici pasta with pecorino cheese (a lot of pecorino cheese,) black pepper, salt and a little of the pasta water. Melding the creamy richness of the dish with the juicy, red cherry, candied raspberry, orange peel and spice filled wine with vibrant acidity and well integrated tannin couldn't have been more complete or more delicious.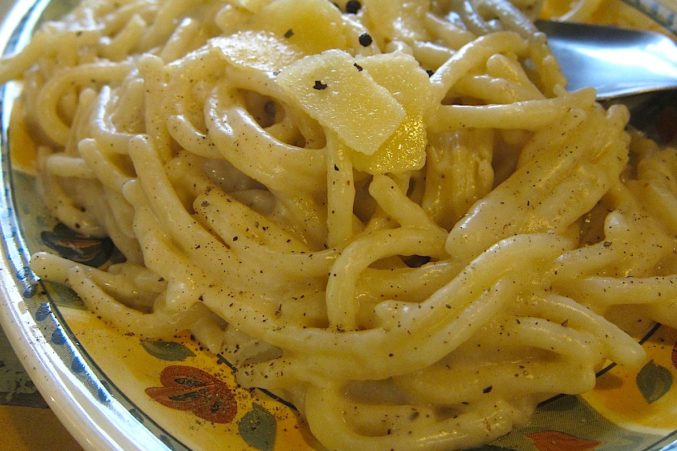 The belief that you should eat at the food of the region with the wines of the region couldn't have been more true. Enjoying them in the company of these passionate artisans, both from the winery and the kitchens is truly what the Tuscan lifestyle is all about, and why the region is so beloved by anyone who has the ability to experience it. It is obvious, after both seeing the pristine vineyards and enjoying a few days in and around San Gusmé, why Jackson Family chose this spot to create their signature Italian winery, and why Seillan joined them.
Beautiful vines are important, but so are beautiful people, and Tuscany delivers on both.
A gem in the hills of Villa a Sesta, Castelnuovo Berardenga, Siena is L'Assencio Ristorante where Chef/Owner Senio Venturi crafts local Italian (both Tuscan and Piemontese) into works of delicious art with his plates as a canvas and seasonal ingredients painting each picture. From a simple beef tartare, to rabbit and artichoke with braised escarole, to a heaven scented plate of spring beans, avocado, scamorza and poached egg slathered with shavings of black summer truffle, flake salt and very grassy, fresh olive oil from the olive trees at Tenuta di Arceno.
After working is kitchens throughout Northern Italy and Tuscany, Venturi and partner, Elisa Bianchini, opened L'Assencio in 2011. With a focus on seasonal ingredients and hospitality, melding delicious flavors and Italian affordability (with the 5 course tasting menu costing 50 Euro,) this newly Michelin Guide recommended restaurant is worth the trip to the countryside.
Arcanum ($100,) Valadorna ($80) and Il Fauno ($30) wines are available through the winery websites, including the new releases and a few older vintages, as well as by special order through Spec's locally.
If visiting Tuscany, the Tenuta di Arceno tasting room is open outside of San Gusmé by appointment throughout the week, nestled about 45 minutes from Florence and 25 minutes from Siena.