The holidays are the best time of the year, especially in Dallas. Temperatures are dropping, decorations are being hung, families are coming together, and celebration is in the air. For me, the wine poured at Thanksgiving dinner is often as important as the meal.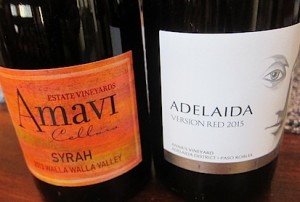 For your turkey focused feast there are lots of options that can pair nicely, from juicy, fruity Gamay (especially as the annual Beaujolais Nouveau has just been released and is widely available,) to Schiava and Lagrein from Alto Adige, Italy from producers like Abbizia di Novacella or Alois Lageder (available at Jimmy's,) to smoky, peppery Syrah, like one of the  stellar options from Washington State like from Amavi Cellars or a leather, spice and earth filled GSM like the Version Red Reserve from Adelaida Cellars in Paso Robles (available via their website,) or concentrated Old Vine Zinfandel, like one of the single vineyard options from Ravenswood or Sbragia, both available at Spec's.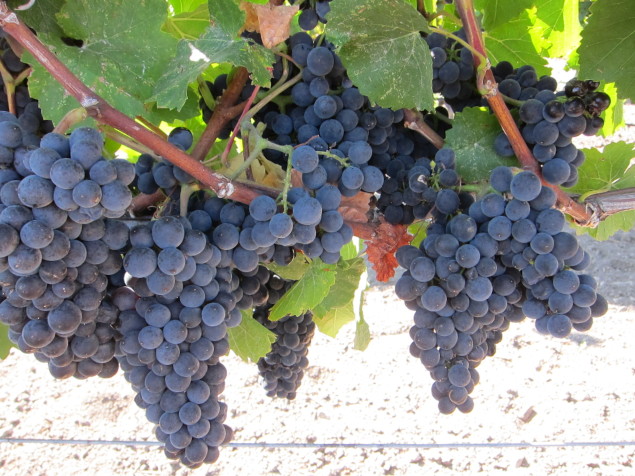 But I find the perfect pairing for a Thanksgiving meal is Pinot Noir. And, as the meal is a special occasion enjoyed with the ones you love the most, a special bottle is required. Here are a few Pinot perfect wines to enjoy as you break bread and give thanks this holiday. A few selections were sent for editorial consideration. Some options are available via their winery website only for shipping to Texas, so if you can't get them before Thursday, keep them in mind for enjoying throughout the holiday season.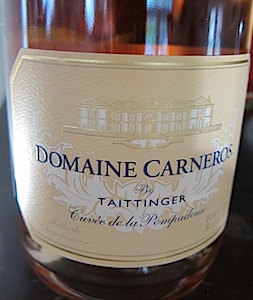 Starting Thanksgiving day watching the parade with a glass of Champagne or sparkling wine is a tradition in my family, and a Rosé always puts me in the celebratory spirit. Domaine Carneros Cuvee de la Pomadour Brut Rose blends 58% Pinot Noir with 42% Chardonnay from their sustainably farmer Carneros vineyards in this classic, traditional method favorite. Filled with layers of yellow peach, juicy nectarine, a touch of honeysuckle and orange blossom and fresh berry make this pretty wine, with only about 12% alcohol, a perfect way to start a celebration. $37, available at select Goody-Goody stores.
For a true, 100% Pinot Noir sparkling wine, and I mean a sparkling red Pinot Noir, not a Rosé, Aria Pinot Noir Brut from Seguara Viudas winery in Spain is a fruit filled, ripe black cherry, red berry and watermelon filled bubbly that will find a comfortable home at your holiday table as it is very fresh and light, but also has nice texture and weight. Traditional method, as all Cava from Segura Viudas is, adding a touch of toasted caramel and creaminess to the aromatic sparkler. $20, available at select Spec's locations.
Twomey Russian River Pinot Noir is perfect for pairing as the ripe red cherry, raspberry jam, fresh wild flower and cola filled wine leaps from the glass with great texture and complexity, developing ripe fruit characteristics while keeping the integrity and acidity of the variety intact. Balanced and elegant, produced from sustainably farmed fruit, with a long finish that invites you back for another glass. $48, available at Total Wine and More.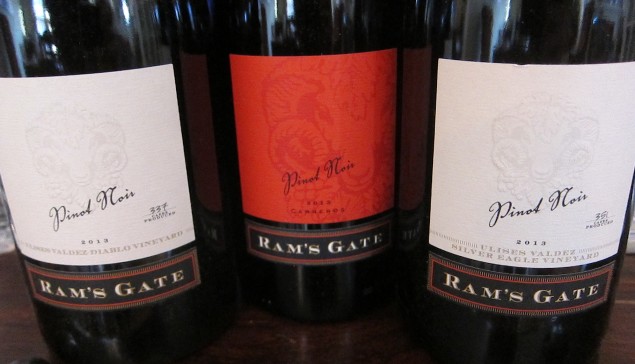 Some of the best Pinot Noir wines I have tried lately have been from a small production, Carneros winery called Ram's Gate. Situated at the entry to Carneros on the Sonoma side this special, and quite beautiful, winery crafts single vineyard Pinot Noir and Chardonnay from both their estate, as well as fruit they source from throughout Sonoma. Happily, it looks like they are also about to start distributing their wine in Texas. Until then, their elegant wines are available via their website. If you are hosting a crowd for the holiday their approachable Ram's Gate Carneros Pinot Noir ($40,) filled with fresh acidity, red fruit flavors of cranberry and pomegranate, and subtle spice with nice texture and weight without being heavy.
Their Ram's Gate Ulises Valdez Silver Eagle Vineyard and Ulises Valdez Diablo Vineyard Pinot Noir wines both come from Russian River Valley. The Ram's Gate Ulises Valdez Silver Eagle Vineyard ($76,) sitting at a high elevation above the fog line that rolls in from the Bay, produces a ripe red berry, wild flowers and cherry flavors that meld beautifully with the inherent acidity Russian River is known for. The Ram's Gate Ulises Valdez Diablo Vineyard ($70,) produces what feels like a slightly lighter, fresher and higher acid wine, which I love as it melds beautifully with food, with cola, crushed stone and woody herb notes. The wines are available via their website, and while you are there, pick up a few bottles of their incredible single vineyard Chardonnay wines as well, like their stellar Durell or Hudson Vineyard wines.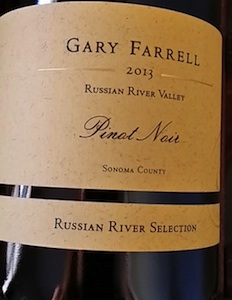 Similarly, an added bit of herbaceous qualities, like sage and rosemary, are evident in the Russian River Pinot Noir from Gary Farrell. Using both whole cluster fermentation and destemmed fruit, the wine balances earthiness and tannin with purple flowers, baking spice, ripe cherry and rhubarb notes. $45, available at Spec's.
Carneros is also the home of Starmont & Merryvale's prized Stanly Ranch Estate producing stellar Chardonnay and Pinot Noir for the two sister wineries. Starmont Stanly Ranch Estate Pinot Noir is a blend of Clone 667 and 114, fermented with completely native yeasts and aged for 21 months in 100% new French oak creating an intense and concentrated wine with depth and texture. A bigger, more robust style of Pinot Noir, with tannic structure and weight, making it a wine that can stand up to heavier pairings like lamb, beef or game. $65, available via their website.
Gravely loam filled soils, rich in minerality but low in nutrients is the home of the vines for Patz & Hall Jenkins Ranch Vineyard Pinot Noir from the Sonoma Coast. With cool coastal influences, but a nice proximity in the hills away from Petaluma Gap allows, grapes warmth and protection from cold Bay breezes, but also keeps acidity fresh and bright as hot daytime temperatures fall at night. The result, an earthy, forest floor influenced wine with blackberry, plum, black tea and a touch of balsamic. Bottling the wine without filtering or fining keeps the subtle nuances of the terroir intact, making this a truly beautiful wine. $60, available at Sigel's.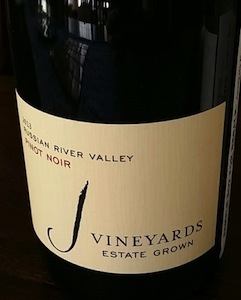 Blending fruit from some of the best clones of Pinot Noir, including Pommard, 667, 777 Rochioli and Swan from estate fruit grown throughout Russian River creates a textured, layered wine from J Vineyards. Filled with raspberry jam and cranberry melding with red licorice and soft herbs for a well rounded wine. $40, available at Total Wine and More.
Earlier this year I did a post on some of the Pinot Noir wines from Anderson Valley in Sonoma County, and I continue to be thrilled with the wines produced out of the region.
Maggy Hawk Estate celebrates their Anderson Valley vineyard and the diversity their small vineyard, in one part of the appellation (the "deep end") can bring to the variety of Pinot Noir clones planted in the vineyard. With each wine named after one of owner Barbra Banke's favorite race horse, the wines hope to garner the same elegance, character and expressive nature of a prized thoroughbred. Light, delicate and lovely, Jolie Anderson Valley Pinot Noir is a pretty wine composed of Pinot Noir Clone 115, known for its floral and Asian spice characteristics with touches of red raspberry and strawberry with soft, balanced tannin. On the other side of the spectrum, Stormin' is a much more expressive wine produced from flashy Clone 667. Ripe and jammy on the open "storming out of the gate," but also balanced with great acidity, refined tannin and well rounded structure. Afleet shows balance between them both with a Pinot Noir produced from the earthy, blackberry, spice and leather filled Pommard Clone. I am a big fan of this clone of Pinot Noir, creating a wine that will age beautifully or can be enjoyed now, especially with grilled or braised beef. Each small production wine sells for $66, and are available via their website.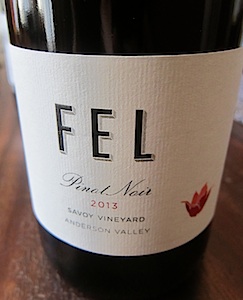 The Savoy Vineyard lies in the mid-point of Anderson Valley, benefiting from cool nights, warm days and a close proximity to the Pacific to keep cooling breezes constant to keep delicate Pinot Noir fruit dry. The estate vineyard, acquired by FEL (sister winery to Cliff Lede in Napa Valley) in 2011, produces concentrated FEL Savoy Vineyard Pinot Noir filled with black cherry and black licorice with subtle woody herb and earth notes. $70, available via their website.
Anderson Valley is also the home of Goldeneye, the sister winery of Napa's Duckhorn Winery, producing premium Pinot Noir from their 130 acres of estate vineyards.  The crown jewel of the Goldeneye wines is their Goldeneye Ten Degree Estate Grown Anderson Valley Pinot Noir. Crafted from the very best barrels each year from the best blocks of grapes on the estate with their 2012 including 2 blocks from their Confluence vineyards, two from Gowan Creek and one each from Split Rail Vineyard and The Narrows Vineyard, blending six different clones from this mix of Anderson Valley terroir to create a harmonious, delicate wine highlighting the subtle elegance of the region. $115, available via their website.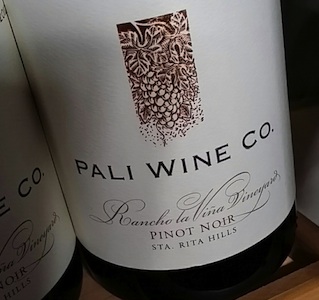 Driving down the coast of California to Santa Barbara you will arrive in the Santa Rita Hills AVA, known for producing pretty Pinot Noir wines. Pali Rancho La Vina Pinot Noir is one of these, with deep wild rose and floral aromas leading into layers of sweet plum, blueberry, Asian spice and a touch of wet stone minerality on the finish. $58, available at select Goody-Goody stores.
Adelsheim Elizabeth Reserve Pinot Noir is one of the finest examples of stellar Pinot Noir from Willamette Valley, from one of the early arrivals to the region, David Adelsheim, who celebrated his 40th year in Willamette Valley a few years ago. By blending prime lots of estate grown Pinot Noir from throughout Willamette Valley, Adelsheim produces a consistently special, delicious and approachable wine, that is also elevated and elegant. Filled with earthy forest floor, juicy cherry, wild strawberry and warm spice, this is a wine to enjoy any time of year. $60, available via their website.
Cal Knudsen began his estate vineyard in 1971, with the first fruit coming of the vines in 1974, making them some of the oldest in the Willamette Valley. For most of the vines lives the fruit was sold to other wineries, like Argyle who became one of the main buyers of the Knudsen Vineyard fruit starting in 1987. In 2012 the Knudsen family began to produce their own wine from the estate starting small with just 200 cases, celebrating their history and the story of these special vines. Their latest offering, Knudsen Vineyard 2013 Pinot Noir blends Clones 777 and Pommard for a classic Willamette Valley wine filled with blood orange, strawberry, damp leaves and spice notes. $55, available via their website.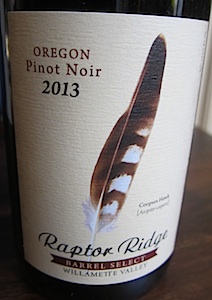 Youthful and fresh, Raptor Ridge Barrel Select 2013 Pinot Noir from Willamette Valley that is a great go to wine on any night. Filled with red fruit notes, like cranberry, raspberry and currant, with a touch of the inherent earthiness and savory qualities found in great Oregon Pinot Noir. The light, balanced wine is great on its own or with anything from mushroom tarts to your holiday bird. $30, available via their website.
A few other every day Pinot Noir options that are less than $30 a bottle, many less than $25, include R2 Wine Company Black Pine Pinot Noir from the Sonoma Coast. Made from a blend of fruit from Petaluma Gap and Russian River the wine is juicy, easy and fresh with floral, jammy red cherry and candied strawberry. $26, available via their website.
Landmark Overlook Pinot Noir blends fruit from Sonoma, Monterey and Santa Barbara, the best regions of California to grow quality Pinot Noir, to create an easy drinking Pinot Noir with acidity, freshness and balance. $25, available at Spec's.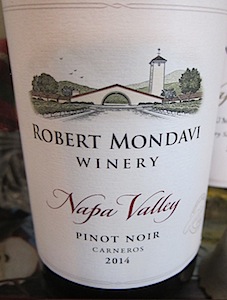 Robert Mondavi Winery 2014  Carneros Pinot Noir highlights the best of this expressive vintage with ripe red fruit, orange zest, red licorice and sweet baking spice like cinnamon and clove from the cool climate region. Lower in alcohol than some wines from the region, just over 13%, keeping it an easy wine to enjoy with food. $22, available at Total Wine and More.
Light, bright and fresh, Benziger Sonoma Coast Pinot Noir melds good acidity with texture and body for a ripe berry, cherry pie and spice filled wine from their sustainably managed vineyards. $26, available at Goody-Goody locations.
From Willamette Valley, Stoller Dundee Hills Pinot Noir from their sustainably farmed vineyards rich with earthy, mineralic, volcanic soils is expressive, elegant and delicious, especially for the price, $26 at Total Wine and More.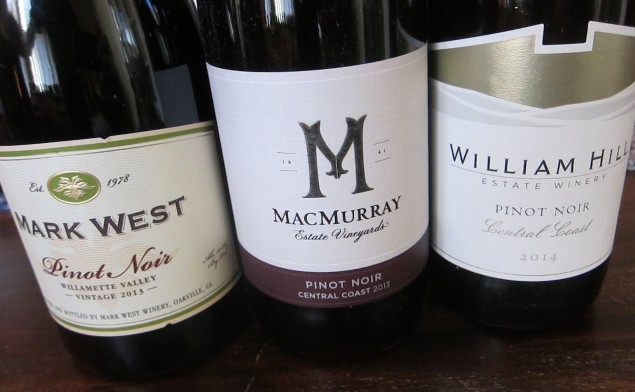 Central Coast vineyards, influenced by the cool Pacific breezes are ideal for Pinot Noir. MacMurry Estate Central Coast Pinot Noir melds cola, black tea and black cherry together for a fruit filled option retailing for around $16 at Total Wine and More.
William Hill Estate Central Coast Pinot Noir melds Edna Valley and Santa Rita Hills fruit together for a blueberry, cola and dried cranberry filled wine highlighted with dried flowers and a touch of lilac. $16, available via their website.
Mark West Winery ($15) and La Crema ($30) recently added Willamette Valley offerings to their Pinot Noir portfolios, each filled with black cherry, dusty berry, wild mushroom and Asian spice. Available throughout Dallas.
Get the SideDish Newsletter
Dallas' hottest dining news, recipes, and reviews served up fresh to your inbox each week.