The classic and beloved international varieties of white wine have earned their place as the standard request of many Americans. Whether we are sipping on the patio at The Grape with girlfriends or ordering a glass at Al Biernat's on date night, a good glass of Chardonnay, Sauvignon Blanc or Pinot Grigio delivers. Here are a few go-to standards and a handful of end-of-the-summer Rosé wines, because we just can't get enough Rosé. (A few selections were sent for editorial consideration.)
Summer is almost over, so grab a few more bottles of Rose to toast the end of 100 degree days. Smith Story Rose, from North Texas native Alison Smith Story, who spent a good amount of her career as a wine broker, before getting married to Eric Story, a Bay area wine buyer, and beginning their collaboration in wine, Smith Story Wine Cellars. Created from a mutual love of each other, great wine, and the celebration of life (with bonus points given if it is in Hawaii.) They launched their brand last year with a handful of varieties from both California as well as importing from an Old World country they both love, Germany, including petrol and white flower filled Riesling and an inviting Rose made from Pinot Noir. Their Smith Story Rheingau Rose of Pinot Noir ($20) is a lovely expression of the variety, and proof that red wine vines can grow in cool Germany. Balanced, fresh and juicy with herbal notes, ripe red berry, red apple, tangerine and crushed stone earthiness.
The duo are also crafting a steely, mineral influenced Sonoma County Sauvignon Blanc ($25) from fruit grown on both Sonoma Mountain and in Knight's Valley, with the goal to produce a Loire Valley style wine with fruit from California. Floral, fresh and aromatic, the lively wine is a beautiful expression of quality and passion.  Two special wines from a very special couple, both available via their website or at Pogo's.
If there is a Rose I wait for every year, it is Stoller Family Wines Rose of Pinot Noir from their quality Willamette Valley, Dundee Hills estate fruit. Ruby red grapefruit, watermelon, strawberry and tangerine filled, this is a wine I can't wait to sip and when it is gone, I am always quite sad, as it sells out fast. Made by the talented and skilled Melissa Burr, from sustainably grown fruit on their estate. $25, available in limited amounts via their website.
Art is created in many forms, for Scott Campbell his art is in the form of the tattoo, and is considered one of the finest in the country. For Clay Brock it is in the form of winemaking, currently as head winemaker for Iron Horse Winery in the Central Coast region of California. The two came together a few years ago to create Saved Winery, named after Campbell's Brooklyn Tattoo Shop, with the belief that if you follow your passions fully and completely you will find the ultimate freedom, you will be saved. Their dry Saved Rose is a blend of almost everything in the vineyard, including Grenache, Pinot Noir, Cabernet Franc, Chardonnay, Sangiovese, Malbec, even a touch of Tokai Friulano from fruit grown throughout California.  With a blend like this you can't point to one region or style as the influence on its creating, instead that the duo found the best fruit and blended just the right amount of each to create an easy, light, fruit forward wine. $20, available at Kroger stores.
Sauvignon Blanc tends to run the gamete, from very crisp, steely and mineral filled to zippy, punchy and citrus filled fruity.  Whether its from France, New Zealand, California or South America, the refreshing white is always a great choice for a hot day.
From vineyards that rest right by the Columbia River in Washington, Chateau St Michelle Horse Heaven Hills Sauvignon Blanc maintains great acidity, helped by cool winds off the River keeping temperatures throughout the night low after hot daytime Eastern Washington days. Juicy, fresh and balanced with great citrus, but not overly punchy, creating a lively and beautiful wine, quite similar to a classic Bordeaux style with fresh minerality and clean lemon and herbal notes. $24, available at Spec's.
California shines with this variety as well, from Napa to Sonoma, to throughout the Central Coast the variety does well in both warm and cool climates. Twomey blends fruit from both Napa and Sonoma into their estate grown Twomey Sauvignon Blanc. Aromas of lime, spicy ginger, orchard fruit and wet stone shine, leading into a textured and nicely balanced wine highlighting classic flavors of citrus, white peach and apricot and mineral. $30 at Pogo's.
Wine is meant to be enjoyed with friends, new or old. Cairdean Estate Vineyards and Winery in Napa Valley was born out of this belief, with founders Edwin and Stacia Williams naming their St. Helena winery after the Scottish-Gaelic word for "friends." They are making a wide variety of varieties from Napa and Sonoma Valley fruit, including several that are rather unique, like Picpoul, best known to be grown in the Languedoc-Roussillon region of France; Roussanne, best known in the Rhone; Riesling and Gewurztraminer, but their Cairdean Estate Fume Blanc is a true expression of classic Loire Valley, France Sauvignon Blanc, with flinty mineral notes that the home region is known for. Tiny production, with the high volume/high quality 2012 vintage only producing 133 cases, the fresh and juicy wine, with great acidity, melds creamy honey, toasted butterscotch and a touch of vanilla with ripe melon and citrus, white flowers and bone dry minerality for a balanced, approachable and distinct wine with character. $32, available via their website.
If you are a citrus fan, New Zealand is the Sauvignon Blanc capital for you.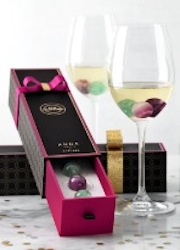 Kim Crawford Sauvignon Blanc has become one of the most loved wines from the region, melding gooseberry, pink grapefruit and grassy notes with crushed stone, honeydew and soft herbal notes. They also know how to create a special presentation, partnering most recently with designer Anna Rabinowicz of RabLabs, a design company that creates art and jewelry inspired by nature, fusing precious materials with cutting-edge design. Their Anna New York Wine Gems for Kim Crawford will keep your chilled glass of Kim Crawford cool for up to 1 hour, after they have been frozen in your freezer, without diluting the taste of the wine. Made from fluorite stones, they are both practical, and quite beautiful, adding an elegant touch to your crisp white wine. The wine is $20 and widely available throughout Dallas, the Wine Gems are $76 and available here.
Celebrating a very New World style, with zesty, zippy lemon-lime, grapefruit and gooseberry notes, Chasing Venus Marlborough Sauvignon Blanc is juicy, fruit forward and ripe. A great thirst quenching patio wine on a hot day. $16, widely available throughout Dallas.
Starborough Sauvignon Blanc melds those citrus juice and zest filled flavors with soft herbs and white flowers for a balanced and easy wine that is perfect with summer salads or light pasta dishes. $15, widely available.
Pinot Grigio has gone through very high highs in recent years, and some lows as the popular variety has gone through phases of overproduction. But, when done well this fruit filled, juicy and soft variety will consistently deliver wines that are perfect sipped over Sunday brunch well into sunset evenings on the porch.
The 2014 vintage of Ecco Domani Pinot Grigio marks a special collaboration with fashion designer Zac Posen, who created a bottle design for this year's vintage, almost as a thank you as the winery, that is nearing its 20th vintage for the wine, sponsored Posen's first designer runway show in 2002 as part of their Ecco Domani Fashion Foundation Award. The winery has given over $1.8 million to helping support up and coming designers. Fresh, bright and citrus filled, with a design that signs to the same style, Posen focused on the whimsy and timeless style of the wine that is always an instant crowd pleaser. $14, widely available throughout Dallas.
I am such a fan of Pinot Grigio from Alto Adige. Representing the best of the variety, with high acidity kept fresh by planting vineyards in the high elevations at the base of the Italian Alps, while developing rich stone fruit and citrus flavors, helped by warm daytime temperatures occurring easily throughout summer days in the Italian region. Consistent favorites include Elena Walch, Tieffenbruner, Alois Legader and Abbazia di Novacella. Jimmy's Italian Food Store has a great collection, with retail prices starting around $20 a bottle.
Oregon became well known for their take on the variety with their Pinot Gris wines. From the same basic clones, but thriving in cool Oregon climates with volcanic soils, the fruit forward variety takes on layers of earthy, mineral filled flavors, melding lemon-lime with crushed stone and herbal notes.
Raptor Ridge Winery, in the heart of Newberg in the Chehalem Mountain AVA of Willamette specializes in earthy, vineyard driven Pinot Noir, but they also make a few stellar whites (like their food friendly Gruner Veltliner, one of the few producers to grow this Austrian favorite in Oregon.) Their Raptor Ridge Pinot Gris focuses on keeping the high acidity freshness and natural fruit flavors in their wine present, pressing the grapes in whole clusters before going through fermentation in stainless steel. The result is clean, crisp and very approachable white flower, stone fruit and juicy lemon and tangerine filled wine. $18, available via their website.
Started in 1973, when the Willamette Valley was still in its early stages of development, Durant Vineyards began in the prized Dundee Hills of Oregon. Though in their beginning no wine produced wanted to go to the higher elevations of Willamette, choosing to develop their vineyards with lower valley floor vines. Lucky for Durant, they acquired prime land in the acclaimed Dundee Hills and quickly set out to plant the varieties that were quickly become the favorites of the region, Pinot Noir and Pinot Gris. Today they have over 120 acres of land, of which 60 are planted to vineyards separated into 19 different blocks. They do make their own wine, and incredible olive oil, but they also farm vines for many of Oregon's top winemakers, including Isabelle Dutartre, Dean Fisher and Jesse Lange of Lange Vineyards who quickly saw the vines of Durant's Southview Vineyard ideal for his Pinot Gris as the fruit creates a fresh, acid driven wine that maintains balance, while filling the palate with juicy white peach, white flowers and citrus. Durant Vineyards Southview Pinot Gris, made my Jesse Lange is $18, available via the Durant Vineyards website.
Chardonnay has many faces and flavors, from tropical fruit to stone fruit to citrus to orchard fruit, from creamy to steely, spicy to toasty, this well loved variety gracefully melds into its terroir, highlighting the best of warm or cool climates, showcasing its character while maintaining approachable qualities.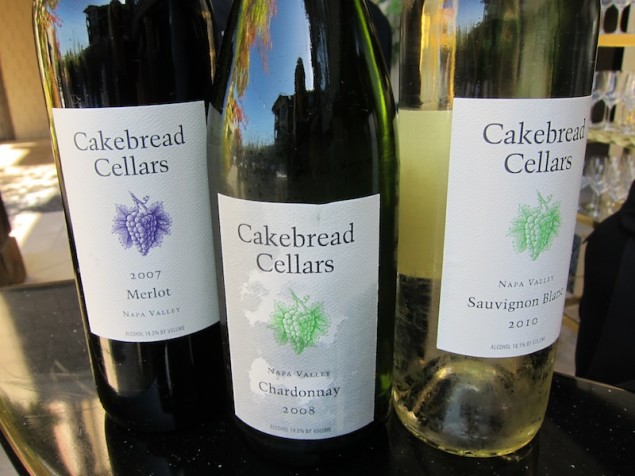 Cakebread Cellars Chardonnay from the cool Carneros region of Napa Valley shines with elegance, a delicate style and fresh, balanced taste. Filled with juicy honeydew, ripe pear and apple notes with a touch of sweet spice and toasted honey this high quality wine, from one of Napa's favorite families, should be a standard go to if you are a Chardonnay lover.  $40, available at Goody-Goody stores.
Fresh, racy and inviting, a quality Chablis will invite any Chardonnay lover to do their happy dance. One of my favorites is Domaine Laroche with a selection of Chablis for almost every price range, starting at about $20 – $150. Their Domaine Laroche Chablis Les Vaudevey melds fresh citrus and tangy green apple with steely mineral and wet stone note for a slightly austere yet refined wine. $39, available at Pogo's.

When you find a great wine that delivers on quality and price point you continue to go back to it and one of those for me is the bright and balanced Chardonnay from Sequoia Grove Winery in Rutherford. Fresh, juicy and approachable with ripe melon, crisp apple and citrus, a wine that carries the palate from summer to fall with ease. $28, available at Total Wine and More.
Great soil grows great vines, great vines make great wine, this is the simple philosophy of Landmark Vineyards in Sonoma County.  Their Overlook Sonoma County Chardonnay allows the true elegance of the fruit to shine, employing a completely native yeast fermentation and limited oak aging with very little new oak, resulting in a wine that highlights the true flavors of Chardonnay with melon, white peach, apricot, lemon and quince. $25, available via their website.
Just last year Jackson Family Wines added a new South African winery to their high end Spire Collection, Capensis. Latin for "cape," the winery will specialize in Chardonnay from mineral rich, ancient soils from historic, high elevation vineyards (up to 2400 feel above sea-level) in the Western Cape. Their first release, crafted from a collaboration between Winemaker Graham Weerts and world-renowned Vineyard Manager Rosa Kruge, 2013 Capensis Chradonnay tells the story of the land in the glass, filled with aromatic honeysuckle, white peach, juicy pear and at touch of sweet spice and pie crust with bright acidity and freshness, melding into a long finish. Distinct and special, and available in very limited release in a package of 3 for $240 here.
Robert Modavi Winery blends fruit from throughout the cooler regions of Napa Valley for their Napa Valley Chardonnay, including Carneros, Oak Knoll and Stag's Leap to create an elegant, fresh and balanced wine with acidity, juicy ripe fruit flavor and great approachability. Filled with lemon cream, toasted caramel, tropical fruit and spice notes, this consistent white is a beautiful expression of classic Napa Valley Chardonnay. $20, available at Pogo's.
And, I wrote about the wines from Flowers Winery a few months ago, but had a chance to retaste one of their special Chardonnay wines, the cool and crisp Sonoma Coast Chardonnay wines, other night. Wow, it did not disappoint. Fresh peach and ripe pear, apple, honeysuckle and lemon curd. A beautiful wine to be savored and enjoyed. $45, available via their website.
Get the SideDish Newsletter
Dallas' hottest dining news, recipes, and reviews served up fresh to your inbox each week.