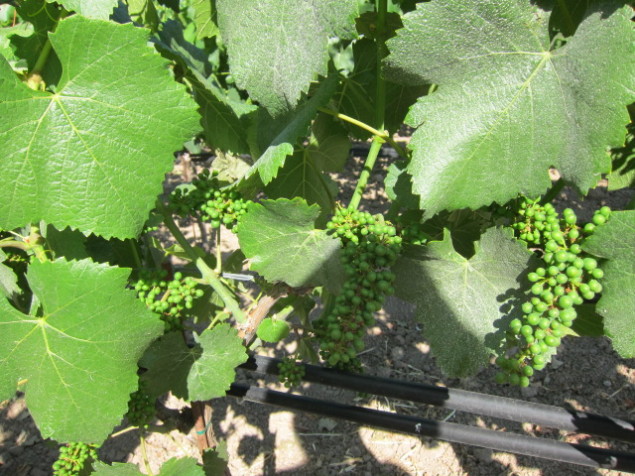 Last week I mentioned a handful of fresh red wines that are perfect for sipping throughout the warmer months, leaving out the most obvious selection, Pinot Noir. The beloved variety is a perfect pair to summertime flavors, like grilled fish, light salads and pasta. It can also easily transition into richer fare, like anything on your Thanksgiving menu, which means now is a perfect time to stock up, and enjoy for the rest of the year. (A few selections were sent for editorial consideration.)
Perhaps one of the best regions for growing incredible Pinot Noir in California is Anderson Valley.  The wines that are coming out of the rustic vineyards of the coastal region of Mendocino County have richness, complexity, incredible varietal character and finesse.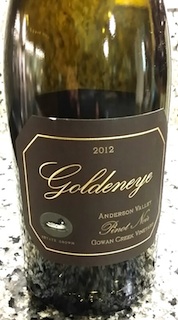 Goldeneye, the Pinot Noir darling of the Duckhorn family, found its home in the region in the early 1990's when Dan and Margaret Duckhorn set out to create a winery that could produce the same high quality, terroir driven, varietally correct wines their highly respected Duckhorn Merlot had achieved. After years of looking for land in the cooler climate AVAs of Northern California they found their first estate vineyards in Anderson Valley. Today, with around 200 acres under vine in the region, the winery grows over 20 different Pinot Noir clones, each in small lots on their estate vineyards, creating fresh, lively wines with structure, character and great personality.
Their newly released 2012 wines tell this story even more as the unanimously agreed upon great vintage allowed this temperamental fruit to shine. The Goldeneye Anderson Valley Pinot Noir ($55) blends fruit from 24 different Pinot Noir clones, grown across 180 acres of estate vineyards. Fermenting each small lot separately, and then creating a harmonious blend, the wine is complex, balanced and elegant, with just the right amount of rusticity to keep it interesting and approachable. This is taken to the next level with the Goldeneye Gowan Creek Pinot Noir ($82.) From vineyards located in the middle of Anderson Valley, the black and purple fruit filled wine is filled with violets, lavender, black cherry and blueberry. Very lush, the fruit driven wine maintains bright acidity thanks to its proximity to the coast, ensuring that though the vines feel the heat of high day time temperatures, developing the juicy fruit flavors, cool nights, coastal breezes and morning fog ensure that the wines maintain freshness. The wines are available at select Sigel's and Central Market stores.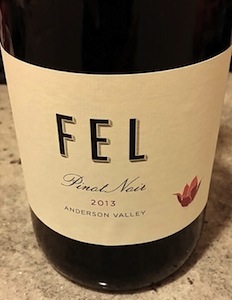 The love of wine was given to Cliff Lede early in life by his mother, Florence Elsie Lede, a home winemaker, gardener and lover of great wines. Lede's FEL Winery was named after his mother. The successful Canadian developer and owner of Cliff Lede Winery in Stags Leap looked to Anderson Valley to create the winery honoring his mother, as it is the perfect spot for growing cool climate, varietally correct Pinot Noir in California. The FEL Anderson Valley Pinot Noir blends grapes from 4 different vineyard sites and a handful of different Pinot Noir clones to create a fresh, spiced wine filled with cherry, pomegranate, cranberry and cola. $38, via their website.
Other Anderson Valley wineries that continue to get it right include Fulcrum Wines, and their sister winery On Point from sell taught winemaker David Rossi. Though he produces Pinot Noir from fruit grown throughout Northern California, his On Point Christinna's Cuvee from Donnelly Creek Vineyard in Anderson Valley leaps from the glass with finesse, elegance and richness. The small production wine (under 200 cases) is filled with layers of black fruit, sweet spice and wild flowers. $36, available via the website.
Smooth, succulent and sexy describes Champ de Rêves in Anderson Valley. I had a chance to try this luscious Pinot Noir recently with winemaker Eric Johannsen at the Kapalua Wine and Food Festival and quickly became a fan. Very small production, with precise attention to detail, with the mind of an artisan to create the most perfect glass from the finest fruit available in the rustic, isolated and rugged region.  Black fruit, purple flowers, soft herbs and spice fill the palate, but the true story for Champ de Rêves is the smooth, inviting texture that requires a second sip, leading to a third. The 2012 Champ de Rêves Anderson Valley Pinot Noir is currently available via their website for $45.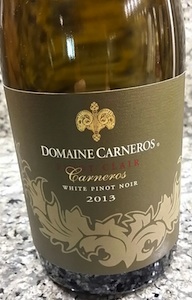 Where Anderson Valley is rustic, Carneros is refined, with rolling hills changing elevations and soil compositions every few yards, producing some of the finest Pinot Noir wines in California. I have written quite a bit about Domaine Carneros in the past, know for their stellar sparkling wine produced from sustainably farmed fruit, as well as their luscious still Pinot Noir wines. I tried a new one the other night that was equally delicious, and also a bit of a surprise. Domaine Carneros Pinot Clair is a white wine made from the Pinot Noir fruit, so when sipping with your eyes closed (or through a black wine glass) you may have a hard time deciding if you are enjoying a red or white wine. Though there are similarities between a Chardonnay, the Pinot Clair White Pinot Noir layers citrus fruit and white flowers with raw almonds, raw honey and toasted creme. $58, via their website.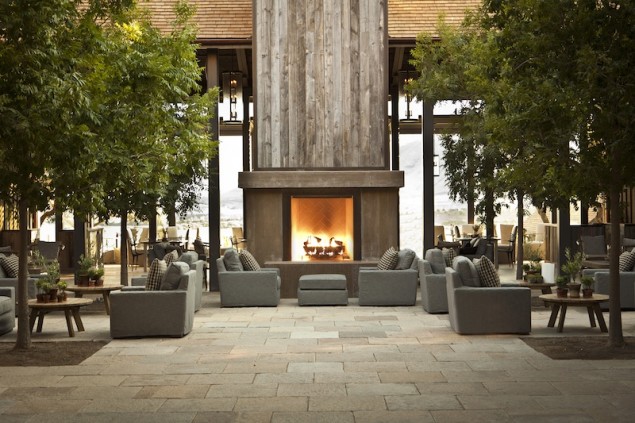 Started in 2011, Ram's Gate is quickly becoming one of the finest in Carneros, known for producing premium Pinot Noir and Chardonnay wines. Taking the name from the original Spanish word for the region, "Carnero" or Ram, Ram's Gate welcomes you at the gateway to the Carneros AVA. Carneros is one of the premium sites for growing cool weather Pinot Noir and Chardonnay, working with vineyards like Sangiacomo, Hyde and Hudson, along with their own Ram's Gate Carneros Estate, as well as vineyards dotted throughout the Sonoma Coast and Russian River, like Bush Crispo, El Diablo and Durell. With a focus as much on the asthetic beauty, comfort and hospitality of Carneros, as well as making quality wine, Proprietor Jeff O'Neill, along with partners Michael John, Peter Mullin and Paul Violich, have created an environmentally smart, contemporary and inviting winery, designed by famed architect Howard Backen, that is also producing outstanding wines.  These wines are beautiful.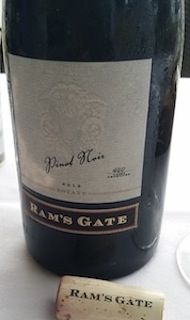 The Ram's Gate Estate Pinot Noir benefits from its proximity to the Pacific Ocean and San Francisco Bay with cool morning fog and coastal breezes helping ensure that fruit maintains fresh acidity, even during the hottest summer days. Ripe red cherry, strawberry, juicy cola and a touch of earthiness make this wine approachable, balanced and quite elegant. $76, available via their website.
Or, if you are planning on visiting Carneros, Ram's Gate offers a selection of distinct tours and tastings, including a 3 hour, behind the scenes Vineyard Table tasting for 4-10 guests. This tasting room without walls allows visitors to taste through a selection of current release and Library wines, enhanced with specifically paired bites, in the midst of the Ram's Gate Estate vineyards, after a tour of the gardens, winery and vineyards. $250 per person.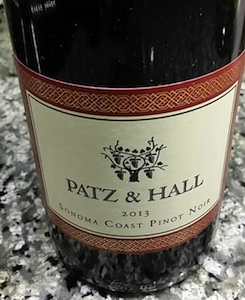 The Sonoma Coast region of California covers over 500,000 acres of land, however only 2% of this area is planted to vineyards, allowing prime location selection for growing juicy, rich and terroir driven Pinot Noir. Patz & Hall Sonoma Coast Pinot Noir ($46) brings together fruit from various areas within the Sonoma Coast AVA including Russian River, Sonoma Valley and Green Valley to produce a wine filled with luscious strawberry, raspberry and tart cranberry notes, mingling with tea, spice and a touch of cola.
A touch further south of Sonoma County lies the Santa Lucia Highlands AVA, home of distinguished vineyards like Pisoni, Gary's and Rosella's. Patz & Hall Santa Lucia Highlands Pisoni Vineyard Pinot Noir ($90) highlights one of the premier vineyards of the area, carefully nurtured by Gary, Mark and Jeff Pisoni, using some of the oldest vines on their expansive estate, creating highly concentrated, complex, yet approachable Pinot Noir. Textured and rich, the wine is filled with ripe black and red berry, sweet spice and earth. Though very bold, there is a lightness to the wine, making it enjoyable while still young, but also with the ability to age nicely for several years to come. Patz & Hall wines are available at Sigel's.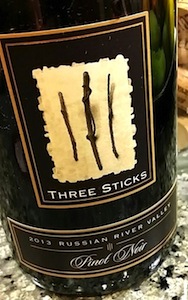 Three Sticks Winery is known for their small production, high quality Pinot Noir and Chardonnay wines from select vineyards dotted throughout Northern and Central California, including the prized Durell Vineyard in Sonoma. The small production, very special Three Sticks Bien Nacido Vineyard Pinot Noir comes from the heart of the Santa Maria Valley in Northern Santa Barbara County. A balanced wine, melding earthy, forest floor notes with fresh cherry and ripe berry, the wine is a perfect food wine to pair with grilled salmon or poultry.  Juicy, red cherry and cola filled Pinot Noir fruit from Russian River is elevated to create an elegant and fresh wine for the new 2013 release of Three Sticks Russian River Pinot Noir. With the natural temperature shifts, along with smart use of French oak aging, the wine maintains bright acidity and liveliness, while melding with the ripe fruit notes. $60, available via their website.
Fruit for Frank Family Pinot Noir also comes from the cooler Carneros region of Napa Valley, benefiting from constant winds and cooling temperatures from the Bay.  Fresh and balanced, melding wild flowers, earthy forest floor notes and ripe berry flavors, this Pinot Noir is a great go to for summer. $35, available at Total Wine & More.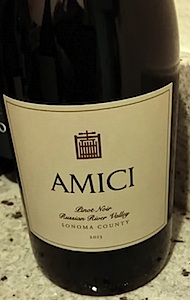 Amici Pinot Noir from Russian River highlights one of the best regions for growing Pinot Noir, with warm days and cool nights, fog filled mornings and winds coming in off the river and from the Pacific, allowing fruit like Pinot Noir with a long growing season, to ripen slowly, maintaining freshness, acidity and balance. The resulting wine for Amici, made by celebrated winemaker Joel Aiken, is filled with ripe berry and cherry, violets, sweet spice and soft herbs. $35, available at Total Wine & More.
Adelaida Cellars HMR Vineyard in Paso Robles is one of the oldest in the region, planted in 1964. The oldest continually farmed Pinot Noir in the Central Coast, the high elevation, limestone filled vineyard lies only a short distance from the Pacific Ocean, helping this cool climate fruit maintain freshness thanks to fog filled mornings and extreme temperature shifts from hot days to cool nights (ranging from 40-50 degrees difference.) Adelaida Cellars HRM Vineyard Pinot Noir is filled with wild flowers and rose petals, enhanced with ripe cherry, berry and spice notes, perfect for grilled salmon or pork dishes. $40, available via their website.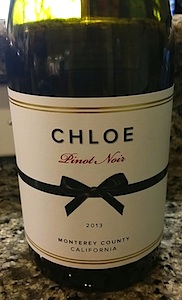 Cherries, ripe red plums, baking spice and soft mint fill the palate of Chloe Pinot Noir from Monterey County. With balance, nice structure and texture, this affordable option (about $17 a bottle) is a solid Pinot Noir, proving you can find a good one for less than $20 a bottle. Available at Total Wine & More.
J Lohr Estates Falcon Perch Pinot Noir celebrates the terroir of Monterey County, situated in and around Arroyo Seco and Santa Lucia Highlands, where cool climate Pinot Noir vines thrive. The Falcon Perch Estate is named after a falcon that has made its home in a pine tree amongst the vines,  protecting them from pests and helping preserve the natural ecosystem. Fresh and dried berries and cherries highlight the wine, enhanced by aromas of wild flowers, toasted vanilla and soft herbs. A lovely wine for a great price, about $15 at Spec's.
Get the SideDish Newsletter
Dallas' hottest dining news, recipes, and reviews served up fresh to your inbox each week.