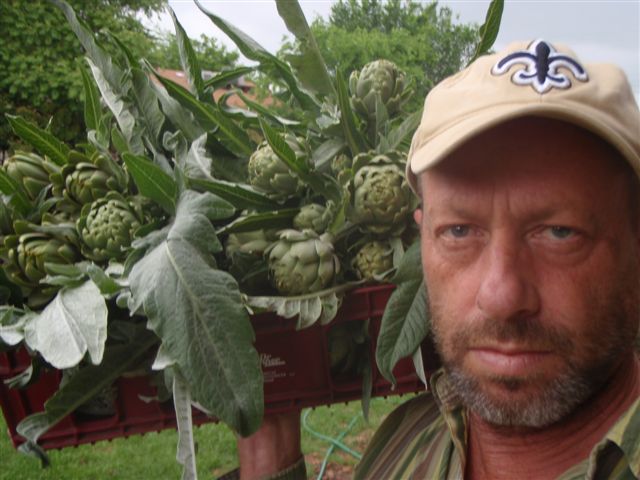 Tom Spicer Sells His Crops From New Digs Next to Garden Cafe
After losing his space on Fitzhugh, he's selling out of the Garden Cafe.
There are gardeners and there are those who truly understand agriculture. Tom Spicer has been an agricultural force in this area for over 30 years. Most people know him as that wacky guy tending the garden behind the shoddy building on  Fitzhugh next to Urbano and Jimmy's. The dude selling dime bag of shrooms. An old hippie trying to fit in. Sorta.
What you may not know is Spicer has consulted on and designed working crop farms for decades. He's an acreage farmer with a deep understanding of how food grows and where and when it should be grown. Yes, it's sad he lost his battle with his landlord at FM 1410. Yes, it's great Garden Café opened up a space for him next door to the restaurant. No, he's not ready to toss in his hoe and move to an island and grow fiddlehead ferns.
I shot the breeze with Spicer on Sunday. He told me about the abrupt closing (he was keyed out) of his business. I didn't realize he never had heat or hot water at FM 1410. He chose not to publicize the shortcomings of his business relationships and focused on selling crops to wholesale and retail customers and hosting educational dinners.
Spicer is still in mid-move. "We are moving our tools and credit card machines now," Spicer says. "I'm happy to be out of the filth, trash, and crime of the area to be in a nice neighborhood. The Wootton family has been more than generous."  He continues to import all the "cool stuff" he has always done for the restaurants in this market. It's nice to see a survivor like Spicer continue to fight. "Hell, yes," Spicer says. "My phone is ringing. People who know quality know who to call."