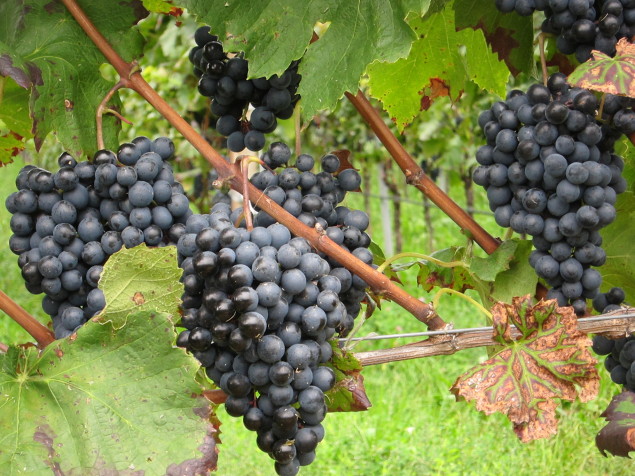 We're wrapping up California wine month, so in honor of the state that really put wine made in America on the map here are a few tasty selections to toast today and any day. A few selections were sent for editorial consideration.

One of the men who helped really define Napa Valley as the place for wine in California was the legendary Robert Mondavi. Today the winery holding his name still produces quality wines from their Oakville estate vineyards. Robert Mondavi 2011 Reserve To Kalon Vineyard Cabernet Sauvignon from proves the quality of the Mondavi estate vines, even in a difficult year. 2011 was abnormally cool during key times in the vineyard in the Napa Valley, from rainy weather during flowering when the grape buds are most vulnerable, and again during harvest, making it challenging to both set the fruit and then to achieve full ripeness. This quality vineyard was able to overcome though, producing a robust, earthy, rich wine, though with a smaller overall quantity, but the quality does not falter. Black fruit, mocha, licorice and spice fill the palate of this 91% Cabernet Sauvignon wine, blended with a touch of Cabernet Franc and Petit Verdot to round out the palate and create a special wine today, as well as one that will age nicely for the next decade. $145, available via the winery website.
When we think of Duckhorn our mind often takes us to their well loved Napa Valley Merlot. This year, however, the winery has expanded their portfolio to include a fresh and balanced 2012 Duckhorn Chardonnay from fruit grown in Napa Valley's coolest climate in the southern part of the region. Barrel fermented in partially new oak and aged on the lees for 4 months, the wine is rich and luscious, while maintaining bright acidity for a rich, yet approachable wine filled with honeysuckle, melon, lemon curd and spice. A creamy, complex wine to enjoy now as temperatures start to cool off. $35 via their website.
One of my favorite spots in Napa Valley is Howell Mountain, the home of vineyards for wineries like Ladera, Lail, Black Sears, Cade, Dana and dozens more. I tried a new wine with great history the other day from Howell Mountain, La Jota Vineyards. Established in 1898 by Fredrick Hess and owned today by Jackson Family Wines with Winemaker Chris Carpenter at the helm, the winery specializes in robust Cabernet Sauvignon and Cabernet Franc, both of which thrive in the mineral rich, volcanic soils of Howell Mountain. La Jota 2011 Cabernet Sauvignon is filled with black licorice, fresh herbs and spice wrapped around layers upon layers of black cherry, blackberry and plum. Dense and concentrated with chewy tannins that will soften as the wine ages. $75, available via their website.
On the other side of the valley is Mount Veeder, home of Brandlin Estate, sitting at 1200 feet elevation with very steep slopes, rocky terrain and a moderate climate, producing well rounded, earthy Cabernet Sauvignon filled with black plum, earthy leather and cedar notes, black tea and dark chocolate. Powerful and intense upon first opening the bottle, but with a bit of time in a decanter the wine softens, pairing perfectly with hearty meat dishes. $60, available via their website.

Southern Napa Valley is Pinot Noir country, where Carneros benefits from coastal Bay breezes, keeping vineyards cool and acidity present, while warm days help juicy fruit ripen to wild strawberry and red cherry filled flavor. Domaine Carneros benefits from this, producing their high quality sparkling wine with distinct earthiness intertwined with lush fruit filled notes. They also produce stellar still wines, particularly in their stellar Pinot Noir. Each year they take Pinot Noir to another level by producing 12 different single clone Pinot Noir wines. Each clone of Pinot Noir, from juicy and fruit filled 667 to hearty, earthy Dijon 115, shows the vast range of Pinot Noir and how different each clone of the variety is. It is rare to be able to taste a single clone wine, as most winemakers blend clones together to create a harmonious wine. Domaine Carneros single clone wines allow consumers to taste the true flavor of the variety and truly find their favorite. For me, I am a fan of the Domaine Carneros Swan Pinot Noir layering black plum, blackberry and cherry with earthy herbal, forest floor notes and sweet baking spice. $55, available via their website.
Though Napa Valley is perhaps the best known area in the state, wine is made in every corner, and at every price point. Heading just over the Mayacamas Mountains from Napa you arrive in Sonoma, an area some would say is a little more laid back, but also produces incredible wines from refined Russian River Pinot Noir to hearty Alexander Valley Cabernet Sauvignon to robust, fruity Dry Creek Zinfandel.

Over 40 years ago Jordan Winery established themselves as a world class producer of high quality Jordan Cabernet Sauvignon at their Alexander Valley winery. Over the years they have continued in their dedication to creating quality wine while focusing on the land, implementing sustainable vineyard practices and creating an environment to celebrate all of the flavors of the land by planting orchards, olive trees and a massive estate garden, nestled into their estate beside their award winning Cabernet Sauvignon and other Bordeaux varieties. The result, balanced wines with character that goes beyond what is inside the bottle. $55 at Pogo's.
Though they weren't directly affected, Adam and Dianna Lee are doing something pretty extraordinary for their friends on the other side of the mountain throughout October. The founders of Siduri and Novy Family Wines, and Texas natives, have decided to give the good folks of Napa Valley that were affected by the recent earthquake a little something back by donating $5 of every bottle of their smoky, spicy, black fruit filled Novy Napa Valley Syrah purchased through phone orders/direct mailing/tasting room to the Napa Valley Disaster Relief Fund. Just like good Texans to give so generously back to those in need. $20 a bottle, details on their website.

When Anakota Winery started in Knights Valley with their inaugural vintage in 2001 the area was still rather unknown. Planting their vines in the steep foothills of Mount St. Helena the winery has been dedicated to producing terroir specific wines with depth, and a true sense of place. Their highest vineyard, Helena Montana, sits at 950 feet elevation, with vines planted in volcanic soils on 30 degree sloping hillsides producing small quantities of highly concentrated Cabernet Sauvignon fruit. Aged 15 months in new French oak the resulting wine is filled with toasted toffee, black cherry, tobacco and spice notes, perfect for grilled steaks or roasted lamb. $75 available via their website.
The vintners growing vines around the Sacramento area certainly have had a rough year. From the massive California drought to the most recent devastating fires, many are just trying to get through the year in one piece, and produce what they can from the quality vineyards scattered throughout the area.  They need your support more than ever. One favorite from the region is Terre Rouge, a wine that I first had about five years ago when owner Bil Easton visited Dallas shortly after I started writing this wine column. Charming, passionate and focused, Easton has a sincere love for growing great grapes and making quality wines, specifically his spicy, fruit filled and well rounded Rhone style, Syrah based wines and hearty, juicy Zinfandel, made under the Easton label. His Zin is available locally at Pogo's for around $18; Terre Rouge Syrah is available on his website priced from $18-$90 a bottle.
Paso Robles has emerged as a region known for producing quality Cabernet Sauvignon wines, often at rather affordable prices. I have written about Austin Hope's Liberty School wines before, a varietally correct, go-to wine at a great price (at Spec's for around $15 a bottle.) Not far from Austin's property sits another quality winery consistently producing balanced, elegant and delicious wines, Justin Winery. The Justin Cabernet Sauvignon delivers a balance of fresh red and black fruit, hearty leather and spice notes, and a hint of dark chocolate on the finish. A perfect wine for any night, whether you are serving burgers or filet. $20 at Spec's.