Twin brothers Chris and Mark Beardon want to take you to the candy shop. And no, we don't mean in the creepy 50 Cent kind of way. Three weeks ago they opened The Original Deep Ellum Candy Company, a tiny candy shop that serves as a front for the area's newest bar: Truth & Alibi.
After a bit of phone-tag with Chris, I reserved a table for Friday night at 9:30. Our golden ticket to get into the bar was the week's password, "Hershey Kiss," which was easily found on the bar's Facebook page (so much for being a secret!). My group of friends entered the bar through the brightly lit and colorful candy store front. Here's what happened next.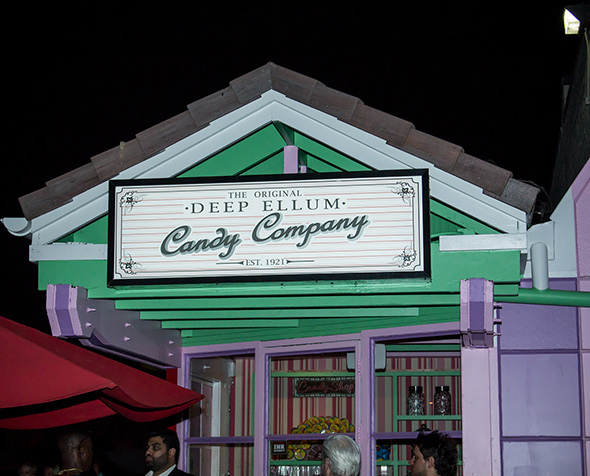 The atmosphere:
Traveling through the candy shop's 'secret' door takes you into a dark, long room. On one side of the room, a bar, on the other, collections of couches and chairs that serve as tables. There are waterfall crystal chandeliers, moody blue lighting, and lots of black and white furniture. Overall, it was a little gaudy for my taste—while it was trying to be prohibition-themed, I didn't feel like I was in an illegal juice joint in the 1920s—more like a weak modern interpretation of a prohibition bar. The Truth & Alibi DJ was on point throughout the evening, playing R&B jams that included "Knockin' Boots" by Candyman, and set a great mood for the crowd.
The crowd:
Calling all the single ladies—there were a ton of fellas there. The majority of the crowd stood at the bar, fighting for a drink. To my surprise, patrons were a little more 'Uptown' than I expected (if you know what I mean).
What to wear:
This bar may be situated in the typically relaxed Deep Ellum 'hood, but that doesn't mean this crowd is dressed casually. My group's uniform—maxi dresses with heels and wedges, was almost a little too casual.  
Where to sit:
If you aren't able to snag a table reservation for the evening, you'd better wear a pair of comfortable shoes (or maybe even select a different bar). There was no minimum or bottle service required when I booked our table, though I don't know if this will change once the spot is officially open. Bystanders were eagerly eyeing our table the whole night, and we eventually invited some people to sit with us.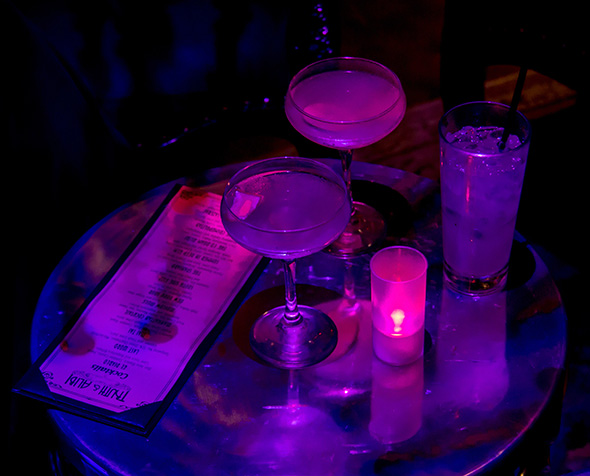 What to drink:
My group tried a mix of specialty and standard cocktails, which we ordered off paper menus (the official menus are on the way.) I expected the drinks to be candy-themed, to match the front of the store, but that wasn't the case.
Our sever, Danielle, suggested we try Truth & Alibi's self-proclaimed 'manly' and 'girly' drinks, as well as a crowd favorite, the Moscow mule. The manly drink, The Last Word, came in a martini glass, which gave my group a good laugh. I know what I'm about to say is strange, but The Last Word tastes like chicken noodle soup laced with gin—I think it had something to do with the herbs in the drink. It wasn't a bad thing necessarily, just an unusual flavor. The girly drink, named 12 a.m. Alibi, was everything you'd think of a girly drink—it was hot pink champagne and vodka drink served up in a champagne glass. The Moscow Mule hit all the standard flavors and notes, with nothing memorable or offensive in the flavor. The standard cocktails (gin and tonic, Jack and Coke) were pleasantly strong. Overall, I wasn't blown away by any of the drinks—especially since it took so long for them to make it to our table.
The service:
While our server, Danielle, was very friendly and helpful when it came to selecting drinks, we didn't see much of her for the rest of the evening. During our two-hour stay at Truth & Alibi, we were only able to order two rounds of drinks, which left my group frustrated and ready to head out. It seemed like perhaps they weren't ready for the crowd—hopefully they'll be able to work out the kinks before their grand opening.
The verdict:
When I walked into Truth & Alibi on Friday night, I was excited to be there. By the end of my two-hour stay, I was ready to leave. Our bill was less than $25 each, which included two drinks and gratuity. It's a great concept, so I'd definitely be willing to give them another try, once they've had time to work out the kinks and nail it down a little bit better.
Get the SideDish Newsletter
Dallas' hottest dining news, recipes, and reviews served up fresh to your inbox each week.