For a wine lover, which we in Texas are, Napa Valley offers some of the best wine from prime fruit in the world. Hearty Cabernet Sauvignon, refined to very lush to heavily oaked Chardonnay, fruit forward Pinot Noir, austere Petite Sirah, spicy Zin or Syrah, fresh Sauvignon Blanc, and a whole range of emerging varieties for the region like Viognier, Mourvedre, Malbec, Grenache and more. And, from one lot to the next, in the 45,000 acres that make up the Napa Valley, soils display different characteristics from one row to the next. Carneros Chardonnay, with fresh citrus and tropical notes, won't taste like Oak Knoll Chardonnay, which brings in more stone fruit and spice. Old vine Petite Sirah in Stag's Leap will be softer and more refined than newly planted vines in Calistoga, which will be much bolder, spicier and intense. It is why the region can appeal to so many different people with different palates. I too am a big fan of Napa Valley wines and always find it fun to discuss the land, the region and the wines with winemakers who work the land.
I recently had a chance to sit down with a few Napa winemakers, as their guest at various lunches or tastings, and taste some of their precious juice. Here are a few favorites from these meetings.
A few weeks ago I had a chance to sit down for coffee with the charming Jean-Charles Boisset while he was in Dallas celebrating his unique wine living experience at home designed to transport participants to one of the Boisset Family tasting room experiences which wrap luxury, quality and character around comfort and approachability, always making the guest feel special.
Jean-Charles is a busy wine entrepreneur and enthusiast, creating an impressive portfolio for his Boisset Family Estates, including purchasing California's DeLoach, Buena Vista, Raymond and Lockwood in the past five years, as well as owning his JCB Wines, and dozen+ other Domaine and Chateau in his native France, as well as Italy and Canada.
Growing up in a wine family, the son Jean-Claude Boisset who founded the family winery in Burgundy in 1961, he knew early on that following the winery path was his destiny. But with Jean-Charles everything is about the history, the experience, and the luxury, especially within his most recent purchase, Raymond Estate in St. Helena, Napa Valley. Gorgeous, expansive and welcoming, every inch of the lush property is designed with purpose, filled with intricate touches to make guests to the winery feel as special as they are to the Boisset family. From Baccarat chandeliers lining the tank rooms to a luxurious red room able to be reserved for special tastings filled with game tables, pin ball machines, rich textiles and more chandeliers. Raymond also has a wall size meter visible as you enter their barrel room measuring their carbon footprint, a good gauge for the wineries dedication to producing in a cleaner, earth friendly environment.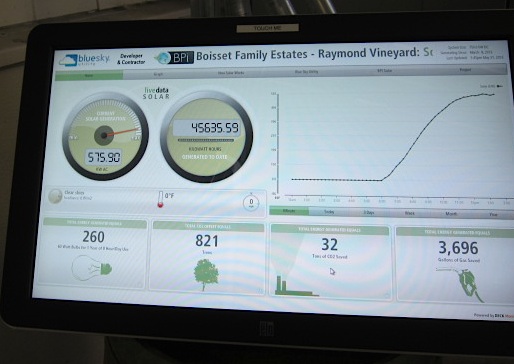 In a place where grand Chateau-like estates are the norm and great tasting experiences can be had at any stop along the way up and down Highway 29, Raymond has created an atmosphere of sophistication, style and detailed luxury, much like Jean-Charles. If you want a more hands on experience, they even allow you to be winemaker for a day, making your own blend with their winemaker that they will then bottle, label and ship home to you. This experience not only helps you understand why blending is such an intricate and detailed part of the winemaking process, and you get to take home a wine created by you specifically to your taste.
I asked Jean-Charles why each of his California wineries were chosen to be a part of his portfolio and with a wide smile he explains it is because of their history and their story. The story is the special element that sets one apart from another. For instance, Buena Vista is the oldest producing winery in Sonoma County (founded in 1857,) known for their Pinot Noir that ranges in style from fruit forward and approachable to hearty and rich. They are wines with character and personality, much like the Burgundy Jean-Charles grew up loving.
Earlier this year I was in Napa and had a chance to sit down with winemaker Philippe Melka, a star in Napa Valley, consulting on over a dozen different projects while developing and maintaining his own brand, Melka Wines, with his wife, also a winemaker, Cherie. From Lail to Gemstone to Brand to Dana Estates to Vineyard 29 to Cliff Lede, his impressive list of clients producing great Napa Valley wine proves both how a skilled winemaker knows how to make great fruit shine, and how incredibly different each and every part of Napa Valley is from one end of the region to the next. Like the wines he consults for, his own wine, Melka Wines, is dedicated to and defined by its superb quality.
Growing up in France, graduating from their University of Bordeaux with a degree in Geology, Philippe had an interest in wine, but only recreational. Quite happenstance in his final year of school he took a wine course and it change his path, moving on to complete his Masters in Agronomy and Enology, always interested in the way that soil can affect the wine and its quality. Traveling the world early on in his career, working at Chateau Haut Brion, Dominus Estate, Chittering Estate in Western Australia, Badia O Coltibuono in Tuscany, and Chateau Petrus, his interest in this relationship deepened, eventually deciding to settle in Napa Valley full time (though he continues to go back to his native France every year for both work and play.) He chose Napa because the distinct soil types from one spot to the next had such an impact on the wine. It may also be why he has chosen over the years to consult for so many different wineries, as each in his collection are very different in soil types, creating overall different styles of wine.
After several years only consulting in Napa, Philippe and Cherie started Melka Wines, using both fruit from vineyards they acquired as well as establishing long term contracts with some of the best growers in Napa (when you have Petrus, Dominus, Seavey and Lail on your resume you can be trusted to make good wine out of great grapes.) But good wasn't what the couple wanted, they wanted outstanding, and starting out very small, the first vintage was only 240 cases, they have achieved it. That first vintage, Melka Metisse 1996 showed his love for Bordeaux with a proprietary blend of 40% Cabernet Sauvignon, 30% Merlot and 30% Cabernet Franc. This has continued with what has become his single vineyard designate Melka Metisse blends, defining their sense of place and the importance of terroir in each of their wines.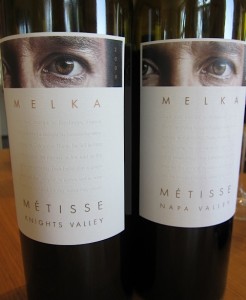 Melka Metisse 2010 Jumping Goat Vineyard is produced from 3.5 acres of sustainably certified vineyards in St. Helena. A blend of Cabernet Sauvignon, Petit Verdot and Merlot, the elegant and refined, yet robust and unctuous, wine leaps from the glass with balanced layers of wild flowers, leather, licorice, wet stone and cassis. Structured and polished with a velvety finish. $155 available via their website by allocation.
Melka Metisse La Mekerra fruit is from Knights Valley in Sonoma, chosen because of the ideal conditions the vineyard has for growing great Cabernet Franc. The very Right Bank Bordeaux blend of Cabernet Franc and Merlot proves how ideally matched these two wines are when blended together, as each enhances the other with delicious refinement. The 2009 vintage was aged 22 months in 75% new French oak, then bottled in 2011 and released in early 2013, giving it a year and a half to settle and age in the bottle prior to release. After drinking many great Right Bank Bordeaux recently, and tasting some that may have been opened before they were really ready to be enjoyed, this attention to detail and waiting for the right time to release the wine is ideal. Today this wine is lush, powerful and lively. Filled with sweet spices of clove and nutmeg integrated with ripe cherry, black and blueberry, pencil lead and violets the wine is something to be enjoyed now or can easily be held another 10 years. $145 available via their website by allocation.
The most approachable of the Melka wines is Melka CJ, their Cabernet based blend from vineyards located throughout Napa, and pays homage to Chloe and Jeremy, the Melka's children. Also made since 1996, starting out with just 200 cases, the wine is a blend of 75% Cabernet Sauvignon, 12% Petit Verdot, 9% Merlot, 4% Cabernet Franc. This inky purple colored wine is filled with the flavors of Napa Valley, from dark cherry and spice, to leather and tobacco, to licorice and dusty earthiness, this wine is Napa, complete with a silky finish that begs to be sipped again and again. The 2011 vintage was just released and is $55, available via their website by allocation.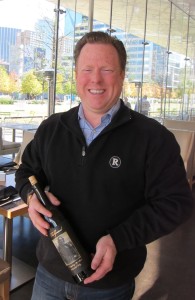 Brian Graham was born and raised in Denton, Texas and originally thought he was going to be an architect, but in his last few years studying at Texas Tech the energetic Texan knew sitting behind a desk drafting for other people until the day he could break out on his own wasn't going to be enough to sustain him very long, and he left Tech eventually to follow one of his other passions…wine.  I had lunch with him earlier this week at Savor Restaurant at Klyde Warren Park.
Brian had grown up with a wine loving father who loved this story behind the bottle as much as what was actually inside. He grew up traveling to the great wine regions of the world, visiting Germany as his dad loved great Riesling, Bordeaux, Burgundy, Italy and Spain, learning why these places were so important, both because of the great wine they produced then but also the wines they had produced for hundreds of years. When he left school he worked his way though the liquor retail world, to distribution and on to national sales, eventually deciding he was ready to take on Napa Valley. Only problem, he didn't have any degree, much less one in wine. Believing in himself and his passion he turned to many of the contacts he had made through the years in sales and moved to France to start hands on training with some of his old clients. After some time abroad, eventually earning an Enology degree from the University of Bordeaux, he decided to go back to Napa and try his hand again. This time timing was in his favor and with one call to the Dean of Viticulture at Napa University he had a welcome place enrolled in their viticulture school, a place to live and an internship at Merryvale. Luck was on his side.
Some might say that luck stayed with Brian, but in reality he realized early on that he didn't simply want to work in Napa, he wanted to be a part of Napa, making his own wine from his own vineyards. In his time at Merryvale he didn't simply punch a clock, instead he got in the thick of the business, both getting his hands dirty in every part of the wine making process, as well as asking questions of everyone, in every department, to understand why the work being done was being done that way – why a French barrel is bought, and why it costs do much? Why grapes from one block create one flavor profile, and why grapes from another can cost so much more yet add that necessary punch of flavor desired in a great glass.
In 2000 Brian began to do some consultant work with various vineyards he had established relationships with since he arrived in Napa. They were small growers producing great fruit, but had been selling it off as they didn't have the means or knowledge to make wine from their fruit. Brian helped many establish their own wineries, and in the beginning, worked in an almost barter like scenario paid in fruit instead of cash. With this he started his Ramian Wine label, single designate, single vineyard wines made in very small production (sometimes only 45 or 50 cases) highlighting one very special piece of land.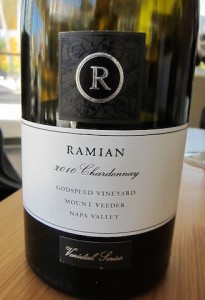 Today Ramian has about a dozen different wines produced from specific vineyard blocks located throughout Napa Valley.  Ramain Mount Veeder Reserve Godspeed Vineyard Chardonnay is one of a very few Chardonnay I have had from this sub-AVA better known for producing bold Cabernet Sauvignon.  The Godspeed Vineyard sits at 1500 feet elevation with constant cool breezes settling through the vines growing Chardonnay that is always one of the last to ripen and harvest in Napa.  Aged for 18 months in partially new French oak the wine melds good structure and richness with crisp, light acidity.  $54 available via his website.
The General is a proud salute to Brian's Texas roots, adorned with a portrait for Sam Houston this 98% Napa Valley Cabernet Sauvignon with just a touch of Petit Sirah from a St. Helena vineyard to actually soften the wine a bit, a different role than the big, tannic, rustic Petit Sirah variety usually plays in wine. 150 cases of the soft, supple and elegant reserve wine are made from some of the best fruit Brian works with, creating a wine filled with dried black cherry and ripe blackberry, dried herbs, licorice and spice with touched of tobacco and chocolate.  The wines had been opened for about 4 hours when I tasted them, allowing their bold profile to soften, and enhancing the wines velvety texture, making it incredibly approachable.  $100 available via his website.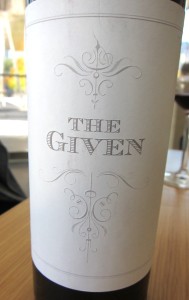 A great thing that Brian believes in is giving back, and with that he created a 100 case Cabernet Sauvignon based blend called The Given in which 100% of the proceeds of each bottle are given to charity. The first vintage of this wine is just becoming available so Brian is still confirming the different charities that he will be working with.  As a wine lover and as someone who tries to give to those in need when I can, this is a true win-win: a great bottle of Napa Valley Cabernet that helps various charities…sign me up! The wine will be available via their website shortly.
In addition to the great wines of Napa we can enjoy easily in Dallas, the region loves to welcome guests….Texans being amongst their largest group of visitors. From the wonderful Auction Napa Valley in the summer, to the food centric Flavor Napa next week, to Premier Napa Valley giving you a sneak peak at many new wine releases in February, there are great opportunities to visit the region, finding your favorites and learning their story. If you ever need ideas for where to taste, send me a note.
Get the SideDish Newsletter
Dallas' hottest dining news, recipes, and reviews served up fresh to your inbox each week.