The Omni PGA Frisco Resort has placed the last beam on the hotel development and revealed several model rooms to showcase its design. The $520 million project will house the new North American headquarters for PGA, three golf courses, a putting green, Omni Resort, and more in Frisco. Its economic impact is estimated at $2.5 billion, adding 1,000 jobs at the resort portion of the development alone.
The more than 520-room, and 600-acre luxury resort is the largest currently under development in the nation. It is set to be completed in spring 2023, with rooms and amenities designed by San Francisco-based SB Architects. It will be one of Omni's more than 50 properties, the fifth in North Texas.
"The goal was taking the program that was developed by Omni Hotels, and the program about golf and retail and entertainment, and looking at how we can kind of merge those together and create this. It is about consistent philosophy. All 34 different structures on-site can work together and reinforce the focus and the concept in each of those spaces," Bruce Wright, senior vice president and principal of SB Architects, says of the design process.
The resort includes a golf clubhouse, 10 four-bedroom suites, a dining and golf entertainment concept called The Ice House, 12 restaurants, three pools and a splash pad, a 21-treatment room spa, conference rooms, TopGolf Lounge, PGA Coaching Center, two ballrooms, and a retail village.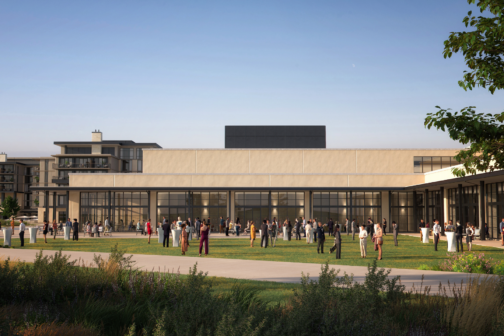 Thus far, the biggest challenge to design has been supply chain issues. "Just getting beds for 520+ rooms takes a massive team of logistics to organize that and make that happen. The team dodged unexpected design changes and continued strong," Wright says.
The hotel's overall feel will tie in several golf references and nods to Frisco. "We've been working with the mayor quite actively to ensure the presentation and integration of Frisco is being folded into the design of this space. So, nods to Fields property, respect to the land, history of the local area, and how this project came to be can be seen throughout your stay."
Amenities and Lobby
The resort's architectural design centers on breaking up the more than 127,000-square foot property, providing smaller feeling areas within the larger scape. The lobby entrance has a grand residence feel, and just inside, floor-to-ceiling windows overlook the rolling 450-acre golf course designed by Beau Welling and Gil Hanse.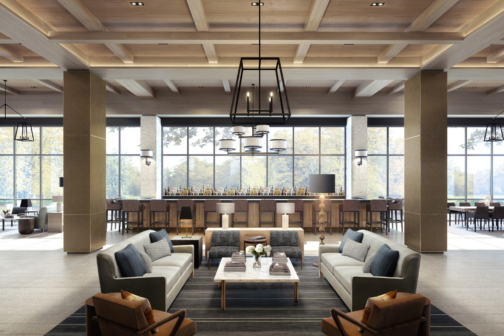 Interior and exterior limestone and walnut finishes nod to Frisco's native natural elements and provide a warm, familiar, and approachable environment with a modern twist.
"There is a routine and choreography of comfort, luxury, and relaxation that we built into the design. There is a lot of detail that has been thought out from arrival. As a result, you don't feel like you are arriving outside a golf club. Instead, you are greeted and welcomed at a proper resort hotel," says Wright.
As the entire development is a public-private partnership with the city of Frisco, the resort space was designed to be a family destination for Frisco residents. Wright says, "You can have an ice cream or coffee and have nothing to do with golf. It's an entertainment destination." The hotel's retail space will include items made by local artisans from Frisco, and Frisco ISD golfing students will have access to the resort training facilities.
The resort includes several courtyard areas and what Wright refers to as The Back Porch. "It is not an interior portion of the building," he says. "It's a casual gathering space with fire beds, oak trees, a wonderful grid that transitions down to the public promenade to the lobby lounge and all-day dining. It is going to be a welcoming space for couples, individuals, and groups."
A mile-long pedestrian promenade connects eastern and western portions resort areas. "All facilities are distinctive in their design but share similar architectural materials and vocabulary. They are like a family of buildings and work together," Wright says. Most resort amenities are housed on the east side of the property, including wedding event spaces—junior and grand ballrooms visually connected to the golf course.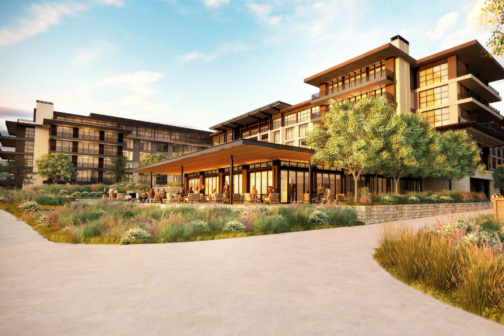 Rooms and Suites
Wright says rooms are meant to feel approachable and homey—even though they are part of a massive resort development. "This project is a 40-acre puzzle with 500 keys for the main building and another 21 keys depending on how the final construction sorts out. Making something feel like a home with that kind of scale is a challenge."
Neutral tones abounded in the Omni's rooms, as well as wood and leather finishes that reference golf and the locker room. "Rooms are eclectic but modern and give subtle nods to high-end golf experiences, from attire to country and golf clubs—nods subtle enough that the non-golfer feels comfortable," says Dusty Carter, interior design manager at Omni Hotels & Resorts.
Each room features a Ranch Water minibar housed in a wooden cabinet, which is designed to reference golf club lockers. Carter says are more feminine touches, such as plaid wall decor, ranch-reminiscent pillows, and art that draws on local history and terrain, balance the locker room feel of pieces such as the fridge. "Our artwork includes images of the Bert Fields Ranch, the Texas landscape, delicate golf paintings, and historical maps of Frisco," she says.
Finishes focus on familiar elements of local stones, wood, and metal that tie the space back to nature and transition from outdoor to indoor. Multi-use furniture offers versatility. "Multi-use equipment in the rooms for visitor convenience was a big part of our design," Carter says. "Walking in, there is a green leather bench that serves as seat, luggage bench, as well as hidden storage in the place of a typical dresser. Our tables can be used as a desk, or a dining table."
The hotel also includes two types of presidential suites, the larger of which feature a Poker Suite and the Bridge Suite. Both will include nods to their namesake games. "To do things a little differently, we will have card tables in the rooms," Carter says.
With just under 400 days left of construction, Wright says, "The process is fulfilling a dream and our biggest success. The Rowlings made a big risk on acquiring the property and believing in the process. The greatest success will be seeing how important this space is to the people on the project, the 600 plus workers there today, and the 1000 people who will be working the hotel. When they're hosting the first major championship, and there's a blimp or helicopter with dramatic views back to this, it will be great to recognize we were all a part of that. It will be an amazing sort of validation of all the hard work and effort."
Omni PGA Frisco's first major event will be the KitchenAid Senior PGA Golf Tournament in May 2023.
Get the D CEO Newsletter
Stay up to speed on DFW's fast-moving business community with weekly news reports, interviews, and insights.
Author