The prominent Dallas leaders who make up the board for the Thanks-Giving Square Foundation are in early talks of what a significant overhaul of the downtown oasis might look like. While still in initial discussions, the foundation's president and CEO, Kyle Ogden, suggest it might be upwards of $25 million to breathe new light into the private meditation garden.
Interestingly, the greenspace anchored by a spiraling nondenominational chapel was conceived by a real who's who of Dallas—such as The Hunts, The Meadows—following the 1963 assassination of President John F. Kennedy. The idea, Ogden told D CEO, was to build something that Dallas could be proud of in the wake of the abased slaying.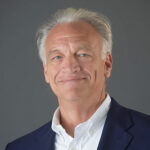 "My belief is the community came together around something they could be proud of that expressed the virtues and values of Dallas beyond what was in the headlines," Ogden said. Before the Square's dedication in 1976, religious leaders behind the project called it "a beacon of hope for generations."
No expense was spared as Dallas city leaders bought a city block and hired the most famous architect at that time, Phillip Johnson. Johnson has designed monumental buildings worldwide—Texas and Dallas held a special place for him, though. He first conceived the de Menil House in Houston in 1950 and, in 1964, designed the Beck House, which is well-known for its facade of slender concave arches that wrap around the home. Later, he created the Memorial in 1970 and composed the Marshall Field's facades in Houston and Dallas, Momentum Place—now Comerica Bank Tower—and the Cathedral of Hope.
The Square was never intended to be a park, but it has been criticized over the year for its angular, sloping landscaped wedges that seem to close the space off from its community. And, over time, it became a bit rudderless due to some deferred maintenance. (You can read more about that in this 2012 D Magazine article by Patrick Kennedy.)
The recently retired Ogden was brought in a few years ago to help turn the Square around. "If you've been around here long enough, you realize we were in a turnaround situation; the dogs had kind of taken over, the smells were bad, the aesthetics were bad, and there was a lot of neglect," Ogden said.
To get started, the nonprofit invested more than $250,000 in 2018 to help with physical improvements mostly on the western edge of the property at North Akard and Pacific Avenue, or as Ogden calls it, "the front door."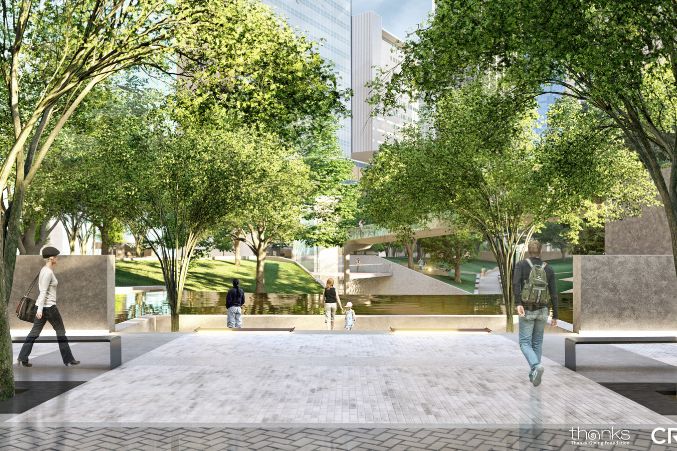 BLENDING THE OLD WITH THE NEW
Global planning and architecture firm CallisonRTKL has stepped forward to provide pro-bono design services to help the foundation reimagine what Thanks-Giving Square could be in the future.
The re-envisioned design concepts potentially include an overlook along Pacific Avenue and a small multi-function pavilion on the west edge of the park to connect to the Dallas tunnel system. The design also re-envisions the perimeter of the space to better connect with the sidewalk and greater community outside of its approximately 1.7-acre site.
CallisonRTKL has had a Dallas outpost for the past four decades and has been housed in Republic Center since 2001.
"Having called downtown Dallas home, as a resident and place of work for 15 years, I've experienced many unique aspects of Thanks-Giving Square with family and colleagues," said CallisonRTKL Vice President Noel Aveton, who leads the urban design and landscape architecture studio in the Dallas office. "With its grand water displays and mature trees, the Square is a special location you can retreat to for a meaningful moment of respite from our busy lives. And with a greater appreciation of open spaces during the pandemic, the human value and connection between health, wellbeing, and sense of self is highlighted in public spaces such as Thanks-Giving Square. Now, more than ever, accessible public open spaces are being considered essential infrastructure, where environmental benefits meet public health, ultimately creating places that allow us to come together as a community."
Redesigning a space with such a specific purpose, though, did have its challenges. Early on, those involved knew they wanted any changes to honor the original intent of Phillip Johnson's "escape from the city" design. Johnson expected you to enter the space and take it in at a particular order. He wanted you to enter from the Bell Tower and come down a long procession before catching sight of the chapel at a bend in the pathway. When talking about how to honor that sunken design the Square has been long criticized for and finding a way to knit it into downtown, Ogden said the board came to the ultimate decision to accomplish that by ensuring its dedication to Johnson was reserved for the areas inside the wall.
"There have been lots of articles, and lots of people who [look at the square's design] and think, 'they don't want anybody in there," Aveton said. "Finding that right compromise of breaking some of the walls in strategic areas and finding moments where you could step into it but not take away from someone who is down in the space and who is experiencing it at a different level, physically and spiritually, that was what we had to wrestle with. There were lots of opinions on it."
The ultimate goal, Ogden says, is to make Thanks-Giving Square a destination. And just outside the walls of its peaceful sanctuary, he dreams of it becoming the Thanks-Giving Square District. It would be a place where they can be as contemporary or engaging as they want to be, using elements like a media wall and a restaurant or event space. Or even taking ownership of Pacific Avenue from Akard to Ervay streets and turning it into a linear park space with food trucks and picnic tables.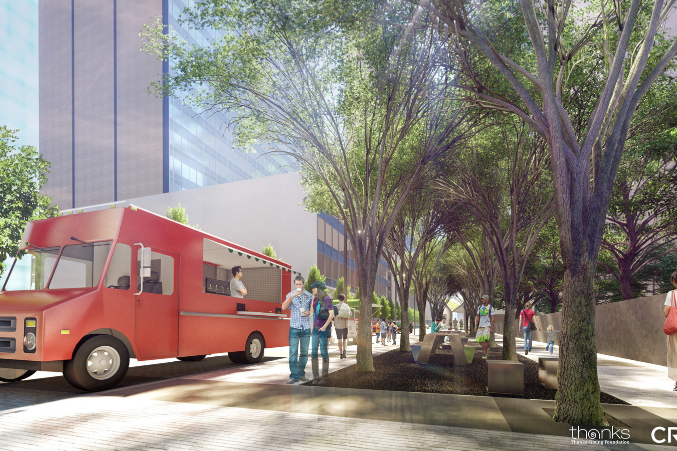 Inside the walls, though, there will be some much-needed updates, like leveling the steep walkway and introducing a glass-enclosed elevator to be more ADA compliant. As well, early design renderings show a couple of areas where overlooks are created outside of the space on Ervay Street and Pacific Avenue to create a vista down onto the Square that kind of teases the visitor experience.
"What we are looking for is to knit this into the community … and make it more relevant," Ogden says.
That vision comes with a hefty price tag and likely the foundation's largest feat, raising upwards of $25 million.
A quiet phase of a capital campaign will begin in the upcoming months—and yes, there will be opportunities for naming rights.
"I think the timing is right," Ogden said. "I'm optimistic that if we get our messaging right, this is something that people can get behind."
Get the D CEO Newsletter
Stay up to speed on DFW's fast-moving business community with weekly news reports, interviews, and insights.