Market Ross Place, a building on the National Register of Historic Places, recently underwent a $4 million renovation.
The 1905-era three-building complex was acquired in 2016 by a joint venture between New York Life Insurance Company and Lincoln Property Company. Ecom Real Estate had owned the properties for over 30 years, according to Dallas County deed records. At the time, the purchase makes Lincoln one of the largest owners in the area.
The completed multi-million dollar upgrade includes a total renovation of the building's lobby, common areas, restrooms, enhancement of the on-site fitness center, and conference center, as well as a brand new tenant lounge.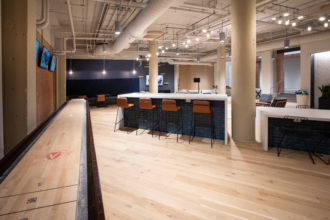 North Texas-based firms GFF and K2 Construction executed the design and construction of the three-year project.
"GFF and K2 did a wonderful job enhancing and modernizing the building's original character. We are confident that our current and future tenants will enjoy utilizing the new spaces and amenities," said Chris Axley, senior vice president of office brokerage at Lincoln Property Company.
The building, which previously housed warehouse space for hardware, engines, and other products, consists of three buildings connected by a four-story atrium, retail space on the first floor is home to RJ Mexican Cuisine, Tutta's Pizza, and Ellen's Southern Kitchen.
Market Ross Place currently has 2,000 to 40,000 of rentable square feet available.
In early 2021, the district will have a brand new park, West End Square, located next door to Market Ross Place on the corner of North Market Street and Corbin Street.
Get the D CEO Real Estate Newsletter
Get weekly updates on breaking commercial real estate news and relevant industry reports.