With more than 120 corporate headquarter relocations and more than one million new residents in the North Texas region in the past eight years, no doubt most companies have had to grapple with their growth.  Of course, the question around the boardroom is often: How fast should we grow?
As a general contractor serving the commercial real estate industry, I would say much depends upon your experience in riding out both up and down economic cycles, as well as your willingness to take risks.  When I started MYCON, I started during one of the worst of times – the 1987 S&L crisis. You learn a lot of lessons going through rough times about developing business, managing projects, and keeping good people.
Fast forward to today, and those in the CRE market agree that the construction industry in North Texas has been bountiful.  But when will it slow and how do you prepare for that economic cycle, especially if you have been involved in fast growth?
Read any publication's list of fastest growing businesses, and you will likely see that at least 20 percent of these businesses are in construction. There's an upside and a downside to this success. As Packard's Law states: "No company can grow revenues consistently faster than its ability to get enough of the right people to implement that growth and still become a great company."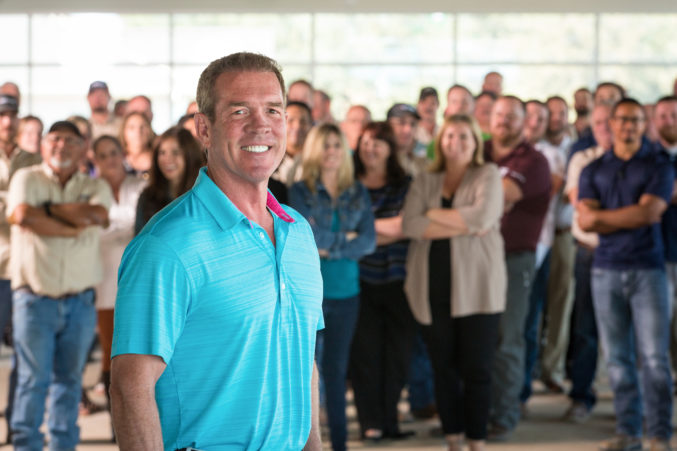 In this region, the growth of local companies and companies relocating to North Texas are competing for the same human capital.  Over the past three years, our staff has increased 75 percent. Those new personnel have been a combination of seasoned new hires and interns who moved into full-time positions with us. But bringing jobs online that quickly can impact your firm in two key capacities: 1) your ability to manage your overall operations, and 2) your ability to create the same unique and dynamic culture that enabled you to grow so successfully. No doubt both of these can put a strain on your business if you neglect their importance.
Fast or Slow?
If timed correctly, a company can position itself to gather valuable resources in advance and ride the rising tide.  In 2012, we started to see a recovery and all signs pointed to economic improvement. Coming out of the most recent recession didn't put us in the best financial position in terms of capital and people, but we had to take risks for that growth opportunity.
We hired a president and executive leadership team to get going, and we had to expand our office space by relocating to a new home. We chose the growth path to keep our best talent, create new opportunities for advancement, and "recession-proof" our business by developing new business units to enter new markets.
Of course, if I were to plot our revenue growth over the last five years, compared to our staffing growth, both revenues and staffing would increase in tandem.  Based on how overhead intensive our industry is, there is a big commitment to financial resources.  For example, our recruitment fees have been staggering, and my peer network often discusses it.  To tame these costs, we are bringing a full-time recruiter on board.
As for salaries and bonuses, not only have these costs increased across the board, but you have to be sure existing internal salaries are competitive with those offered to newcomers. The balance is vital to keep turnover low and morale high.  In our industry, good people drive the success of our projects and our growth.
Financial Considerations
Strong growth creates a greater need for working capital to reinvest in the business. With
new layers of management, new departments, and a pipeline of construction projects, upgrading our back-office systems became not only a necessity, but paramount to operating the business profitably.
For companies on a fast track, the most important financials are those that help you know which markets pay the bills, which markets will slow, and which markets will grow. Understanding where you are making money and where you are not gives you the ability to accelerate within high-performance markets and discontinue serving certain markets.
As things slow, you have to keep the right people on board by moving them into new roles. As part of the strategic planning process, I have always advocated for future plans that include a downturn. Making knee-jerk decisions for lack of planning always leads to poor decisions that cannot be retracted.
Gauging the "sweet spot" in the construction industry can be tricky. The larger you become, the more revenue you may generate, but profitability depends upon your infrastructure and management. In construction, your work can rise, then plateau.
When we went from $90 million to $150 million in revenue, we reinvested heavily in our business. Then we grew from $190 million to $300 million in one year. That is the kind of growth that demands a critical eye on the bottom-line.  Keeping a firm hand on operating costs and retained earnings enables you to reinvest in your company's infrastructure, operations, and people.
Slow Growth
There's an argument for a slower growth model. Let's say 10 percent per year. There are some firms that want to target $50 million in revenue, and these are often closely held businesses. With slower growth, the various challenges associated with growth in terms of human resources, financial wherewithal, and culture are less acute.
So what is wrong with perhaps a more prudent route to recognize the work it takes to grow and to set limits on annual growth?  The opportunity costs are the trade-off.  What are you leaving on the table had you decided to stretch?
The second trade-off may be losing key talent.  Ambitious people who are top performers will not sit on the sidelines for long.  Providing an atmosphere where ambitious goal-setting and a performance-based culture thrive excites and attracts talent.  Throttling back may send the wrong message. Younger talent wants to see leadership in action.
Culture and Communications
Whether fast growth or slow, some of the biggest internal challenges involve a company's culture and communications. Operationally, there is a need to develop consistent and disciplined practices on how to run the business. If new hires at any level do not understand your operations, the culture you have created, or are not in the loop on company projects, many will operate in the style of their former company which may not align with your firm's priorities or core values. By defining expectations early on, these transitions can be smoother. Left unaddressed, you may find your team in disarray.
When it comes to people, I've always maintained that you should be rigorous, not ruthless, in your leadership style.  Given the high costs of recruiting, the impact of turnover, and the harm to morale, how you integrate, diversify, and lead your team as you grow is something to give time and priority to so that you build long-term loyalty.
No matter which path you choose, a successful growth strategy starts with finding the right people who share your vision and are disciplined in action and thought.  Jim Collins points out that first you get the right people, then you put them in the right seats, and then you decide where to go.  This works.
It worked for us five years ago when we started our journey, and it is working today as we look forward to the years ahead.
Charles Myers is President and CEO of MYCON General Contractors, a former co-chair of the Industrial and Office Local Product Council for the North Texas District Council of the ULI, and serves on Landmark Bank's Texas Regional Board as a director. He can be reached at [email protected].
Get the D CEO Real Estate Newsletter
Get weekly updates on breaking commercial real estate news and relevant industry reports.