$1.5 Billion Mixed-Use Project Headed to Lewisville
The first phase of Bright Realty's The Realm at Castle Hills will be completed by next year.
Dallas-based real estate firm Bright Realty has started building a 324-acre mixed-use development in Lewisville's Castle Hills neighborhood.
The $1.5 billion project, called The Realm at Castle Hills, is owned and developed by Bright Realty. In the first phase of the project, general contractor Hill & Wilkinson will build a nine-story office space facing a park, both of which are expected to be finished in 12 months. The Offices at The Realm will have 235,000 square feet of workspace with four per 1,000 parking ratios and 15,000 square feet of restaurant space on the ground floor.
Colliers International Executive Vice President John Conger and his team will lease the office space. Eric Stanley, president and COO of Bright Realty, says the office space will appeal particularly to two types of people.
"The office tenants who are being targeted are people who need to be either near the airport or [Frisco's] $5 billion mile," he says. "And we're going to be a opportunity for tenants who have those kind of needs."
The second phase, which is expected to complete in 2020, also broke ground this week and will include 35,000 square feet of retail space under a 260-unit apartment complex.
"The demand to live, work, and play in the same area has transformed our suburban communities," Bright Realty CEO Chris Bright said in a statement. "The Realm is designed with that in mind and with a focus on an overall quality of life that offers a sophisticated suburban setting with generous outdoor and event spaces. We want people to live, work, play and stay at The Realm …"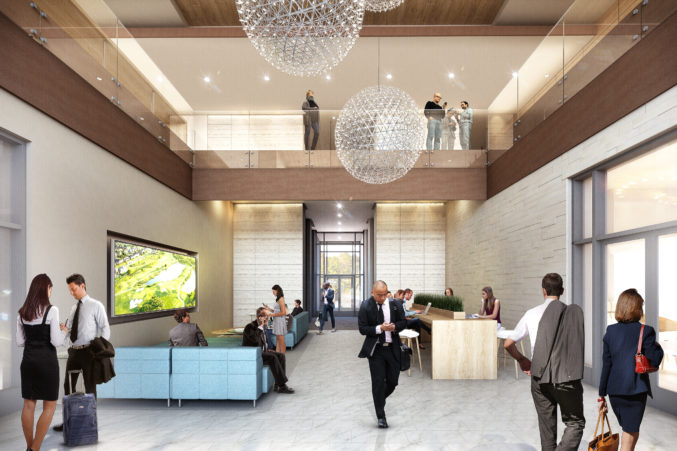 Architect BOKA Powell, design architect and interior designer 505 Design, general contractors are Hill & Wilkinson (office portion), and Andres Construction (residential and retail space) will build The Realm. Southwest Bank, a division of Simmons Bank based in West Texas, financed the development. Bright Realty will lease the retail and restaurant space in the project.
Stanley says the company has no plans to sell parcels of the property, but trading to other developers is not out of the question.
"That is a possibility," he says. "But none of the property has changed hands yet."