The Cotton Bowl returns to AT&T Stadium on Jan. 2, featuring a sold-out matchup between 14th ranked Tulane and 8th ranked USC. D CEO recently sat down with Cotton Bowl Athletic Association Chairman Dave Brown, who who also serves as the COO and general manager of American Airlines Center.
Prior to being named to a two-year chairmanship post, Brown was on the Cotton Bowl's board for 12 years and also served for a period of time as the vice chairman. Here, Brown previews the showdown, offers insights on the future of bowl games, and how the changing dynamics in college football alter the bowl's business approach, economic impact, charitable giving, and more.
D CEO: The Cotton Bowl is obviously a large New Year's Six bowl, but explain to me how your team works to make it more than just one day, one game.
BROWN: "Beyond hosting the game, we are in the community and and we try to give back to the community in many ways. There's a direct, obvious economic benefit to the community by hosting the game. We fill hotel rooms, we fill restaurants; our fans that come to town are spending money in shopping centers. They're leaving a little bit of money behind when they visit so we estimate that the economic impact of each game is around $100 million. We also have established the Cotton Bowl Foundation, which over the last six years has donated more than $2 million through various charitable organizations with a focus on education and making sure that some of the underserved youth in our community are given opportunities to excel and we're able to enhance their education process through different organizations that engage in that endeavor."
D CEO: Last year the Cotton Bowl made a $100 million economic impact. You mentioned you forecast that as the mark every year, but this year's game is not a College Football Playoff matchup, so how do you foresee that impacting the financials?
BROWN: "This year, we hope to hit $100 million, but it's not a semifinal game like it was last year. So there will not be quite the media contingent. Tulane is a smaller school and may not travel quite as well as Cincinnati and an Alabama did. I think we'll be close to the $100 million mark, but maybe not on par with last year."
D CEO: The Cotton Bowl has two different dynamics with the Tulane and USC programs. One is an historic program, the other is playing in its first major bowl since 1948. Talk about the two institutions coming to town.
BROWN: "We obviously want to have teams that are excited to be here and Tulane fit that description quite well. They have really engaged through their athletic department and through the university to get their fan base excited for this game. There's quite a large alumni base in Dallas already, so we really do expect quite a strong Green Wave representation. And on the flip side, under Coach Lincoln Riley, USC has found their way back to winning football and, Caleb Williams—the Heisman Trophy winner—certainly has a lot to do with their resurgence. If you just look at the program, what they've done over the last few years, and what they've done this year, you can just see the trajectory is heading up. We think that their fans will show up and they'll be excited, as well. This is a showcase bowl game for two top programs, so we expect a great matchup."
D CEO: Has NIL changed the way your team handles preparation for the bowl game in terms of how you interact with the players?
BROWN: "It has not—to this point. Right now, it is not much of anything other than a massive discussion point and how it could potentially affect our game in the near future. There is just a lot of speculation around the topic. And, we're really waiting to see if there is any type of legislation or governance from the NCAA. We need regulations before we start talking about exploring opportunities in the world of NIL. But as of right now, we're not engaged in any activities related to NIL other than just trying to stay alert to anything that might affect us. But to this point, it really has not changed the way we operate.
D CEO: What does the future hold for the Cotton Bowl? Some people argue that bowl games that aren't a playoff game don't matter. But how do you see it?
BROWN: "The Cotton Bowl puts on a great competition and has great pageantry. It's tradition in the area and it really makes up a lot of sports fabric in this community. As of now we're in the second year of a six-year agreement with the College Football Playoff. So what is going to change for us is the expansion of teams that get into the playoffs. Going from four to 12 teams will guarantee that—after next year's game—the Cotton Bowl will be a semi-final as scheduled and then games after that will either be a semi-final or a quarterfinal game. We are guaranteed to be part of the playoff with the 12 teams. And then, after that, if we do our job right and continue what we've done with the Cotton Bowl and perform the way we have as an elite bowl game, there shouldn't be any issue with us continuing as one of those CFP bowl games as we negotiate through the next contract cycle."
D CEO: The college football world has changed a lot over your 12-year tenure, but is continuing to change at a much faster pace. How is the Cotton Bowl adapting?
BROWN: "We've stayed in front of the changes, I think, primarily in college football and when the College Football Playoff was created, it really played into our hands because we have such a tremendous bowl game structure, financially sound organization, and a tremendous venue that we host our game at—it was everything that the CFP was looking for. We were ready and waiting for the new playoff dynamic and that's how we established ourselves in the CFP.
"Beyond that, just the way our organization has grown has been great. We've always done a great job of taking care of our business and the bowl game, but now we're looking more outward toward the community and how we can be more engaged and how we can be more inclusive. This mindset has always been there but we've just taken some real concrete steps towards being more engaged in the community.
"For instance, our Cotton Bowl Foundation, which was established in 2016 with a separate board that makes donations throughout the community, the work is intended to enhance our education system, we've done things like donate equipment to Children's Hospital, we've distributed eyeglasses in our community, we provided 5,000 meals from the parking lot at AT&T Stadium with the Tarrant County Food Bank. And we're also trying to bring new people from different backgrounds to the board that previously had not participated from all areas of North Texas. As an organization, we're very proud of how we're better reflecting the community within our board of directors."
D CEO: How are you looking to grow charitable impact in 2023?
BROWN: "Our foundation gave $500,000 this year and it is a priority for our foundation to expand our giving in 2023. A lot of that depends on our financial success from game to game—that's where our funding primarily comes from. Any money that's leftover from our bowl game, after we paid the teams and pay our expenses, goes to our foundation. So depending on what that looks like after this game, I don't see why we wouldn't be able to expand our giving in the coming year."
D CEO: With the AAC, you're more in the trenches of that business, how has the venue performed in 2022?
BROWN: "It has been a strong year for the AAC. Our teams sell out night in and night out. We had a great playoff run with the Mavs. Sales are strong. Attendances are strong. There's only nine NBA/NHL facilities in existence and if you look at each one of those over the last number of years, not all of them are clicking on all cylinders for both teams. But the AAC is and we have been for years and years now. We sell out every game and people show up. That translates to healthy revenue streams. Times are good at the AAC."
D CEO: What about concert performances?
BROWN: "2022 really was the first full calendar year that the American Airlines Center has been back in full operation since COVID. Obviously 2020 was highly curtailed. In 2021, we were still feeling the effects—we didn't host our first major concert in 2021 until Sept. 1, so, the first eight months of 2021 were pretty slow. But 2022, was full speed, full programming, full capacities. And we've hosted a full calendar of shows this year. We're going to end up hosting 48 shows for 2022, which is a really good number for us—our all-time high is 50. We benchmark ourselves against other buildings that are in major markets and, in terms of ticket sales outside of the Dallas Mavericks and Stars, the AAC ranks No. 6 in the world, according to Pollstar."
Get the D CEO Newsletter
Stay up to speed on DFW's fast-moving business community with weekly news reports, interviews, and insights.
Author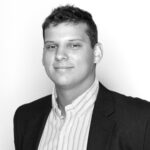 Ben Swanger is the managing editor for D CEO, the business title for D Magazine. Ben manages the Dallas 500, monthly…