Co-founders of Dallas-based Monarc Sports, Igor Karlicic and Bhargav Maganti, started testing their robotic quarterback, the Seeker, by firing footballs off a townhouse balcony. Nine iterations of the Seeker later, the two engineers have created a product often incorporated into NFL and college football player training.
The Seeker is the world's first robotic quarterback and allows players to catch passes and field punts or kicks by themselves—without needing a team to practice. In addition, the technology possesses the capability to track athletes' positions on the field to throw the ball at a specific speed, at a specific location on the field, and at a specific position on the player's body.
The Seeker was created to satisfy player's demands for high-volume reps, especially those further down in the lineup who may not see extensive game or practice time. The traditional JUGS machine, the football equivalent to a baseball pitching machine, was patented over 40 years ago, and Karlicic and Maganti saw an opportunity to innovate the stagnant equipment. Though the two had recently graduated college, they hoped to one day bring their idea to fruition.
"We put it together with our [Northwestern] Computer Aided Design Program," Maganti said
.
"We formed ideas on the types of components we would use, the motors, the gearboxes, and more."
Soon, a prototype was formed while the two were pursuing their engineering careers. After Karlicic and Maganti—who were college roommates studying engineering at Northwestern University—graduated, Maganti went to work as a design engineer for Boeing and Karlicic as a mechanical engineer for PMI Cartoning.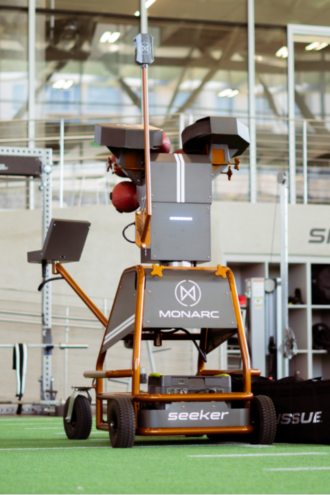 A very short time into his new post at PMI, Karlicic caught word of a project at the University of Iowa that linked tracking technology with football throwing equipment. So naturally the two innovators left their first post-college jobs to, once again, pick up their side project.
"We didn't have a good feel for how this [technology] would actually impact our market until we built a prototype," Karlicic, who can now be found on
Forbes
"30 Under 30" in sports, said. "We got in touch with the University of Iowa, and they were the first ones who [were impressed] and said, 'We'll give you a little bit of time to come in and show it off.'"
Nine months later, Karlicic and Maganti timidly trekked into the Iowa Hawkeyes football practice facility, hoping players and coaches would not see their unpolished prototype with its several protruding wires.
"We wanted to come in without any players around, without any staff members around because we know what a finished product should look like," Karlicic said. "What we had was far from that."
At the time, the Seeker had traditional wall plugs and oversized wheels, limiting its mobility, a far cry from the modern machine's collapsible, all-terrain wheels and 2000-watt Generator. The Hawkeyes staff and players tested the unit, catching passes and tracking data, and the machine received immediate praise.
"Many players commented that they would love to have this [quarterback] and be able to practice with it," Karlicic said.
Maganti and Karlicic began polishing the Seeker—covering wires, optimizing software, and refining tracking technology. The two executed countless hours of tests before arriving at the product that can now be found on football fields at all levels across the country.
"We actually do the assembly in house," Karlicic said. "Once somebody orders…we'll go and get customized [metal] per the color scheme, put it together, have wiring done, and quality control. So that process can take as little as a week or four to six weeks."
Before the COVID-19 shutdown, Monarc was prepping for a nationwide tour to deploy their creation to college football programs. Unfortunately, that tour never came to fruition; however, organic growth within the NFL did.
"We ended up getting about 15 NFL players to come on board," Karlicic said. "We were fortunate enough that we had a service that hit home with these athletes. I think an emotional connection, translated to a common [bond] with NFL athletes and to people who could help push this dream along. We were just very lucky in finding those synergistic connection points."
Current Seeker users within the NFL include tight ends George Kittle of the San Francisco 49ers, TJ Hockenson of the Detroit Lions, and Hunter Henry of the New England Patriots, as well as wide receivers Gunner Olszewski of the Patriots, Josh Reynolds of the Tennessee Titans, and Keelan Cole of the New York Jets. Within the NCAA ranks, Southern Methodist University, Louisiana State University, The University of Oklahoma, University of Iowa, University of Virginia, and more all use the Seeker.
In addition to several NFL athlete's investments, Monarc has raised over $1 million in seed funding to help the company scale.
"A lot of [our growth] has to do with letting our customers, our athletes, learn about our device and then share it, so it's a lot of organic growth," Maganti said.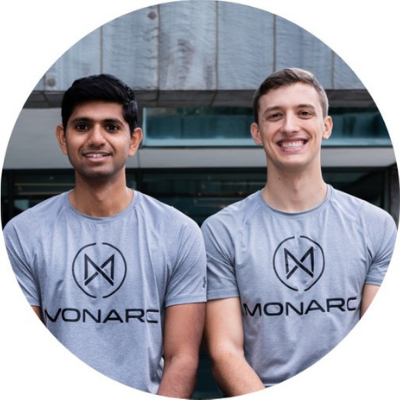 Karlicic and Maganti are now looking to bring the Seeker into more NCAA programs to increase reps for all athletes, regardless of their place on the roster.
"We really want to go back to our original roots and have this be something that's accessible to the third-stringers, the people who don't necessarily have the opportunity on the field," Maganti told said.
Karlicic and Maganti are also hoping to ride what they foresee as a coming tech boom in DFW.
"I think infrastructure is key in terms of being able to connect similar companies at your level," Maganti said. "I think Dallas is doing a fantastic job in bringing more of these [startup] events and bringing more of a community that makes it easier for someone to get started."
On June 16, Monarc will host a preview of what is to come at this year's Dallas Startup Week by The DEC Network. From 4–6 p.m., attendees will be able to meet the co-founders and catch some passes from the Seeker at the CUE in suite 200 at 750 N St. Paul Street. The DEC Network's Startup Week will be held at Southern Methodist University from August 1–5.
"What we want to do is bring the future a little bit closer [with our technology]," Karlicic says.
Get the D CEO Newsletter
Stay up to speed on DFW's fast-moving business community with weekly news reports, interviews, and insights.