While others in the industry scrambled to pivot toward takeout and delivery, the Harwood District, home to nine restaurants, has taken what has been nearly a year of closure to revamp and reevaluate its restaurant business models.
"Together, we initiated a powerful renaissance within Harwood Hospitality Group while our concepts were temporarily closed," Harwood Hospitality Group vice president Michael Muskat said.
With no pressure from landlords—Harwood privately owns and operates all of its properties—the district has been able to implement a phased reopening process preceded by employee training, menu remakes, new culinary leadership, and interior remodels.
"We closely evaluated each concept's unique business model, conducted various studies, improved our technology, revamped our menus, established new partnerships, and implemented innovative ways to take our unforgettable guest experiences to the next level," Muskat said.
"In addition to implementing our Harwood Cares Programme, other key elements that we continue to elevate within each concept's business model include the installation of advanced technologies as well as a deeper dive into each brand's DNA and how we creatively express these elements in our style, culinary talents, and more."
In May, Harwood reopened its coffee shop concept, Magnolias: Sous Le Pont, and its French bistro concept, Mercat Bistro, followed by its bar concept, Happiest Hour, in October 2020. Happiest Hour, which is home to four bar spaces, debuted a rethought, food-forward menu under Harwood's new hire, executive chef Molly Winkler. Winkler was previously a chef at Plano-based concept Sixty Vines.
"Our mantra is to go big or go home," Winkler said.
The new menu is 90 percent house-made and aims to show "
what guests should expect from the food served at a concept known for its extensive beer and cocktail program," Muskat said. 
Plans are also underway to completely redo the Italian concept Dolce Riviera's menu. The district has brought in Boston hotshot Chef Tom Griffin to oversee the menu remake.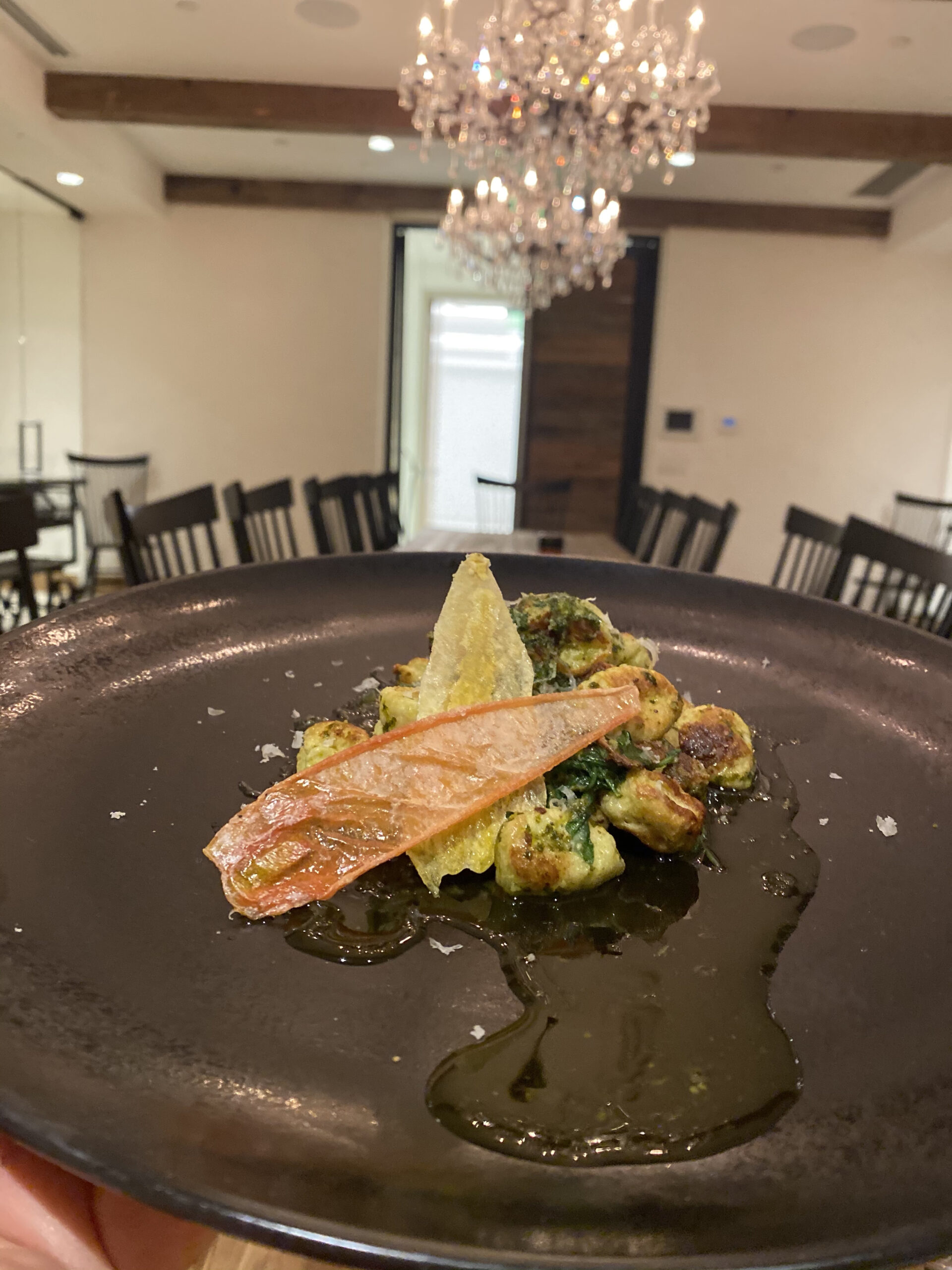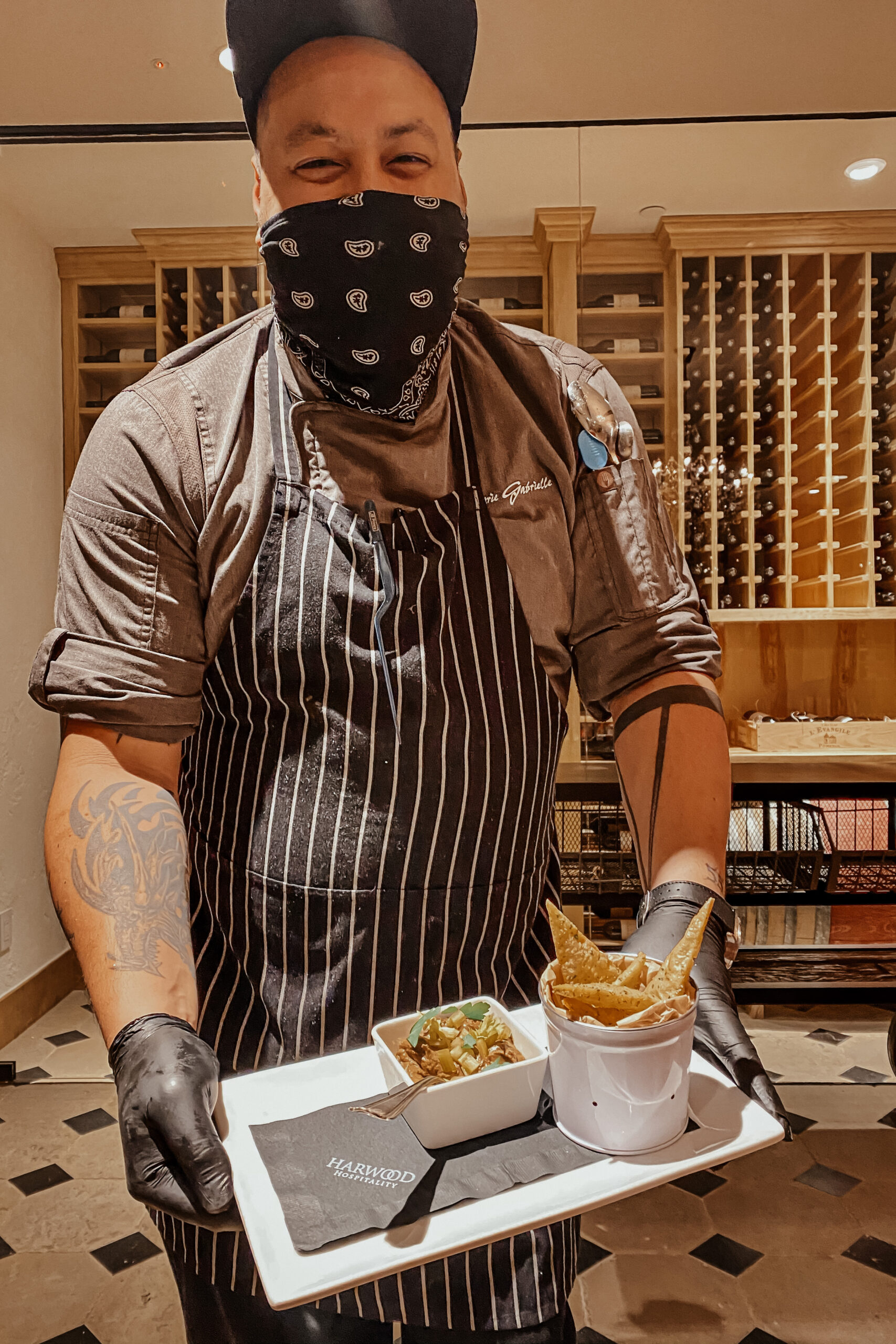 Dolce Riviera's new Executive Chef Tom Griffin treats the D CEO team to a sneak preview of the Harwood District's revised menu.
Previously recognized as an emerging leader in Zagat's Boston 30 Under 30, Griffin began to make a name for himself in the food scene at the (now-closed) Cambridge fave East by Northeast. He went on to join Philip Tang at the snazzy Banyan Bar + Refuge and came to Harwood from Boston after a tenure at Sinatra at Encore Boston Harbor with chef Timothy Hixson. Griffin also will be behind Harwood's new pan Asian concept, set to open later this year.
Harwood introduced Dolce Riviera to the district in 2016. The restaurant's original vision was classic Italian cuisine—take a step back in time when the Italian and French Rivieras were simple yet elegant.
"When Dolce Riviera reopens later this summer, guests will enjoy Chef Tom's fresh, approachable menu that is more balanced than the concept's previous renditions. He will bring seasonality, influences from Italy's Ligurian region, and a huge emphasis on fresh seafood to the forefront of the Dolce Riviera culinary experience," Muskat said.
Mercat Bistro opened solely for brunch and lunch in May but recently revealed a new dinner menu.
"As restaurants were permitted to reopen following the temporary shutdown, our insights indicated that many of our guests felt most comfortable with grab-and-go service and limited dine-in experiences for breakfast and lunch," Muskat continued.
Harwood listened to the data and built a menu that compliments the restaurant's romantic ambiance.
"One of my favorite ways to describe Mercat Bistro is, 'We can't take you to Paris, but we can take you away,' Muskat said. "This truly distinguishes when you're at one of our nine restaurants; you're experiencing something outside of the norm, transporting you somewhere else."
Mercat's all-new dinner menu was created by Executive Chef Taylor Kearney, an award-winning chef who is well-versed in French cuisine.
Chef Kearney, who trained under many notable chefs, including Charlie Palmer, Anne-Sophie Pic, and Thomas Keller, worked on the dinner menu over the course of 2020.
"We hope guests feel as if they escaped to Paris and are dining street-side in the 'City of Love,'" he said.
Highlights on Mercat Bistro's new dinner menu include fresh selections from an oyster bar; 
Poulet Rôti
, savory French roast chicken with Pommes Frites, cauliflower, and white wine jus; Crisp Braised Lamb with traditional French cassoulet; and decadent French desserts including Clafoutis, Crème Brûlée, and Chocolate Mille-Feuille.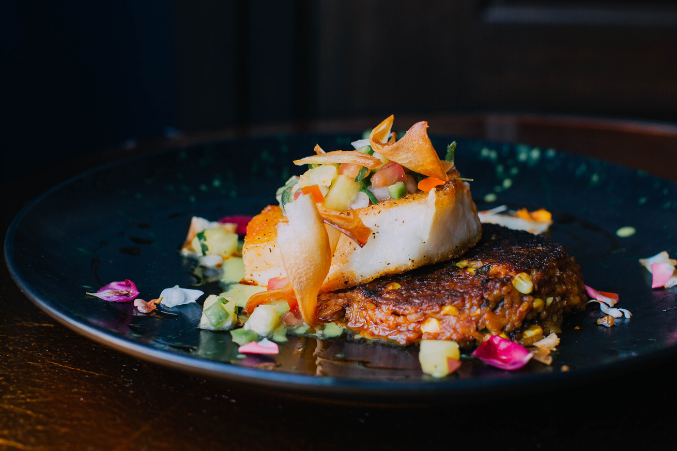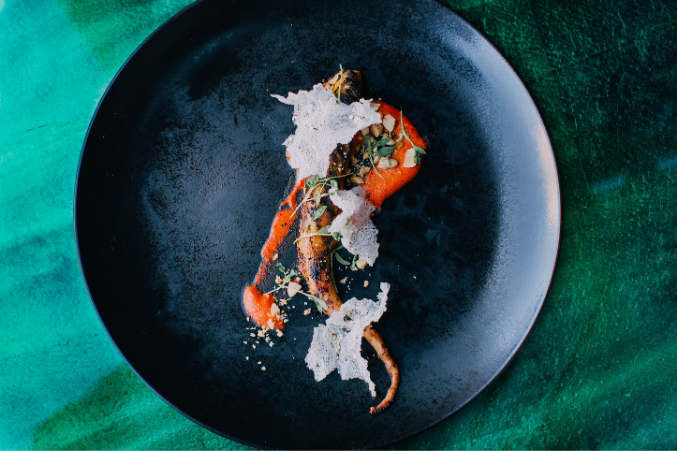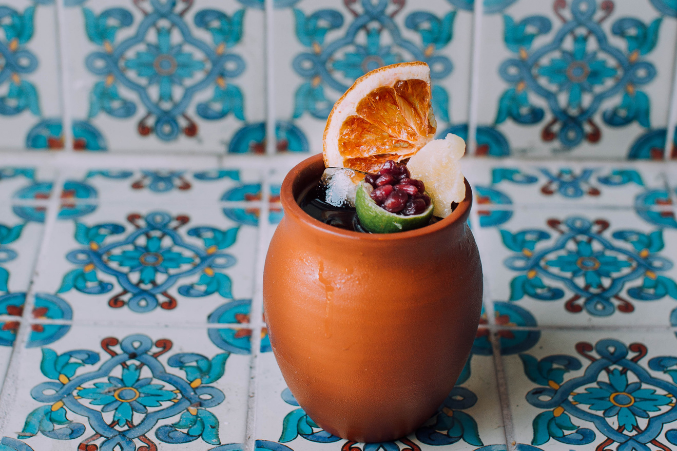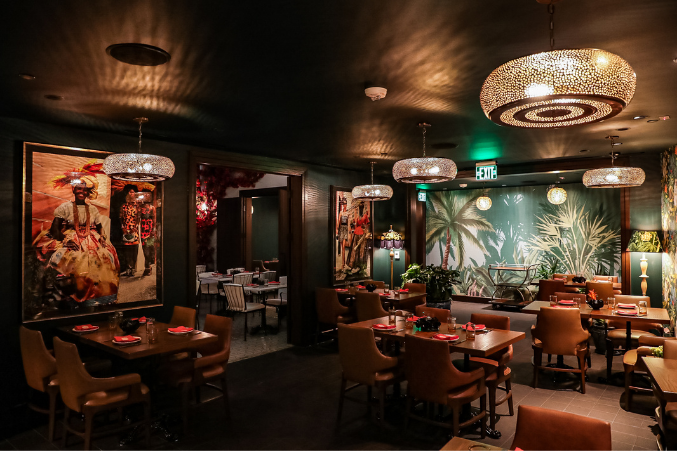 Led by Executive Chef Ty Thaxton, Te Deseo's culinary menu blends flavors inspired by many regions of Latin America, with prominent influence from Argentina, Brazil, Mexico, and Peru. (food: Rebecca Adler interior: Rob Underwood)
By the close of 2020, Harwood had also reopened Marie Gabrielle Restaurant and Gardens for private events and launched its new concept, British pub Harwood Arms. Lively Latin concept, Te Deseo, followed a few weeks ago.
"We are beginning the year with the reopening of our Latin-inspired concept Te Deseo. Next, we're looking forward to reopening a newly renovated Saint Ann Restaurant & Bar," Muskat said.
Within a few months, Muskat says all nine Harwood restaurants will be up and running. Many of the previously furloughed staff have returned, and the district is on track to meet pre-pandemic staffing levels.
According to Muskat, a boutique hotel, new hospitality concepts, and retail in other markets will soon be on the way for Harwood, but first, a dip into what the district avoided earlier this year—takeout.
"What's next for the restaurant industry is a continued focus on adaptability and diversifying the business model," Muskat said. "In the near future, guests will see Harwood Hospitality Group introducing new initiatives for to-go and delivery."
Get the D CEO Newsletter
Stay up to speed on DFW's fast-moving business community with weekly news reports, interviews, and insights.