Share your business news with us by emailing Online Managing Editor Bianca R. Montes at [email protected].
Hari Mari Included in International Advertising Bureau's Most Disruptive List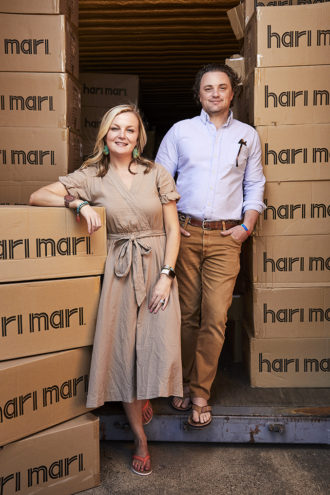 The International Advertising Bureau, also known as the IAB, has named local luxury footwear brand Hari Mari to its list of 'The Top Brands to Watch in 2020,' for being the most disruptive and influential. The first-of-its-kind analysis pinpoints the most important "direct brands" to watch in the U.S. economy. Also on the list is the likes of StitchFix, Peloton, and The Honest Company. IAB CEO Randall Rothenberg said they watch the disruptor brands because their business model, personalized relationships with consumers, and go-to-market strategies are transforming how brands are born, how they are advertised, and what consumers expect. 
"Considering the shift in business practices enabled by the growth of digital media, it is exciting to be recognized as a direct brand to watch in 2020 by the IAB. At Hari Mari, being unique, forward-thinking, while always focusing on the customer is at the center of everything we do, so it means a lot to be included with these incredible brands," says Hari Mari's Head of Digital, Nick Henderson.
California-Based Ice Cream Shop, The Baked Bear, To Open This March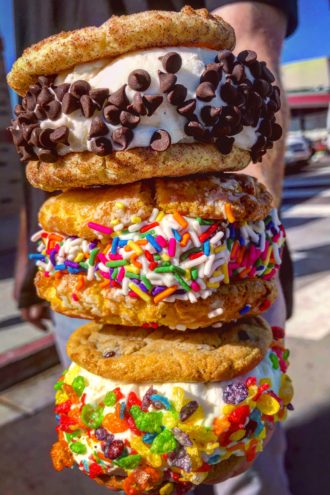 The Baked Bear, a California-based ice cream shop known for its monstrous ice cream sandwiches and original recipes, will open its first Dallas-Forth Worth location mid-March at Grandscape in The Colony. The new outpost will be the brand's fifth in Texas. Shaila Kabani will operate the 1,100 square-foot DFW location.
The Baked Bear offers a mix-and-match style for guests to find their favorite combination with the option of rolling ice cream sandwiches through colorful toppings.
Several other restaurants are anticipated at the 400-acre Berkshire Hathaway complex, including recently announced Parry's Pizzeria & Taphouse out of Colorado.
North Dallas Bank & Trust Co. Provides $1 Million Gift to Texas A&M University
North Dallas Bank & Trust Co. (NDBT), a 58-year-old community bank with five banking centers located in the Dallas-Fort Worth, has committed $1 million in support of the Commercial Banking Program at Texas A&M University's Mays Business School.  An endowment to honor NDBT's founding chairman, Bert Fields, Sr., and his successor and son, Bert Fields, Jr., distributions from the endowment will be used to:
Develop undergraduate and graduate-level courses in fields such as commercial credit underwriting, quantitative analysis, and enterprise risk management.
Assist in funding applied research to directly benefit the commercial banking industry.
Assist in the development of a five-year combined bachelor masters degree program.
Support the teaching, research, and professional development activities of the Commercial Banking Program department heads and directors.
Also, NDBT's monetary gift is being used to establish the "Bert Fields Excellence in Banking Award," a financial award given annually to one undergraduate student and one graduate student who demonstrates exceptional leadership skills and academic excellence within Texas A&M's Commercial Banking Program. Each year, the award recipients will be honored by NDBT during the "Bert Fields Excellence in Banking Award Dinner."
First of Proposed 60 New Orangetheory Locations to Open
Back in January, we told you that a recapitalization of one of the largest franchisees for Orangetheory Fitness would bring 60 new locations to Dallas-Fort Worth. The first two have set up shop in North Dallas and Park Cities neighborhoods. Housed in the former Preston Art location, the North Dallas Orangetheory will be located at 6605 Forest Lane and the other at 5549 W. Lovers Lane, which previously was a doughnut shop and a ballet studio. Each studio will be 3,200 square feet.
The franchisee, Shane Adams of Maverick Fitness Holdings, told D CEO that he was drawn to each area because they are densely populated with health-focused individuals. "Due to the growth that we have seen at our current neighboring studios, these locations will give our members additional options to attend," Adams said. "The North Dallas and Lovers Lane class schedules were created to compliment the surrounding studios to give members several class time options."
Up next, a location in North McKinney off 380 and Hardin Blvd is under construction. Adams says they will also add additional studios in the Tarrant County area later this year.
Truck Yard: Coming Soon to AllianceTexas
One of North Texas' favorite outposts, Truck Yard, has finally found a Fort Worth Home at AllianceTexas, the 26,000-acre master-planned development in north Fort Worth. Situated on more than two acres, Truck Yard will provide an indoor-outdoor destination with heavily-shaded patios suited for sunny days and a 6,500-square-foot indoor area called the West Texas Pole Barn. It will feature historic windmills, water towers, and silos, hand-painted murals and signs, a game area, and a dedicated rest area for four-legged friends.
Get the D CEO Newsletter
Stay up to speed on DFW's fast-moving business community with weekly news reports, interviews, and insights.