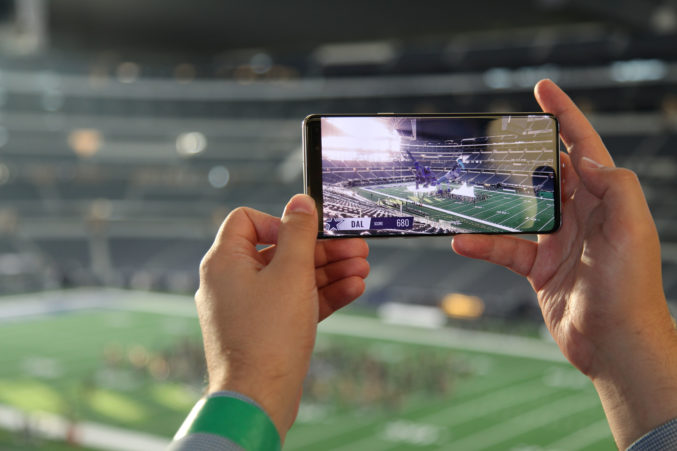 Making the AR Magic Happen at AT&T Stadium
How Samsung, the Dallas Cowboys, and AT&T made it possible for you to 'Pose with the Pros.'
Matt Messick, chief information officer for the Dallas Cowboys, has his hands full, working for one of the most innovative teams in professional sports. His focus extends well beyond the game to include merchandising logistics, esports, and the Cowboys' new co-working venture, Formation.
This past year, Messick has spent a great deal of time on launching augmented reality (AR) fan experiences at AT&T Stadium and helping it become the country's first stadium to be outfitted with 5G, installed by AT&T. But first, he had to get buy-in from the Joneses. "I had to present it to an ownership group that's not familiar with 5G and technology and why we need it," Messick says. "By doing stuff with 5G and Samsung, we're able to enhance the fan experience, and that is what ownership cares about."
The CIO has seen data usage grow by 25 percent every year. Nearly all of it is from "vanity traffic." Messick is able to monitor activity. "I can tell you when the game is happening and when there is a timeout," he says. "During the game, it's all Snapchat, video send. When there's a break, it's get your picture and get your caption just right and switch to Facebook or Instagram and take your time."
Touchdown Dance With Amari Cooper
The new AR activations were launched earlier this season at AT&T Stadium. They include life-size digital versions of players and live stats overlaid on the field; hype-up chants, with a 36-foot-tall Dak Prescott, Ezekiel Elliott, and others; a chance to do a touchdown dance alongside Amari Cooper and other players over 3D video; and "Pose With the Pros," which gives fans a chance to digitally jump in for a quick video with virtual Cowboys players and share with friends on social media. (One fan's video of the experience was picked up by Bleacher Report and went viral, with more than 12.5 million views.) There's also a game that lets you dodge virtual defensive robots on the field as you make your way to the end zone.
"There are multiple opportunities for people to walk away with a souvenir," says Michael Zeto III, an AT&T vice president who also serves as general manager of the company's involvement in Smart Cities, drones, IoT/FirstNet, and public-private partnerships.
AT&T has wanted the stadium in Arlington to be the first in the country to have 5G ever since it secured naming rights, Zeto says.  "I was talking with Charlotte (Jones Anderson), and she asked where we see this going. I told her that 5G as a market is a $17 trillion market. It's a massive market. There's a lot of goodness that's going to come from the network connectivity part, but the innovation is going to be on top of it all.
"The way cellular traffic used to work with LTE, it might be 100 to 150 milliseconds to pass data back and forth; this is getting it down to 10 to 15 milliseconds," Zeto adds. "You're starting to break a boundary where you're going to be able to blur perception and reality with that kind of low latency."
Defining Travis Frederick's Beard
The time-consuming part is creating the experiences, Zeto says. That was handled by Samsung, with the magic happening at its XR Capture Studio in Plano. The players attracted some attention when they arrived at the biometric studio, in uniform. A director coached them on various poses, and 72 cameras and blazing-fast servers were used to reconstruct 3D images. Among the biggest challenges? Defining all of the tiny strands of hair in Travis Frederick's beard.
"We have a fantastic partnership with the Cowboys and AT&T," says Jonathan Gabrio, managing director of innovation for Samsung. "When we think about how we use 5G, it's not just speed, but what does it do for the consumer and thinking about how we use our phones."
For Messick, the Cowboys' CIO, the efforts of the three partners have paid off. "At the end of the day, we're doing this to allow our fans the ability to tell their stories and share their experiences," he says. "It sounds simple, but we do really cool things with 5G. We have to give fans the best experience."