The Nasher Sculpture Center announced the winners of the 2020 Nasher Artist Grants on Monday, awarding 10 North Texas-based artists each $2,000 to support various projects and provide much-needed financial support during the COVID-19 pandemic. The museum restructured the microgrants this year to reach twice as many local artists as it had in the past. The grants went to Sara Cardona, Janeil Engelstad, Julia Jalowiec, David Jeremiah, Cynthia Mulcahy, Nancy Newberry, Darryl Ratcliff, Raul Rodriguez, and Third Space DFW. 
For Jeremiah, the grant came as a last-minute surprise. The project that he submitted when applying for the grant is nearly complete and will go on view at Janette Kennedy Gallery July 7 through September 5. The installation, called "Offering," is an act of communal mourning in response to the 2016 police killings and subsequent killing of Micah Xavier  Johnson in Dallas. 
With "Offering," the artist has created six altars with donation plates to represent the families of the five fallen police officers and Johnson. The plates each bear a single word or punctuation mark, reading "Pay us to stay us." Viewers will be expected to bring money to distribute among the memorial plates as they see fit. The money will accumulate over the two month exhibition period before Jeremiah offers each family their sum. 
"You know, numbers don't lie. I'm trying to figure out whose loss and grief is worth most," says Jeremiah.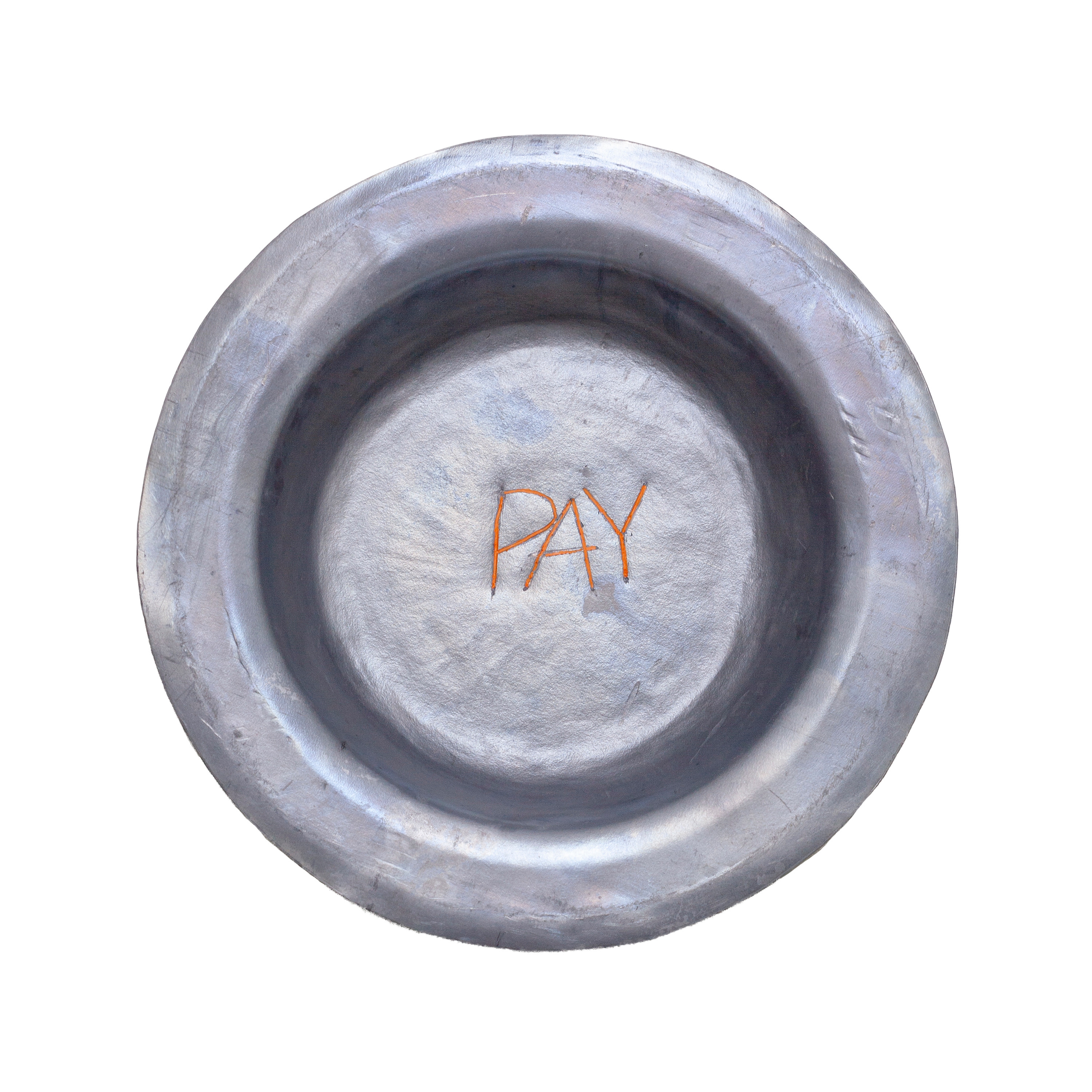 The artist often incites uncomfortable but necessary conversations about race and the Black American experience through his work–consider his 2018 piece, "The Lookout," in which he spent three weeks in a self-constructed prison cell (a reminder of the real prison cell he served time in) and invited visitors to don a KKK hood and tattoo a KKK symbol on his own body. He sees these uncomfortable shared experiences between himself and viewers to be an important way of pushing conversations, and consequently the city as a whole, forward. 
"They're gone. All horrible as that may be and as unfortunate as this all may be, it's all about what you do with a loss. If the person who took the loss isn't here to salvage that, then who does that responsibility fall on? With this, it's us," he says. "I believe that it's our responsibility to have conversations in visceral ways like this. That's what I'm about. I know I'm fucked up, so I make fucked up art."
Darryl Ratcliff, an artist, community organizer, and sometimes D Magazine contributor, is also using the Nasher Artist Grant to produce a work which challenges the status quo in Dallas. 
"There's a lack of trust between institutions and communities of color because institutions have historically and repeatedly broken their promises. I am proposing a project called "Trust" where an art institution would place a piece of art from their collection into a legal trust, and if the institution doesn't live up to its promises around equity and to support communities of color, artists of color, then the trust will have the right to sell the piece of artwork and independently use the proceeds to fulfill the institution's promises," says Ratcliff. 
The artist will use the grant money to do further research and begin creating a plan around his idea. He did take the Nasher into consideration as a possible partner institution in his proposal, but the museum let him know that by awarding him the grant they were not agreeing to participate. 
"I like personally exploring how to hold institutions accountable and how serious are institutions when they say they want to do these things, like are you serious enough? Because, theoretically, if the institution does what it says it's going to do, they have nothing to fear of putting a piece in the trust. But my guess is that most institutions would be very hesitant to do so," Ratcliff says. 
For Fort Worth-based artist Sarah Ayala, the grant will go toward making artworks centered on the coronavirus pandemic in North Texas. However, she believes the pieces will ultimately represent hope and togetherness rather than isolation.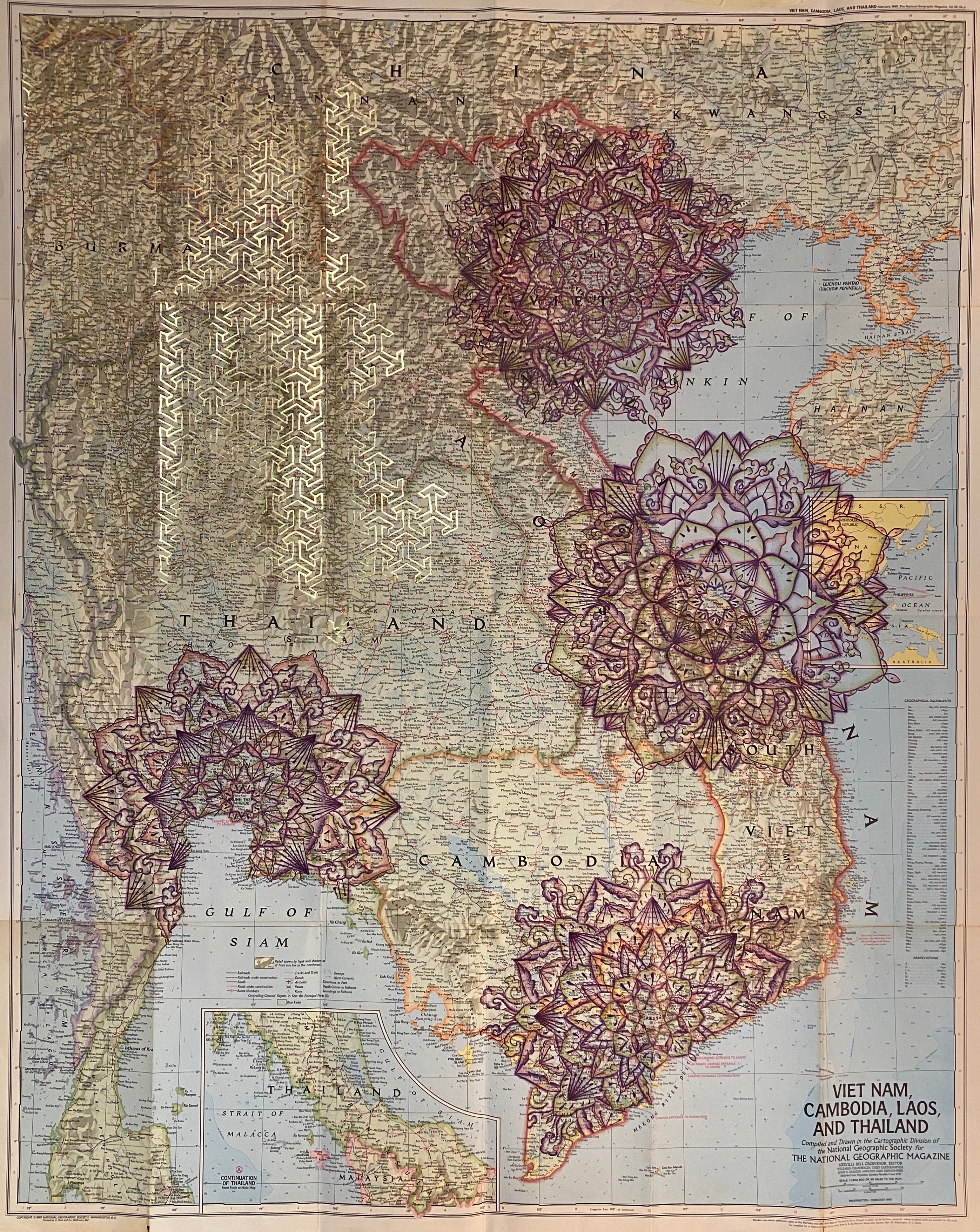 "Most of my work is just already on maps and then once COVID hit, I started to look at maps differently in ways to track the virus itself, and then everything that's going along with the virus, like economic effects, environmental effects, and now political effects—I know that the southern states are taking a different approach to how they're handling the virus just in terms of like social distance mandates and shelter in place mandates. So, I just kind of plan to look at that," says Ayala. 
Of course, the nature of the upcoming piece will evolve with the pandemic itself. 
"I know a lot of people feel alone right now. And, hopefully, viewing something like a map that is kind of graphing a larger experience, hopefully it'll make people realize that we are and continue to be in all of this together," she says. 
Here is the info on the other Nasher Artist Grant recipients, as provided in the press release: 
Sara Cardona, Dallas

With her Nasher Artist Grant funds, Cardona will deploy her practice of collage-making to create large-scale, animated sculptural forms which explore "how our system of consumption is itself an organism, and one that has directly led to the virus which now threatens that very system of capital and consumption."

Janeil Engelstad, Dallas

Engelstad plans to interview people at the front lines of the pandemic—doctors, nurses, scientists, and workers in essential industries, as well as people working in the policy and cultural sectors—and develop a multi-form project to engage people and spaces at the heart of the pandemic, outside of galleries and museums.

Julia Jaloweic, McKinney

Jaloweic will use her Nasher Artist Grant to fund the completion of a project called I Will Save You from A Cult which involves sculptures, 'non-evil' propaganda, and paintings aimed at freeing viewers from cults of thought and mind control, an imaginative gesture of the artist standing with arms open to everyone trapped in destructive thought cycles.

Cynthia Mulcahy, Dallas

Funds from the Nasher Artist Grant would be partially used for Mulcahy to research and develop further iterations of her current body of work, War Garden, a playful but critical examination of American militarism.

Nancy Newberry, Dallas

With her Nasher Artist Grant, Newberry will purchase a large format printer so she can continue her ongoing series photographed in Texas and Mexico, Character Studies, a contemporary Spaghetti Western staged at the Texas-Mexico border investigating notions of nationalism and community.

Raul Rodriguez, Richland Hills

Rodriguez plans to use the Nasher Artist Grant to purchase needed supplies like an exhibition quality inkjet printer, recommended inks and photographic paper for printing, as well as to offer the service of printing to other artists.

Third Space DFW (Antonio Mercado, Kim Nguyen, Chris Bermejo, Norma Gonzalez, Saria Almidani)

The art collective Third Space DFW will translate what was to be their first gallery exhibition, Once a Day Swallow a Small Sun—now cancelled due to the pandemic—into a catalog. The catalog of works will explore queer health—mental, physical, sexual, and emotional.
Get the FrontRow Newsletter
Get a front row seat to the best shows, arts, and things to do across North Texas. Never miss a beat.