David-Jeremiah's "The Lookout" ends this week, and a closing reception is scheduled for Saturday, Sept. 28, from noon to 5 p.m. The event is at Plant, at 2611 Cesar Chavez Blvd. Unit 8
Cesar Chavez Boulevard takes on another life once you exit downtown's neon spectacle. This long-neglected stretch between the Cedars and South Dallas is marked by crumbling streets and train tracks that lead to nowhere. And for the past three weeks, across the street from a salmon-pink motel called the Wayside, is one of Dallas' most challenging—and thought-provoking—pieces of art.
"The Lookout" is housed inside a small studio at the end a row of creative spaces run by gallerist Noé Garcia. Artist David-Jeremiah sits and waits for visitors here. He's sequestered himself in this hot, musty space for the past three weeks, living inside a cinderblock cell, sleeping on a concrete slab that he fabricated himself. Rations are provided to him. Once allowed in, viewers are confined with him for 10 minutes. The walls of the makeshift cell vary in height. You don't see him when you walk in until you turn a corner. He is shirtless on his concrete bed, with his tattoos on full display—another black man in a cell in America.
It forces you to confront the nation's pipeline to prison epidemic and the factors that play into it—poverty, education, race, policy. Incarceration rates for black men are more than five times higher than white men, according to the NAACP. David-Jeremiah himself served time. This alone could be the whole piece. However, it is only part of the work.
There is an inscription on the wall:
 "Guidelines: Put on mask/Take a cap of white ink/Take a tattoo pick/Watch tutorial/Enter cell/Turn me right/Leave"
The viewer must step outside whatever bubble of feigned reverence or "indignant white guilt" (David-Jeremiah's term) they have. They confront tensions that dominate the American narrative. Perhaps most importantly, the visitor becomes the racially privileged oppressor. The artist asks the viewer to put on a white Ku Klux Klan mask, dip a needle in white ink, and fill in the tattoo of a Klan mask that he has underneath his left arm to make him "right." (David-Jeremiah recalls his grandmother telling him "white makes right.")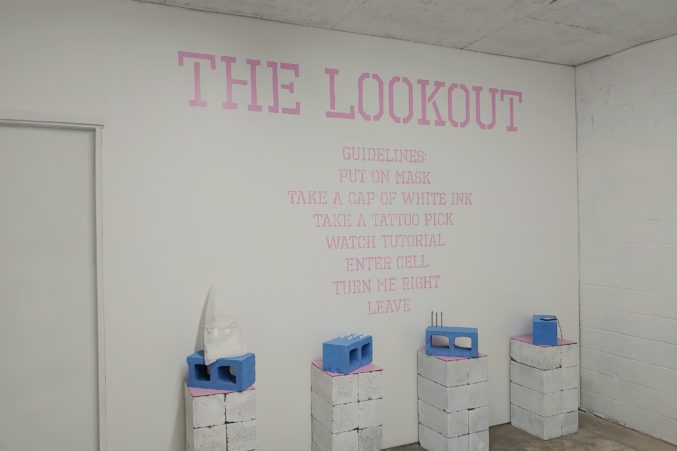 "I feel like the fact that minorities have been having this conversation for as long as we have in this country—about being minorities in this country—obviously means that the people having it are making it more about them having a conversation as opposed to the conversation itself," he says from his concrete bed. "A conversation with this much importance and with this much energy, it is going to be uncomfortable. It has to be uncomfortable. So I figured that if I could get people to come in here and put on a KKK mask and tattoo the inside of the KKK mask outline that I have on my body and fill it in with white ink, then we both definitely fucking sacrificed enough of our comfort for the sake of the conversation."
Stark, unfettered images and symbols of America's racism are the focus of the work that David-Jeremiah creates when he doesn't have visitors. During his three-week stint, he's been working on other projects for his infant son. He writes him a letter every day about what it's like to be a black man in America based on his own experiences. There are wooden children's blocks incased in cement—like a cell—and mobile he's making, both dominated with Klan imagery.
The title of the work comes from Dragon Ball Z. In the show, the Lookout is an ancient platform in orbit around Earth—and where "The Lookout" gets its pink, blue, and white color palette. The Hyperbolic Time Chamber is located here. A day outside the chamber is the equivalent of a year inside it. In the show, it's where the characters go to train for their fights. For David-Jeremiah, the Hyperbolic Time Chamber is an allegory for the cell he created and the one he previously spent years in.
During his time in prison, the he says it was the first time he read a book cover-to-cover. He credits his time behind bars with his growth, personally and mentally.
"They say one year in prison is like five years of college and I want it to do the same for the conversation by conceptually putting it in a place that can amplify it," David-Jeremiah says.
Part of the larger issue he's addressing, beyond surface-level white supremacy, is the role that minorities play in cultural whitewashing. David-Jeremiah recalls his own participation in "the game" for years as he tried to fit into a certain cultural mold. To him, he says, it became a form of "societal enslavement." He had enough. Now, through his work, he's taking back ownership of his identity.
Although "The Lookout" is about David-Jeremiah coming to terms with his own oppression, it is no less powerful for the visitors who experienced the piece. It's explicitly confrontational, forcing people to confront his or her past, their behaviors, and their comfort level. The lasting effect of his work won't be just the Klan hood tattooed on his body but how the experience shaped the participants. Whether they grow from the experience when they reenter the world or choose to remain willfully ignorant of what David-Jeremiah is pressuring them to confront—this dichotomy is just as important as the artist's journey of self-discovery.
"That's why I wanted minorities to come in here and experience it as well and not just white people," David-Jeremiah says. "Because I feel like it's empowering and that's why in the dynamic, just have like a visitor who's in here alone with me for 10 minutes, I just made them or I just set it up to where they had to wear a Ku Klux Klan mask that they can take off and leave. I intentionally wanted to go further and give more to the conversation by having it tattooed on my body because this is redemption for me, and a reminder. This whole thing is about me, at the end of the day."
Get the FrontRow Newsletter
Get a front row seat to the best shows, arts, and things to do across North Texas. Never miss a beat.