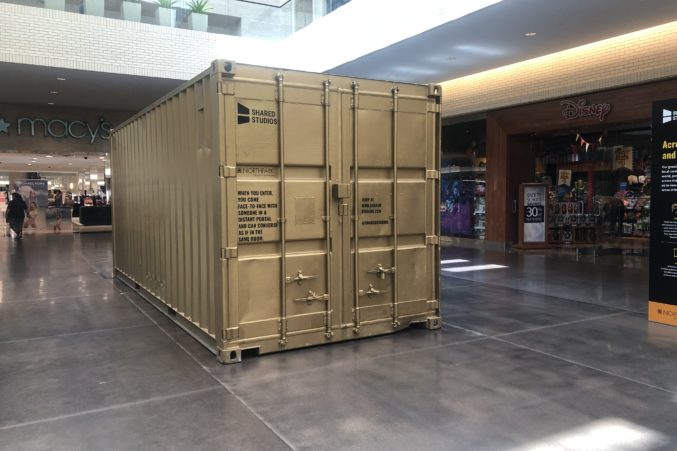 Rethink Social Networking in The Portal at NorthPark Center
The new pop-up installation in the mall connects humans from across the world.
NorthPark Center, Dallas' treasured commercial behemoth and a mall-walker's greatest dream, recently added an immersive, temporary installation to its bustling walkways. Making personal, meaningful connections with new people can be difficult, and even more so when an ocean or two separates you from your potential contact. Skype only goes so far. Enter The Portal. Now, Dallasites can head to Macy's Court on the first floor of the mall to experience Shared_Studios' audiovisual wonder and connect with people across the world.
From the outside, the Portal looks like your average industrial-sized shipping container, albeit painted with a dark gold hue. Step inside and you will be greeted by a muted grey room and a large projector screen hanging on the far wall. Though minimal, the vessel's set up is important. Through the power of the internet and video, the sunny faces of other Portal-users–broadcast from Los Angeles to Stockholm to New Delhi, etc.— manifest on the screen. This is where the magic begins. With matching simplistic backdrops and technology to account for perspective distortion, the 2D display transforms into something like a portal to another part of the world. You feel as if you are sitting in the room with the other users.
While providing a uniquely immersive social experience, the Portal also has a fail-safe feature for those, like myself, whose ability to make small talk and come up with fun icebreakers is laughably lacking. Each Portal is staffed by a real-life human being whose actual job is to facilitate dialogue and provide live language interpretation. Introverts need not fear.
Operating in more than 40 cities, these Portals offer the chance to interact with people outside of your personal world. In all likelihood, those who you connect with in these spaces are people who you would not have otherwise gotten the chance to meet. In this way, the experience really is something special. Furthering the concept of realizing social networking to its fullest potential, Twitter, powered by Shared_Studios, recently concluded its #Tweetups campaign, in which countless Portal participants shared their experiences on social media. This hashtag is filled with a variety of charming pictures and videos, from flossing dance offs to meals shared together via the digital media (I highly recommend a gander).
On view through September 25, 2019, the Dallas Portal is free to use. The installation is open Thursday and Friday 3-7 p.m., Saturday 1-7 p.m., and Sunday 1-5 p.m.