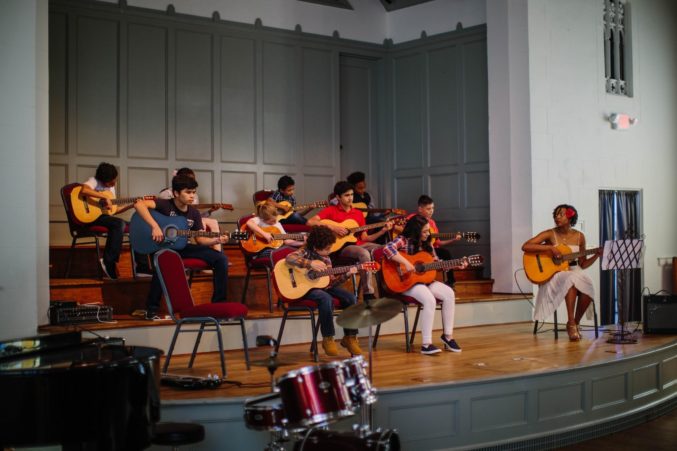 New Non-Profit Swan Strings Brings Free Music Lessons to Dallas Kids
Artist and music educator Jess Garland is making a big difference in the lives of children in underserved communities of Dallas.
It is nearly 11 a.m. on a balmy Saturday morning when the students begin to trickle through the doors of Top Ten Records. Several shelves and crates line the storied record shop's long blue-green walls. The space in between is not particularly large, though the kids do not seem to mind, quietly taking their places among experimental jazz cassette tapes and grunge-rock vinyls.
Experience levels vary. While a couple of students have never touched a guitar in their life, others have a few, if not several, chords under their belt. And then there is the student in the back, casually playing the familiar opening melody to Pink Floyd's "Wish You Were Here." (Rock on, kid.)
The class instructor, Jess Garland, takes her seat before her students. Just over half of the normally 15-strong ensemble is present today, thanks to Memorial Day weekend festivities and summer vacation hype. Even so, Garland and her students prepare for yet another fun and educational "Swan Strings" practice.
A music educator and multi-instrumentalist, Garland has taught guitar lessons in the Dallas area–specifically South Dallas and Oak Cliff–for 13 years. Though she began her career as a teacher for hire, in the last three years she has pivoted towards teaching for nonprofits, such as the South Dallas Cultural Center and after school program La Rondalla prior to its closing last August.
"I won't say that all students who have access or have parents that may be able to afford lessons don't wanna do it, because I have students that want to," Garland says, "but there's something really different about teaching for nonprofit organizations when the kids are really happy to come every day and they really practice and they really want to be there. It's a different clientele for sure, and it's more fulfilling for me to teach."
Working with these organizations and really getting to know the children who benefit from her services inspired Garland to begin her own free music education program, Guitar Lessons by Jess (GLJ), which recently relaunched as a nonprofit, Swan Strings.
"I received two grants from the Office of Cultural Affairs for my guitar program that was under my name, 'Guitar Lessons by Jess.' The program started growing," says Garland. "I started in South Dallas in 2017, and it was just a summer program. Then, in 2018, I taught spring through the beginning of fall."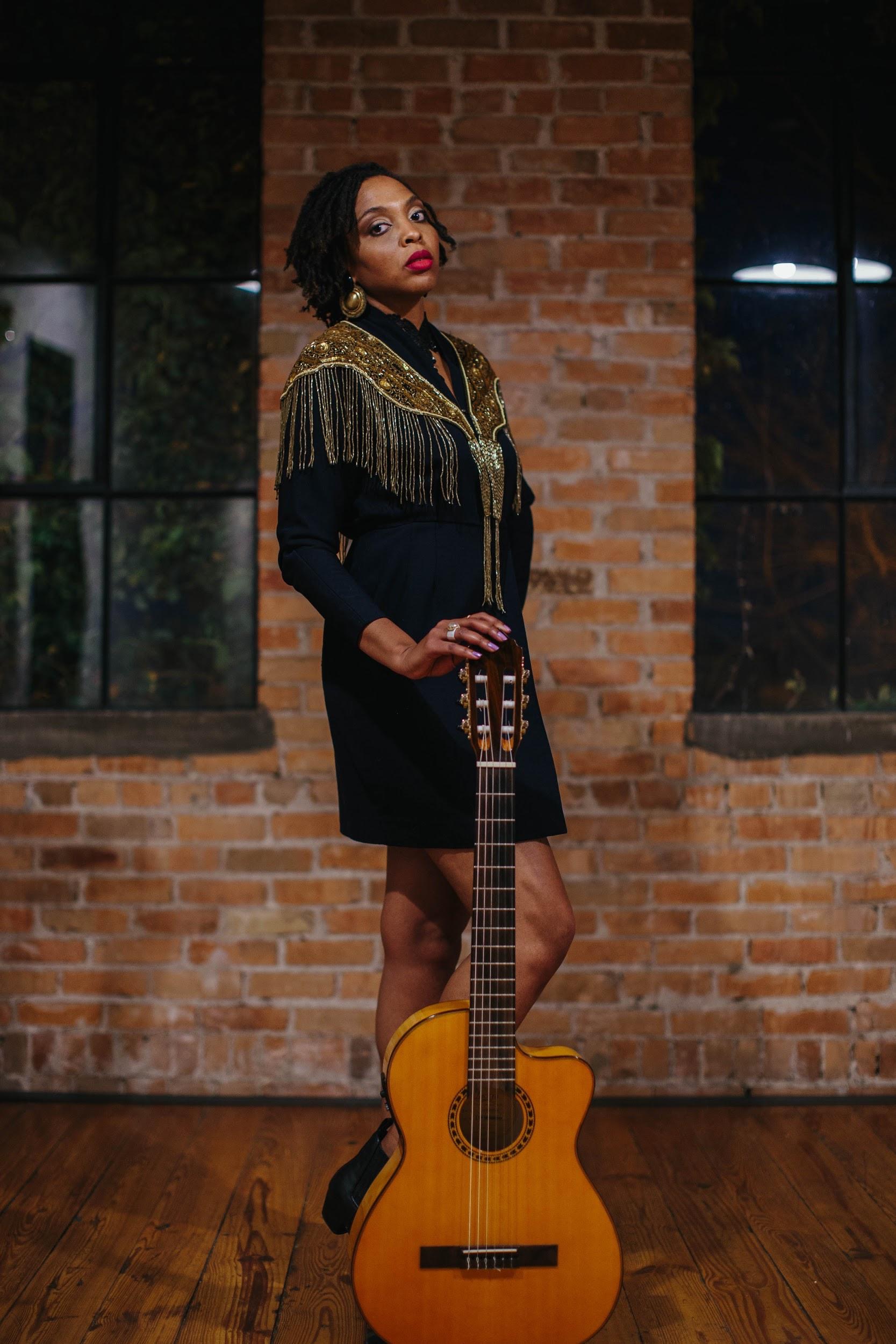 Over the past two years, Garland's workshops provided more than 120 hours of free music education to upwards of 50 children in South Dallas. Think about that for a second. 120 hours of unpaid instruction. 50 students who wanted to spend their summer weekends learning an instrument, who, without this program, likely would not have been able to afford these lessons. Also, 50 students need 50 guitars. And not just any 50 guitars. 50 small guitars, fit for children (a somewhat niche donation). Then there are other necessities, such as tuners, strings, repairs for guitars, gig bags, etc.
So, how exactly does one person make all of this happen? It all comes down to the F word: funds. GLJ was successful not only due to Garland's grit, but also because of donations and her ability to fundraise. And grants. Grants are important. In fact, grants are what drove Garland to pursue nonprofit status in the first place.
"I started seeing a lot of other grants that I was missing out on because I wasn't a 501(c)(3), but I knew that my project was very worthy of receiving that type of funding. I just didn't have that particular status, so, I made that decision to pursue it," Garland says.
Since the launch of Swan Strings, Garland has been teaching free guitar lessons to Dallas children Saturday mornings at Top Ten Records and Thursdays at the South Dallas Cultural Center (in partnership with Junior Players). Recently, the Texas Commission on the Arts promised a $4,000 Matching Grant to Top Ten to expand the program to Sundays and Mondays, and also to pay for additional teachers and supplies. You can help Swan Strings match their TCA grant by donating here.
Garland does other things with her time too, believe it or not. Outside of teaching, she is using her Artist Microgrant, awarded by the Nasher Sculpture Center, to record her own song and produce a music video. As the Dallas Symphony Orchestra community liaison, Garland also contributes to the Southern Dallas Residency initiative, a program that provides free music education and access to local DSO concerts and events to children in South Dallas. Much like Garland's own program, the initiative aims to make music and culture accessible to all children in the area.
Swan Strings is really just the beginning. Garland imagines it expanding to other locations, and maybe even other cities, in the future. For now, though, Garland is satisfied in knowing she is fulfilling a need for children in her community.
"Being able to offer music education in general, not even just for free, is really great. I know I'm providing something important," says Garland. "I'm really just trying to inspire people. To me, music is medicine."