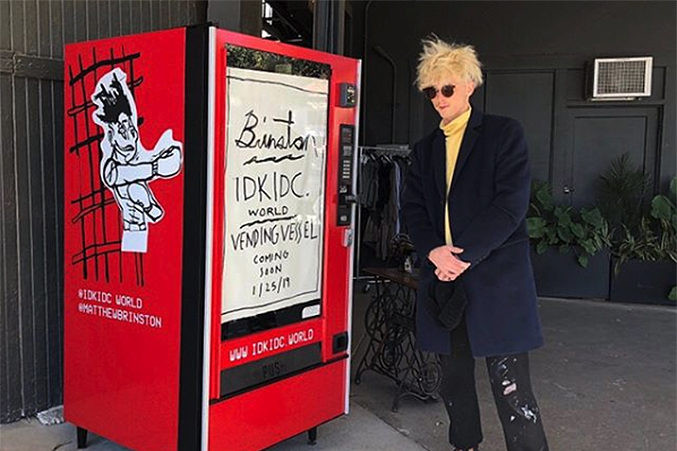 How to Catch Matthew Brinston's Traveling Art Show
With his nomadic vending machine, Brinston is working to make art a bit more accessible.  
In the summer of 2015, Matthew Brinston began leaving original paintings around town to be found and kept, hinting at the whereabouts of each work on social media. After a surreal brush with death a few years earlier, the artist saw it as a way to give back.
Four years later, he's has expanded upon the idea a bit, depositing his artwork in a bright red traveling vending machine, which first popped up in front of Harkensback in Bishop Arts in January. It's most recent residence: the entryway of Good Records during the store's final days on Greenville Avenue. "I've been having all these crazy ideas about how to get art into more people's hands and make it more accessible," says Brinston, who adds that the machine currently has 20 local spots to travel to. "Dallas has really opened its arms."
Following the machine on Instagram (@VendingVessel) or Brinston himself may be the best way to keep up with the nomadic art show of sorts, which also features patches, t-shirts, and sweatshirts by Dallas-based streetwear brand IDK IDC. "We kind of just naturally came together," adds Brinston.
The Vending Vessel is also a way for Brinston to keep a local presence (the artist also sells his works through Gallerie Noir) as he prepares for a summer abroad in Paris and Italy. But first, a residence in France for the entire month of April. "I've been traveling around the States for the past four years, but the world is getting a lot smaller now," says Brinston.