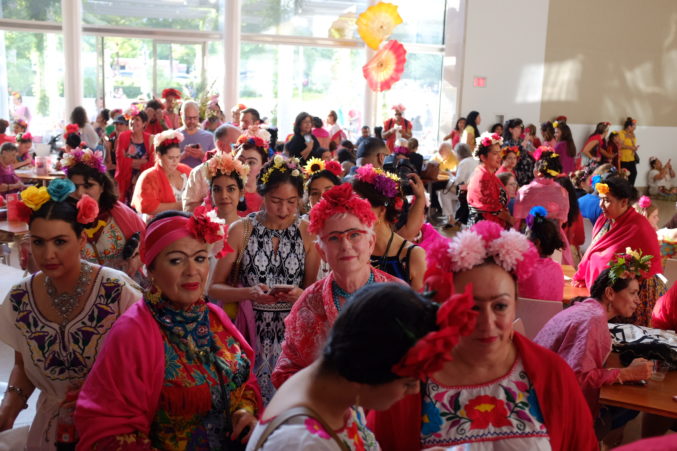 The Dallas Museum of Art Sets Attendance Records
Thanks in no small part to its successful exhibition of 20th century Mexican art, the museum saw more visitors than it has in a decade.
The Dallas Museum of Art is touting its highest attendance numbers in a decade, helped along by a blockbuster show of Mexican art. México 1900–1950: Diego Rivera, Frida Kahlo, José Clemente Orozco, and the Avant-Garde closed last week after seeing 125,894 visitors, according to a press release from the museum. The exhibition, which made its only U.S. appearance here, stands as the second most popular paid show the DMA has hosted in the last decade, behind 2008's Tutankhamun and the Golden Age of the Pharaohs.  The museum itself had more than 802,000 visitors in its 2017 fiscal year, its highest attendance in a decade.
The lure of artists of Frida Kahlo and Diego Rivera's stature can't be understated, but the museum aggressively promoted the exhibition. A "Yo Soy DMA" outreach program focused on bringing Dallas' Latino community to see the show, while free Family Days drew in first-time visitors. According to the DMA, more than half of the 37,000 people who visited the museum on one of those Family Days were first-timers.
Other events, including a world record attempt full of costumed Frida Kahlos, proved popular, as did a museum-wide initiative to include more bilingual materials in the galleries. It's all had the effect of making the DMA feel more inclusive, more open to Dallas' multicultural community. And, going by the numbers, it seems to be working.
The DMA and director Agustín Arteaga can deservedly toot their own horns. Here's Arteaga with a horn-tooting statement from the press release:
"It is very exciting to have welcomed such a large number of visitors of all ages and backgrounds to the Museum to discover our collections, programs, and special exhibitions over the past fiscal year," said the DMA Eugene McDermott Director Dr. Agustín Arteaga. "Our local community, as well as visitors from all 50 states and 71 countries around the globe, came to experience the range of cultures and histories represented in our collections and programs. We're especially thrilled that the México 1900-1950 exhibition resonated so much with our diverse local audiences, many of whom had never been to the DMA before, and were eager to engage with these remarkable works of art. This encourages us to continue expanding our reach and invigorating our ties to our community. We thank all of our sponsors and supporters for helping us accomplish this exciting landmark."