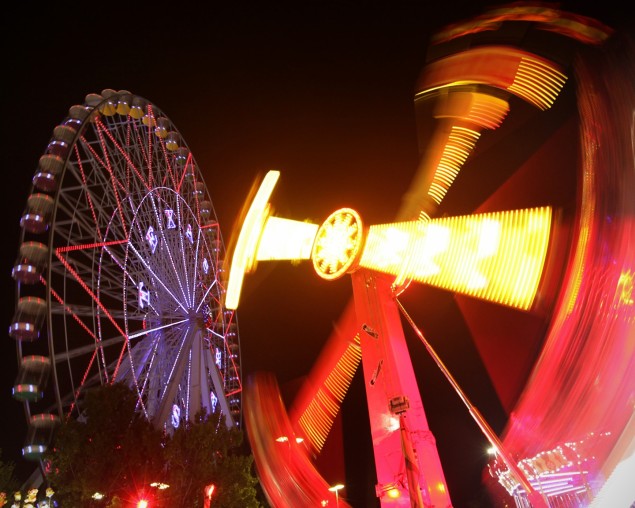 The State Fair of Texas 2015 Is Coming
The fair kicks off Sept. 24 with a number of new attractions.
If you detect the distant smell of fried everything and hear an echoing "Howdy, folks," coming from over the horizon, it's for good reason. The State Fair of Texas is fast approaching.
The fair kicks off Sept. 24, bringing with it the usual lineup of high-calorie delicacies, midway games and rides, live music, and assorted events involving everything from livestock to automobiles.  It's worth taking note of a few new attractions announced this week in a press release, including "the world's largest bar on wheels" and a rooster crowing contest. The fair's theme this year is "Passport to Texas."
Here are some of the big new features to look for.
New deals: "Thrifty Thursdays" is a weekly discount program that lowers prices on eats at the fair, including staples like the all-important corn dog. A full list of the food the fair will cut you a deal on can be found here. Bring four cans of food on Wednesdays (for the North Texas Food Bank) to get discounted admission.
New shows: The "Lone Star Horse Spectacular" is a Texas history lesson taught through a program featuring professional horseback riders. The "Mattress Firm Illumination Sensation" razzles, dazzles, and blows things up for a 16-minute special effects demonstration, and the ZuZu African Acrobats will defy gravity on a daily basis. You've got 85 concerts to look forward to on the main stage, and even more live music to be found elsewhere.
New exhibitions: The Hall of State will host an exhibition about Texas music, while "Guitarras de Mexico" over in the Women's Museum will cover the history of guitars, with a focus on Latin American music and live demonstrations. The African American Museum is hosting "Bayou Sculptors: Call and Response," which will showcase work by artists from Louisiana to Houston.
New "world's largest bar on wheels": The promise of a Texas craft beer festival on the fair's last weekend is nice. A roving, 53-foot-long truck (affectionately named Beer Haven) that dispenses craft beers is even better.
New Rooster Crowing Contest: Self-explanatory.
You can read a full accounting of all the new things right here.