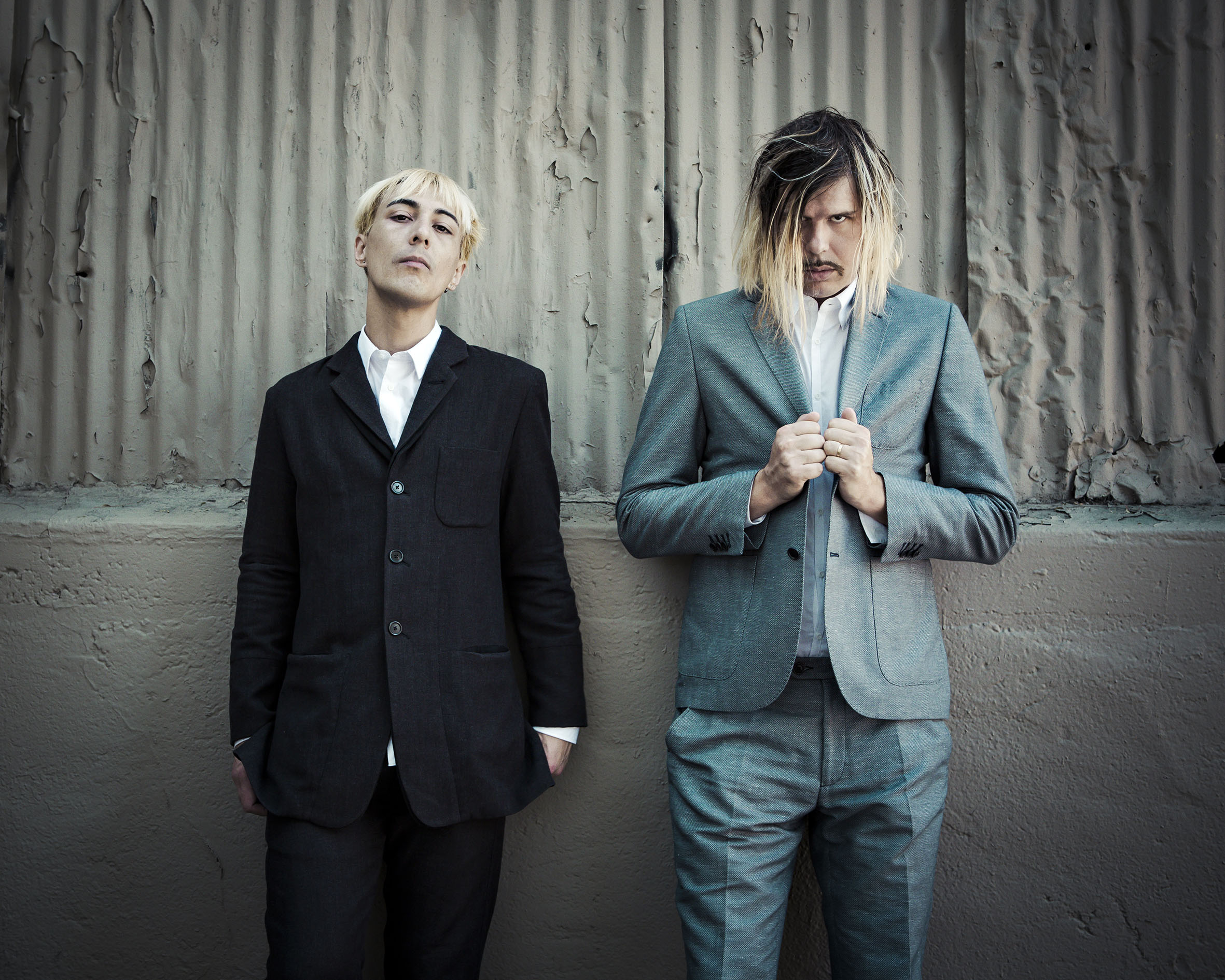 Liars' Angus Andrew on Spillover Fest, Making a Movie Soundtrack, and the Dallas Mavericks
We talked to the Liars frontman ahead of the band's performance at Spillover Fest.
Liars is a band without borders. There's not a definitive descriptor for the group's catalog of music, which now runs seven LPs deep. The two-piece of Angus Andrew and Aaron Hemphill broke out of the early 2000s New York City post-punk scene with They Threw Us All In A Trench And Stuck A Monument On Top, and from there the band's continued to push sonic comfort levels. Liars has explored numerous genres, produced concept albums about Witches, and dedicated LPs to the hypocrisy of Los Angeles. Each album is a foray into a new direction—usually the complete opposite direction.
Liars will headline Parade of Flesh's eighth annual Spillover Music Fest on Sunday, March 22. The band's performance in Dallas will be its first since 2008, when the group opened for Radiohead. To catch up with the band before its long-awaited return to Dallas, we talked to Liars' Angus Andrew about working on a film soundtrack, South By Southwest and the current state of the Dallas Mavericks.
How are you spending your time right now?
Good, just actually moving things around in our rehearsal space. Getting ourselves ready for the show in Dallas.
All right. Good to hear. You guys actually have a show in Mexico the day before, though, right?
Yeah, we're playing a festival down there which is a Mute curated festival. It'll be really fun because it'll be a bunch of our friends.
You guys don't tour too much, right? There was a small tour you did last year in support of Mess, and almost half of those were festivals.
Yeah, the last tour we did was in November of last year so we've been off for a few months.
How have you guys been spending your time off?
We've been working on our soundtrack for a movie that's still in the works, but it's been a really fun project for us to do while we've been off the road, y'know? And it's something we haven't done before so it's pretty exciting.
Oh that's interesting. Any details on the movie or is it hush hush at the moment?
It's hush hush because it's still not finished, but hopefully it can all be announced soon, but this movie thing is crazy. They're never quite finished. We did a lot of work already and now it's just the touch ups.
How does it feel making music for a project that you're not a part of?
It's weird, y'know, we haven't really ever been in a position where you're generating a bunch of material without having the final say on it. That's tough. A good example is the opening credits. We created a piece of music that we thought was perfect for it, but they didn't want that and that gets a little frustrating because they wanted these other pieces of music that we made and we like but it's tricky because you don't get the final say. It's important to understand that it's someone else's vision, I guess, and that we're just trying to help realize that. The one thing that I can rely on, though, is that I know Mute, our label, will put out the soundtrack and (when) we put the soundtrack out as just a musical piece then I know we can have the final say. In that context we can make it exactly how we want it, which is important.
Were you guys reached out to by a production company or did you put it out there that you want to work on soundtracks?
We were reached out to by the director, actually, who's an avid Liars listener. He said that he had written the script while listening to WIXIW a lot, so that was his jump off point. It meant that he (was) interested in kind of an electronic feel to it, so that because we were in the middle of working with that sort of stuff, it all came very naturally.
Does this mean that it puts off any production for the next Liars album?
We were discussing when to begin that but you're right. It does mean that for the moment we're tied up with this soundtrack. And again, depending on how long it gets drawn out it'll determine when we begin to work on the next record, but we've certainly had talks amongst ourselves and the label when we want to get down to that.
Being a band that kinda reinvents itself, or continuously goes in different directions for each album, when do you start to conceptualize the next idea?
It usually happens during the tour before the album before. I say this quite often, but even though we consume a fair amount of music in our daily lives there's nothing quite like being on tour or listening to music. There's a lot of time backstage where it's me and Aaron sitting in a room listening to music together and you don't just get to do that in a normal day. On tour it becomes a really interesting process of what we listen to and what starts to hit home more. So, yes, during the tour at some point we start to think about it and often it's the music we're listening to on the tour that forms it in some way.
What were you and Aaron listening to on the last tour, or right now?
A lot electronic stuff still. Arca and Andy Stott and the new Aphex Twins stuff and FKA Twigs and stuff like that. Still quite interested in those sort of production techniques. Particularly because it's still in our head for this soundtrack. It's very electronic. As you said, it's a reinvention most of the time and that mostly comes from a reaction to what has been in the room for the last year or so. We've been working with electronic instruments and involved in that kind of production for a few years now and so I just start to yearn for the opposite which is basically a live microphone in a room picking up ambient sound. It's really exciting for us to go from one extreme to the other. It would be great to get rid of a computer entirely but I don't know if that will happen.
You've talked about this in the past before and mentioned that when Liars starts to get good or comfortable with an instrument you like to put it away and go in a different direction. And I see that's what is happening here.
It's hard for me to say that I get good at it or anything like that, but it's more of a familiarity with any instrument or technique. It's kinda great to be able to realize that that's being established and now it's a chance to explore a whole different way of doing it. That's what I'm thinking about more with this upcoming record.
Because you do reinvent yourself and want to go in different directions each time, how do you determine success with an album?
Success with an album? It's about the process for me. How well I feel we achieved the goals we set out to achieve when making the record. For example with Mess one of the goals was to work really fast and have a lot of fun with it—not get too bogged down in some of the more conceptual details we normally would and so in judging the success of Mess that is what I look for if we do those things. And, to me, I think we did. That's all based on the process and the production of the album. After it's finished I have very little way of ascertaining what's going on with it out there. It's more of a feeling of personal achievement.
When you guys were asked to play Spillover, were aware of the festival?
No, isn't it just a festival?
Yeah, it's a festival, but it's built around bands coming out of South By Southwest, so while bands are leaving Austin these bands stop by Dallas and play, but you guys aren't coming out of SXSW. What are your thoughts on the Austin festival?
It's a great sort of event for what it is. That might not be being able to really listen to the music. I feel like SXSW has got a lot to do with seeing bands rather than hearing them. It's a difficult place to digest, but it's definitely got it's upside for the industry and all that sort of stuff. In terms of an artist going there to perform, I wouldn't say it's the highlight of a world tour [laughing]. It's got more to do with the other side of the industry than simply enjoying a band. You know what I mean?
Yeah, I get that because bands are playing like 10 minutes sets and then they're running off to another venue.
Yeah, it's like going to see Snoop Dogg, then going to see some other random thing, and it's just like 'What's happening?'
So I know you're a big basketball fan and by the time this interviews runs the Clippers will have played the Dallas Mavericks. Any comments on that?
Oh! Oh yeah! We've had a tough stretch but it seems like a really tough stretch for Dallas right now. Don't know what is going on with you guys. You've got Rondo and everything is so weird. Dallas has such an exciting team with a lot of great players. The Clippers have got some significant injuries right now so we won't have Blake Griffin and Jamal Crawford when we play you guys but I still think we're going to beat you! That is more of a statement of the shambles that Dallas is in right now. Normally I think Dallas would take us but we just beat OKC last night. I'm excited. What do you think about the Mavs' acquisitions?
It's interesting. The Mavs feature a lot of big, brand name players who five years ago this looks like an All-Star team, but it's not meshing right now and it's interesting that Amar'e Stoudemire says he came here to win championships and they've lost five out of the nine or ten games he's played in then called out his new team.
He's actually producing pretty good numbers, too. I don't know you guys might have to get rid of Rondo!
Eh, yeah, he might not be back next year.
So you think they'll make the playoffs?
Oh, for sure. It's just a matter of seeding. I'd hate to see them limping in. I believe in Rick Carlisle. I'd take Carlisle over Doc Rivers any day in a seven game series.
Yeah, yeah. I think once they're in the Playoffs you never know what can happen. It'll be like that for everyone.
Before wrapping this up, is there anything you'd like to mention before Liars heads on over to Dallas?
Uh, no, other than we're excited because we haven't been there in a long time. It should be great. I hope everyone is ready to throw down.
Liars headlines Spillover Music Fest on Sunday, Mar. 22, at Trees.