Jesse Morgan Barnett exhibitions often feel like occupations. There was the show at the Reading Room last year, in which fragmented totems referencing fishing and aquatic cultures clogged the tiny gallery. There was the pop-up show in Deep Ellum, in which he strung cord, zigzagged neon, and partitioned off a sleeping area within the space. There was also Nest at Bows and Arrows way back in 2011, when he and frequent curatorial collaborator Michael Mazurek infiltrated a skinny storefront with a neurotic exploration of fatherhood. In each instance, Barnett seems interested in the way he can occupy a space in such a way that the objects and items he places in that space conjure up suggestive, open-ended narratives.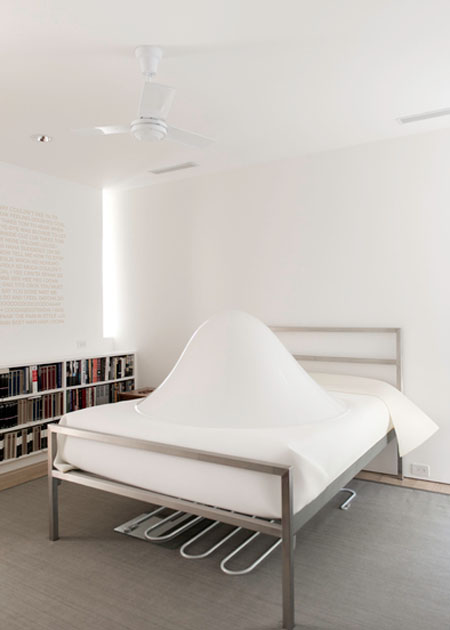 Despite this tendency to occupy, Barnett's aesthetic is so pristine and scrubbed his work can feel precious and polite. He's a invader with impeccable manners. And so, that politeness is a central theme in Barnett's latest body of work makes the installation all the more intriguing. The show, entitled Jjigae, is installed in a residence in East Dallas, the home is owned by writer/ collector/ curator Charles Dee Mitchell. It is hardly a typical house. Smacking of the Eames Home design, architect Ron Wommack's Mitchell house is a pristine art ark—a house that already functions as a kind of gallery for Mitchell's own art collection. It is white-walled, straight-lined, bright, and airy, like a gallery.
Barnett's idea to install his own work in the house came in reaction to a recent trip he took to South Korea where he was a house guest in the home of members of his extended family. Ideas of foreignness, hospitality, displacement, and the liminal state that comes with being a guest were bouncing around his head. Mitchell agreed to offer his home to the artist, and the result is a kind of art show-as-awkward-house guest. Barnett interrupts the considered domestic installation with a tentative intrusion.
Barnett's works are spread throughout the house and grounds. There's a video on Mitchell's television; some painted wooden stars hung in the kitchen; a furry, immobile mechanical toy cat on a leash in the hallway on the second floor; and a golf hole and flag planted in the back yard. In the guest room, the artist spreads out. A text piece on the wall offers a literal transcription of a terrible translation of an American pop song sung during Korean karaoke. A painting of a dog is propped on a couch. A acrylic and foam bulbous, cone-like piece—Phasing Out Burial Mounds—sits on the bed like a giant futuristic breast. And in the bathroom, there's a sack of take out Jjigae, a Korean stew. The show borrows its name from the stew, and we can play with that a bit: Barnett's work wafts through the house; it's a moveable feast; it's a foreign cuisine, it's temporary and digestible, etc. etc. Like much of Barnett's work, it is cleaver and well thought out, but also easy on the pallet.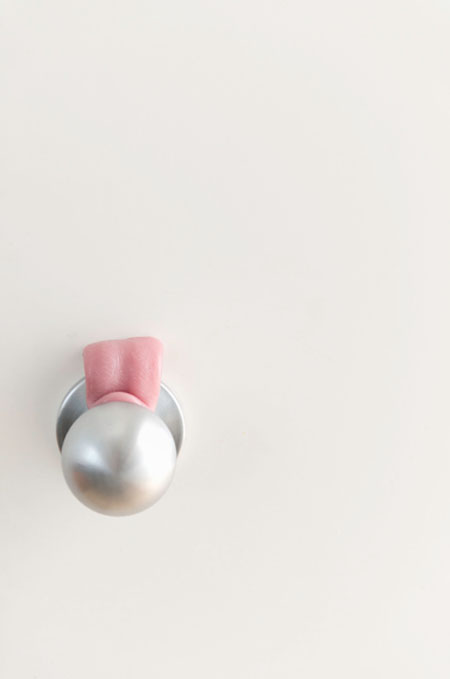 What makes Barnett's work so digestible is that it is all so good looking. The work is well-crafted, minimal, beautiful, and seductive. His visual aesthetic – clean and white – feels like a strategy, sometimes subservient the idea that drives each piece's conception, though always a necessary ingredient in making his conceptual conceit palatable. Each of these pieces picks up some specific reference to idiosyncrasies in Korean culture—their particular relation to pets, an obsession with karaoke and celebrity, a leaning towards solitary sports like golf, even an awkward contemporary relationship with death—and represents them in a way that folds that allegorical context and inherent tension into forms that are both pretty and slightly out-of-reach.
Looking at much of Barnett's work, I can't help getting tripped up by the idea that the artist's good taste may be his worst enemy. He grasps at such a wide ranch of ideas and experiences, and his content can be funny, or absurd, or violent, or strange. And yet, it always feels so dressed up for the occasion. That formalism can contribute to the impression that there is sometimes a gap between the object you encounter and the conceptual intent of its maker—that the work is a stand-in for something else. But when his art works best, the forms seem to resist and subvert their intent, and this same simplicity and succinctness manages to conjure a surprising power and satisfying openness of meaning.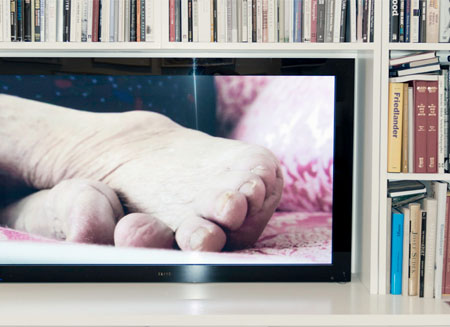 My favorite piece in this installation is the video playing in the living room, On Tickling, 2013. The looping fifteen minute shot shows a tight close-up of two tiny old feet, with cracked nails and wrinkled skin. Every so often a piece of cloth or a few fingers pass into the frame, running along the feet. Mostly the feet are still, but sometimes there's a reaction: a shifting, a scuffing, the two feet scratching together. You hear a mutter or an exhale. The ambient silence of the video is also interrupted with a mechanical voice reading Google-translated Korean.
Like most of Barnett's best work, it is enigmatic, beautiful, and jarringly intimate. Unfortunately, also like most of Barnett's work, it works best when you're fed a line or two about what is going on. In this particular piece, the artist's aged grandmother is lying on a couch napping, and the younger man is toying with her feet, tickling them, disturbing the rest of the elderly woman in a way that steals surprising moments of intimacy with her. There's an overt Freudian tension, but also an allegorical inference—the way that maternal love remains passive and omnipresent, and a son's love is so doting, tender and pure—which all comes across here, despite the sexual awkwardness. It's as if in this piece all of the tension of the rest of the show comes to the fore, that in the distance of generational love, foreignness resonates in a profound way —in the way relationships tease themselves out on the periphery of intention, and in the way admiration, generosity, hospitality, and respect express themselves within the context of a mannered formality, that occupies the space between love and isolation.
Get the FrontRow Newsletter
Get a front row seat to the best shows, arts, and things to do across North Texas. Never miss a beat.