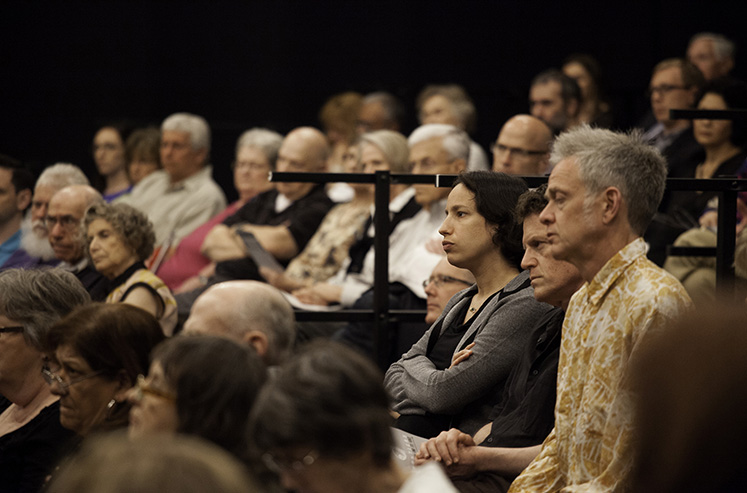 The Classical Note: The Speech That JFK Never Gave Gets its Own Score; DSO's Beethoven Fest
This week's serious music report includes the transgendered plight of Alex in Transition, and a historically relevant piece by Theater Jones critic, Gregory Isaacs.
With its annual spring season drawing to a close, Fort Worth Opera took a walk on the wild side in its annual "Frontiers" presentation, which took place last week at the McDavid Studio, across the street from Bass Performance Hall.  Eight operatic works-in-progress had been selected in a highly competitive application process held earlier this year to perform, with criitique by a distinguished panel in Fort Worth. The public was able to view these excerpts in stand-and-sing, concert-style performances: no costumes, no scenery; minimal action, and piano accompaniment only.
The program organizers saved the shocker for last on Friday with two excerpts from Robert Paterson's Three Way, which sets librettist David Cote's darkly comical words to a breezy, almost Lloyd Webber-esque score. The first excerpt—a parody of modern life and love—featured the interaction between a busy career woman (soprano Megan Garvin) and her live-in robot lover (tenor Dane Suarez), including the apt comment "He never thinks of himself; he never thinks at all."
The second excerpt, "Safe Word," featured sadomasochism with multiple unexpected twists, and a performance by mezzo-soprano Claire Shackleton, as a professional dominatrix. Baritone Jesse Enderle is her $270-an-hour client.
Paterson's piece was not the only selection to take on edgy material. Anthony Green's Alex in Transition, deals with a transgendered central character and her spiritual and physical journey from male to female. Green, who is his own librettist, supplied a courageously intense text for the scene that was presented and matched with sturdy, expansive, music in a scene that suggests painful transformation is part of life for many—not just the transgendered. Green was also supported by  baritone Steven Eddy, and the aforementioned soprano, Garvin.
Matthew Peterson's Voir Dire, with text by Jason Zencka, successfully links the tragedy and comedy of a small town courtroom, with a sophisticated, Broadway-esque idiom and an impressively tragic aria performed by mezzo-soprano Meaghan Deiter. Composer Herschel Garfein takes on Shakespeare and Tom Stoppard for an operatic version of Stoppard's post-modern, Hamlet-inspired masterpiece, Rosencrantz and Guildenstern are Dead. Baritones Steven Eddy and Dan Kempson are in the title roles, in which Shakespeare's and Stoppard's words combine quite nicely to the composer's energetic musical style. Listeners may be reminded of Prokofiev and Sondheim upon hearing the music, yet it has a sparkle all its own.
* * * *
Sunday afternoon found Theater Jones' resident classical music critic Gregory Isaacs and Dallas Opera's media director Suzanne Calvin on the creative side of the fence for a change. DeSoto's Corner Theater, was the venue for Isaacs' Undelivered, a chamber cantata with a text arranged by Calvin from the speech that John F. Kennedy had planned to deliver in Dallas just before his assassination. Several leading area musicians participated in the premiere, including mezzo-soprano Virginia Dupuy, soprano Jacquelyn Lengfelder, and baritone Jeffrey Snider. The instrumental ensemble included violinist Gary Levinson of the Dallas Symphony, along with the Hall Ensemble, a wind-and-string quartet drawn from the Fort Worth Symphony. In other words, a pretty distinguished crew for a suburban theater.
Isaacs' clean, neo-romantic, richly melodic musical idiom was skillfully contrapuntal, and suited the text and subject matter well. A prefatory section included the words of Daniel Webster, followed by a closing poem by librettist Calvin. Latin verses from the Roman Catholic mass for the dead provided a fine verbal counterweight to the frankly political but often lofty texts by Kennedy, and his notably excellent speechwriters.
Undelivered is well worth a listen for anyone interested in Kennedy, twentieth-century Americana, or contemporary music. Repeat performances were held at The Lilipad on Magnolia in Fort Worth and at the Chandor Gardens in Weatherford, with the same excellent cast of musicians.
* * * * *
The Dallas Symphony's ongoing Beethoven Festival opened almost introspectively with concerts on May 1-5 at Meyerson Symphony Center, as the orchestra's co-concertmasters Nathan Olson and Alexander Kerr navigated the featured composer's Romances for Violin and Orchestra Nos. 1 and 2, respectively.
After that, the roller-coaster ride began as music director Jaap van Zweden launched a percussion-heavy—but admittedly thrilling—rendition of the perennially popular Ninth Symphony; baritone Raymond Aceto, matching the percussion blow-for-blow, was the star of the Saturday evening performance I attended, along with the reliably magnificent Dallas Symphony Chorus.
The energy level did not abate for the orchestra's all-Beethoven concert the following weekend (May 8-11), when pianist Yefim Bronfman joined conductor Van Zweden and the orchestra for a no-holds-barred rendition of the Emperor Concerto, on a concert that also included the Coriolan Overture, and the Symphony No. 7.
At the Friday evening performance, a young man in the choral terrace burst into solo applause at the close of the first movement; when he sheepishly stopped, a crowd in the opposite balcony answered with more applause, along with cheers and whistles. Though everyone managed to stay quiet for the rest of the of the event, the ovation at the end of the finale resembled a Dallas Cowboys crowd after a game-winning touchdown. It was that kind of night.