Contrary to Virgil Abloh's 2019 DAZED interview, streetwear is not dead. The fashion industry, estimated to be valued at $185 billion in 2019, is expected to grow even more within the next five years. It's safe to say that the retail and fashion trend, birthed from the counterculture hip-hop movement from the 1980s and 1990s, is here to stay. Especially in Dallas.
Established brands like By Way of Dallas, Centre, and Please Come Home – Los Angeles have shaped the local streetwear scene. On any given day, you can see a signature By Way of Dallas varsity jacket worn downtown or on the arms of a local tastemaker like Erykah Badu, Blue, The Misfit and plenty others. The brand has even partnered with the Mavericks and D Magazine.
What distinguishes Dallas brands from their global peers, like Fear of God, Off-White, and Joe FreshGoods, is the hyper-regional focus to the city's mixture of street, cosmopolitan, and cowboy culture. To keep it a buck, Dallasites take pleasure in representing their city's unsung heroes and that desire will always be profitable.
Here is a selection of local brands that center and uplift the city's unique spirit. In no way is this list comprehensive or fully representative of the city's streetwear scene; think of it as an entry point for those wanting to step up their fashion game.
If you're a new, emerging, or established streetwear brand, please send me an email. FrontRow is here for ya. (Also, the editor has an unhealthy obsession with streetwear. Blame the blog era.)
English Sportswear, the brand behind the "unofficial" socks of Dallas—worn by DJ Sober, Stonie Blue, Blue The Great, Brndn Blue, and Kaash Paige—has evolved into one of the essential brands to have in Dallas. Their signature "Home of the Killas / Home of the G's is a line from Big Tuck's "Southside Da Realist" and sells out in minutes. Another staple to purchase is the line's "214 Reppin" collection, which places a diamond-encrusted Dallas logo on white, black, and camo shirts.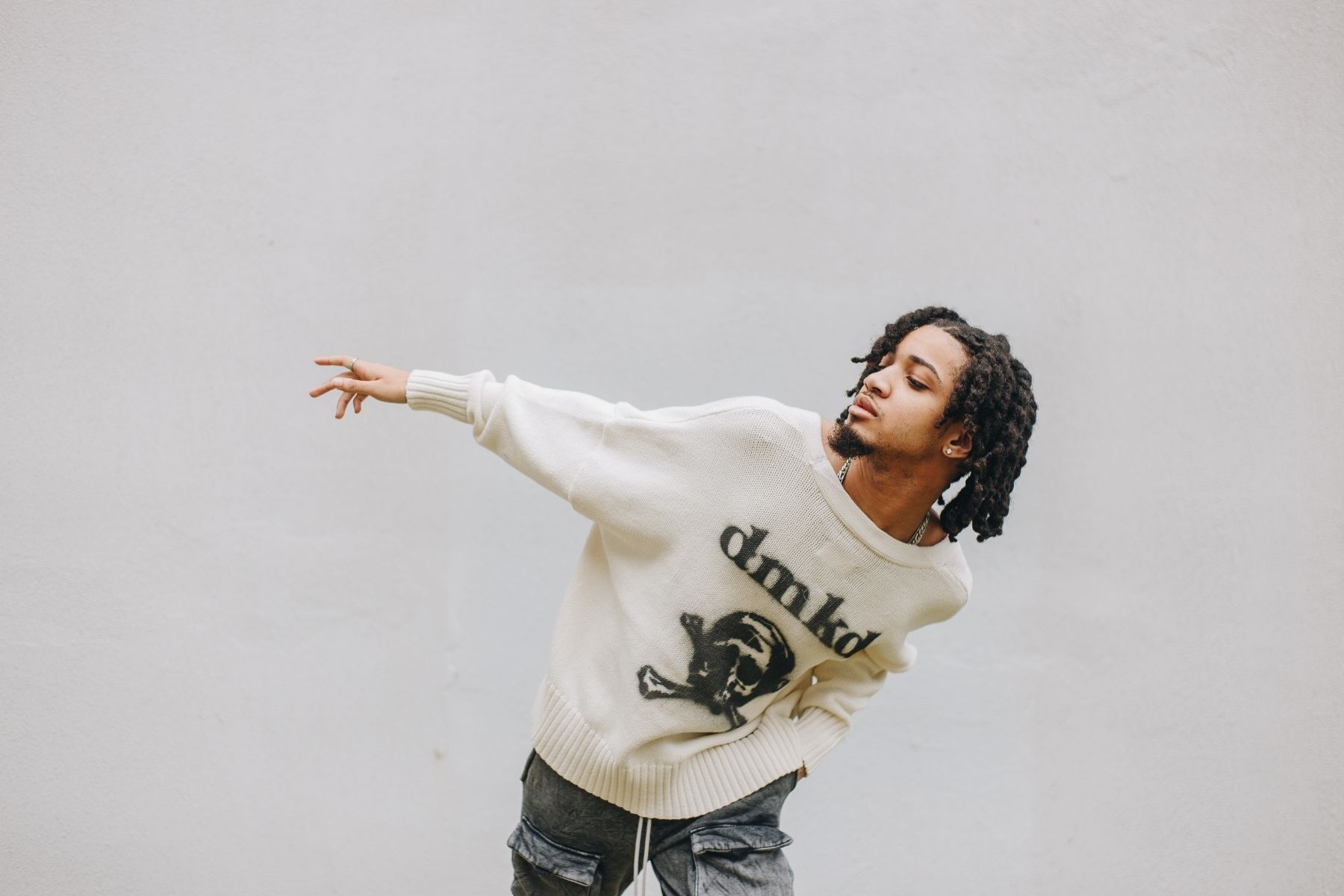 Juan Ramos left his full-time corporate job to pursue his passion of design. He founded DMKD, which stands for Determination, Motivation, Knowledge and Drive, to produce a contemporary, high-fashion line with detail-oriented designs. The pieces are produced in-house from his apartment, which speaks to his tenacity for inspiring fellow creatives of color to believe in their own power, strength, and unity.
Bb Velez and Rosa Rodriguez, two first-generation Mexican American Tejanas, met at South by Southwest in 2015 and bonded over their childhood experiences of being called Malcriadas ("spoiled brats") for rebelling against traditional Mexican beliefs. The duo flipped the term for their Chicana clothing line, which pays tribute to Texas legends like Big Moe and Selena.
With over 15 years in the fashion industry, the line returned following a brief hiatus with their cut and sew MTRMNY-branded pieces. Although the brand is based in Los Angeles (fight me), their Texas roots and Cowboys, Mavericks, and Rangers-themed collection is of high quality and a better choice than others that are advertised more frequently. Buy one of the brand's trucker hats for a sunny day out. The embroidered logo took over 37,000 stitches and hundreds of samples before the hat was released for purchase.
Eric White and Nathan Banks started The Local Product to represent the culture and people of Dallas. His clothing features modern interpolations of the city's icons, like Big Tex and the Flexas baseball jersey, a play on the Texas Rangers. The piece to buy is the brand's basketball shorts collaboration with El Chuy, the creator of the signature DALLAS slides (Believe me, you have seen them).
The anime kaiju-inspired line brings the Japanese pop culture aesthetic to the streets of Dallas. Cop their latest drop for July to be the most fashionable person at this summer's pool or day party.
Reminiscent of streetwear's early beginnings of stylish yet comfortable apparel, YK1K prioritizes comfort and usability in their athletic clothing. The brand's line of basketball shorts pays tribute to the city's sports teams, as well as state HBCUs, like Texas Southern and Prairie View A&M University.
Get the FrontRow Newsletter
Get a front row seat to the best shows, arts, and things to do across North Texas. Never miss a beat.