We all have the friend who manages to find gems while rummaging through second-hand goods. Brittany Cobb has made a business out of being that friend. Flea Style, which began as a one-day showcase of local artisans and transformed into a full-fledged lifestyle brand with a Deep Ellum storefront, an e-commerce shop, a podcast, and (soon) a restaurant, is turning 10 years old.
Ahead of this weekend's 10-year anniversary show at Dallas Market Hall North, the mother, entrepreneur, and former editor spoke to us about what 10 years of Flea Style has taught her.
What did changing career paths (from lifestyle editor to entrepreneur) teach you?
My journalism career 100 percent set me up for success in my other businesses. The writing skills alone have been a huge asset for everything I do, from pitching a client as an interior designer to writing copy for our website, blog, or podcast at Flea Style. Working on tight deadlines also taught me insane efficiency. Interviewing people honed my social skills and communication chops. I am so thankful for my eclectic career path that laid a foundation for Flea Style's multi-channel approach and success.
Did running a business make you realize the importance of friends and family in any way?  
Yes, running a business quickly teaches you how to find your personal work-life balance. For me, that includes making time for friends and family. Instead of paying myself, I currently invest in my company and its growth. I pay myself right now with lunches with friends, play dates, and occasionally self-care dates for one (like a manicure or rare massage). Unplugging with people I love is my favorite stress reliever and always a solid reminder of what's truly important in life.
What have unsuccessful deals and various location moves taught you about failure and not settling? 
I have learned over the years that failure is just a lesson learned and often an opportunity for redirection or reflection. And yes, it definitely makes you push through to the next thing or chapter and not settle.
What have you learned about dressing well while being busy? 
I love to get dressed every day. It's a form of creativity and expression. It also lets me live out the far-flung crazy corners of my personality. Some days, I'll dress buttoned up and others super casual and bohemian. At the end of the day though, I'm comfortable in my skin, so I can run a meeting in front of professionals, schlep dirty flea market finds into storage, and handle my kids' pickup or sports schedules.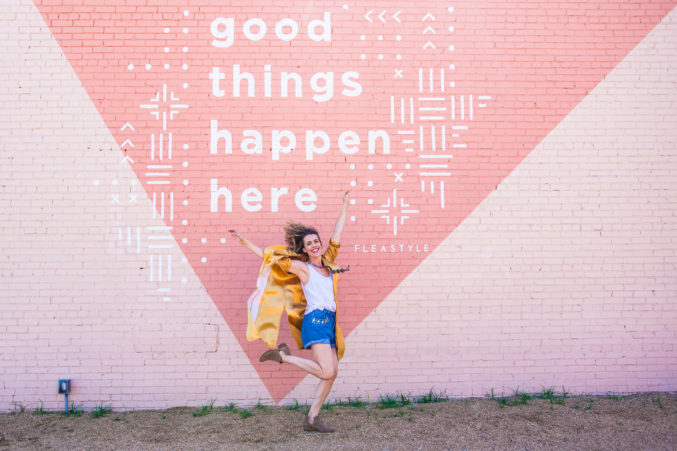 What have the past 10 years taught you the importance of self-care? 
I know it's so important, but honestly it currently falls to the bottom of my to-do list. However, I do make time for a manicure at Verbena every two weeks (they serve free iced lattes and wine!), try to eat my leafy greens, and visit with loved ones that fulfill me way more than a massage! Anything beyond that is a bonus right now.
Additional lessons you'd like to add? 
Don't burn bridges. We're all so connected and it's important to keep lines of communication open with people you've worked with. I have leaned on old colleagues, past clients, and former vendors for so much over the years. Everything from my realtor that landed our Deep Ellum headquarters to coffee for my new restaurant came from direct or indirect connections I've made over the years.
Also, always keep an open mind. I would not be where I am today if I wasn't available to new opportunities that were not necessarily in my plan.
To celebrate a decade of the curated flea market experience, Flea Style is throwing a 10-year Anniversary show taking place Friday and Saturday at the Dallas Market Hall. Attendees can shop vintage finds and pose for various photo opps. Friday is a VIP night ($28) and Saturday is open to General Admission ($5) ticket holders.
Get the AtHome Newsletter
Enjoy Dallas' best trends, hot properties, and tips from local designers to help you nest in style delivered weekly.