The din of hot takes surrounding the Dallas Cowboys can be absolutely deafening. The Cowboys are the most discussed team in American sports, and the discussion rarely, if ever, takes the shape of "Eh, who knows? We'll have to wait and see!" I'm convinced that if the team ceased to exist tomorrow, the entire media sector of our economy would collapse, resulting in prolonged rolling blackouts, gas shortages, and probably some form of martial law. The sports media is entirely over-leveraged on the Dallas Cowboys.*
*Now, I would like to ask that you continue reading this article about the Dallas Cowboys.
Because of this, it's hard to get a read on what the club's "expectations" are. I suppose Vegas is the only true heartless arbiter of this matter. But my read on this dynamic is the Cowboys exist on a plane where they consistently have extremely high expectations that the general football public never expects them to come close to meeting. It's a very strange feedback loop (which, if you're wondering, much of it is caused by Jerry Jones and much of it is the result of history).
Coming into this season, the expectations for the Cowboys' offense were lofty. You probably saw television graphics that look something like this: "ARE WE OVERRATING HOW GOOD THIS DALLAS OFFENSE CAN BE?" Or "CAN THEY LIVE UP TO THE HYPE?" And maybe now, three games in, "CAN THE COWBOYS OFFENSE KEEP THIS UP?
Let me answer those in order.
No. Yes. Yes.
This offense is built to be a juggernaut, is performing like one, and will continue to do so.
After a decade-plus of Jason Garrett's archaic "attack" (hey, there, Giants fans!), this can be tough to fully buy into. I get it. But Acey ain't in charge no more. Since Kellen Moore took over play calling in 2019, we've seen glimpses here and there of what a fully realized version of this offense could be. But Garrett, injuries, and the pandemic's impact on installation and preparation hindered progress. 
Things have changed. Mike McCarthy has empowered the unit to take a more aggressive approach (unless it's the final minute of the first half). Dak Prescott is healthy and has absolutely "taken the next step." There's high-end talent and depth at every skill position. All of that at Moore's disposal has created a monster, a ravenous beast that most Sundays will not devour its prey but do so in a manner of its own choosing.
With a few exceptions, this is the mark of a truly elite offense. Tom Brady and Bill Belichick's Patriots did this to teams for years. When an offense has as much talent as Dallas, I'm not a fan of using the phrase "take what the defense gives you." It's too passive. After all, Dallas has the third-highest share of cap space devoted to offense in the NFL, and this doesn't account for the value of key contributors such as CeeDee Lamb, Michael Gallup, Tony Pollard, and Dalton Shultz, who are all still on their rookie contracts. I prefer the phrase "make the defense decide how it wants to be beaten." Through three games, this is the posture the Cowboys have taken.
In Week 1, Tampa Bay played Dallas with seven or more defenders in the box for half of their defensive snaps, and blitzed at a rate of 40.3 percent (that is in line with the Bucs' blitz rate through three games, 40.7 percent, second-highest in the league). Dallas responded with a pass-heavy game plan that saw Dak go 9-for-9 for 65 yards on throws behind the line of scrimmage and 26-32 for 202 yards on throws that traveled between 0 and 9 yards beyond it.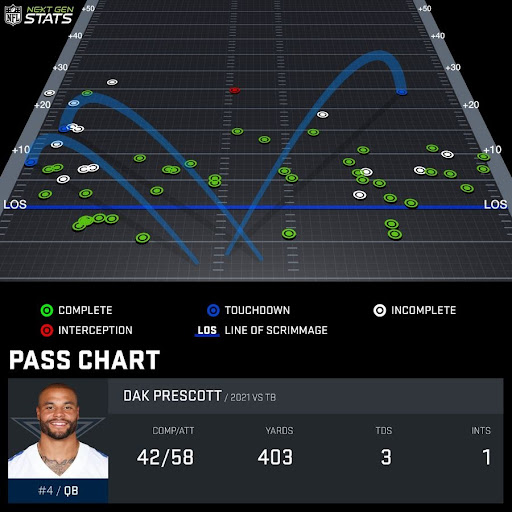 It's pretty clear what the plan was: get the ball out quickly and get it to the playmakers on the perimeter, away from the strength of Tampa Bay's defense. We see a few intermediate to deep shots here with Tampa Bay gambling, but a few drops and poor throws limited the production. Still, recognizing that those chances were there matters. The Cowboys stalled out in the red zone, and their kicker performed poorly, but overall, this was a near perfect game plan given the context of the game. There was little sense in banging your head against the wall that is Tampa's front, both from talent and tactical standpoints. Moore also said that he called 28 runs in the game but that Prescott checked out of 12 of them, and those checks resulted in 4.8 yards per play. This is part of that aforementioned "next step" for a quarterback.
In Week 2, the Chargers gave Dallas seven or more defenders in the box on just 37 percent of their snaps, and they blitzed at a rate of 10 percent. Dallas responded by hammering Los Angeles in the run game both between the tackles and on the edges, and doing it on early downs. In a vacuum, I'm not typically a proponent of this strategy. The football analytics community has correctly identified in the last decade or so that rush attempts, particularly on early downs, consistently produce sub-optimal efficiency. Establishing the run is a myth. 
But football is the most contextual of sports. There's a lot going on! I suspect that much of what this research is attempting to push back on is the ingrained macho ethos of "We are going to run the ball to prove our physical dominance." That is not what Kellen Moore and the Cowboys were attempting to accomplish in Week 2. Instead, it was "If you don't want our elite cadre of receivers and tight ends to cause you pain, that's fine. We also have a top-tier running back tandem." Getting Zack Martin back certainly helped. But when Kellen Moore interviews for head coaching jobs this offseason, I would advise him to simply sit down and go through these two diametrically opposed game plans, seven days apart from one another. 
Prescott and Moore are clearly either on their way to, or have arrived at, something I have heard Troy Aikman talk about many times when referencing his relationship with Norv Turner. They aren't just "on the same page"; they are reading the book with one brain. There weren't many shots to be taken against the Chargers, and Dak could be comfortable knowing it didn't matter because Elliott and Pollard are talented enough to oblige when a defense asks the run game to beat them.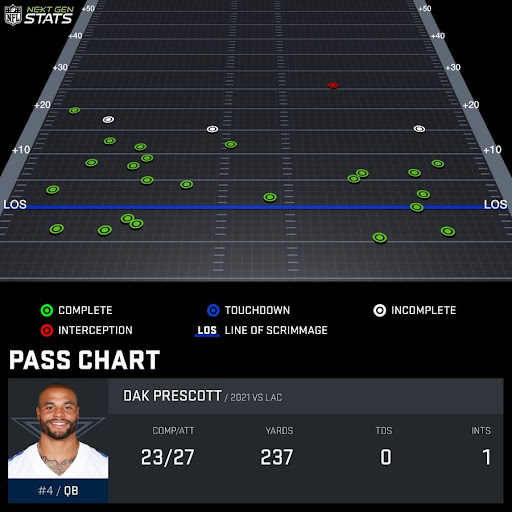 With a new coaching staff, no one had a firm idea of what to expect from Philadelphia's defense in Week 3. Not even Prescott. "It's definitely different," he told the media last week. "I wouldn't say it's strange. I'm not necessarily sold, though, until after this game or until the first half. A little bit of myself says they're just scheming up a little bit to pull it out against us. Sometimes you do things different against your division than you do against other opponents. But it's definitely a different defense."
The Eagles blitzed Dallas on just six of 76 snaps Monday night, less often than the Chargers. But they also played with seven or more defenders in the box on 62 percent of their defensive plays, more than Tampa Bay. It was an odd amalgamation of what the Cowboys saw in weeks 1 and 2. Dallas had 10 more rushing attempts than in Week 2, but please pay very little mind to that. This was a blowout; pass and rush attempts are going to be a bit skewed. If the opposition is going to present a defensive middle ground between their first two opponents, then offensively, Dallas will respond with a tailored approach. Because they can. Prescott had seven deep attempts in Week 1, one in Week 2, and four in Week 3.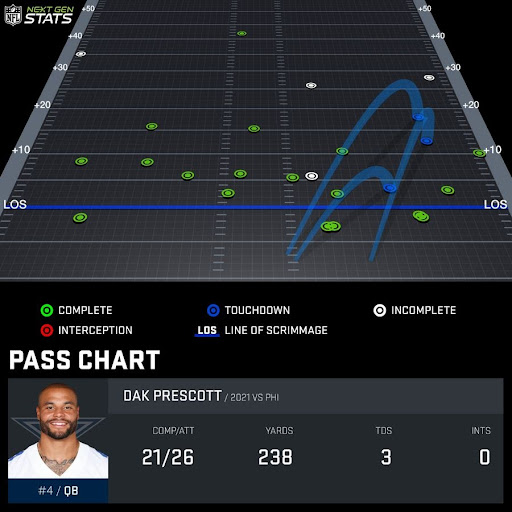 The Cowboys ran the ball effectively, mixed in a few shots, and basically said, "If you want to play us with this vanilla-ass game plan, we will beat you with a vanilla-ass game plan, because we have more talent. Have you guys met Dalton Schultz?"
Often even good offenses have only a few reliable options to make plays and only a few reliable ways to make them. Good defenses with a good plan can frustrate them at times because they nervously start to feel like they "have to get the ball to (X)," or "have to find a way to get (Y) involved." I don't get the sense the Cowboys' offense feels any of that pressure. This comes up most often with Elliott, due to his contract. There have been times in the past where I thought his specter did loom a bit large over the offense. This year, he's in a timeshare, and no one's complaining, because it works. Cliché alert: winning cures all. 
I think this is something Prescott deserves a tremendous amount of credit for, both in the quantitative and qualitative sense. It's not that defenses can't confuse him, or that he won't force a throw here or there, or have an occasional you-know-what measuring contest when making his checks at the line, or that he simply won't have off games. But I doubt there will be many times when a defense can frustrate him into consistently being antsy. His mind has to be at ease knowing Dallas has a number of weapons that can beat you however you wish to be beaten, and playing for an empowered, pliable offensive coordinator in lockstep with him. 
He also deserves praise for orchestrating the egos. CeeDee Lamb or Amari Cooper would be the best wide receiver on a lot of teams instead of co-leads in Dallas. Michael Gallup would be more than the third-best receiver on most teams, and Cedric Wilson better than the fourth. Tony Pollard would be the best running back on a lot of teams, and Schultz or Blake Jarwin the best tight end. Elliott has been the offensive focal point on this one. Talk of "leadership" in sports can seem a bit hokey at times to outsiders. But the way Prescott marries his off-the-field control of the room to his on-the-field control of the offense is special — and worth every penny Dallas pays him. 
The Carolina Panthers defense is playing exceptionally well and presents a multitude of problems for the opposition. We have now definitely crossed the threshold of wondering whether the Cowboys' offense will be ready with answers. They will be. Chances are, Carolina won't like them. 
Get the ItList Newsletter
Be the first to know about Dallas' best events, contests, giveaways, and happenings each month.