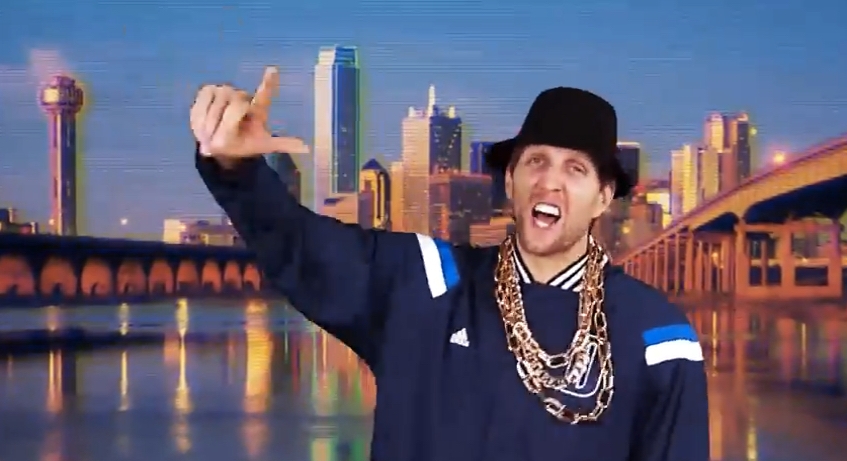 After one meeting this morning and before another, I noticed this tweet from Mavs fan and photographer Andi Harman. If you live such a go-go lifestyle that you don't have time to click that link, I'll summarize. Ms. Harman goes on record with her prediction that Dirk Nowitzki will finish his career with more total points than the late Wilt Chamberlain. As of right this very moment, Wilt has 31,419 points and Dirk has 29,408. I happen to agree with Andi, but I got to wondering: how many points will Dirk actually finish with before he retires?
To try to come up with an answer, I had to follow the trail to some pretty dark places. That's right. I had to use math.
To figure out how many points Dirk will have when he retires, you first have to make a guess as to when he will retire. His current contract runs through the 2016-17 season, and he's said he will at least play through that. He's also talked about playing until he's 40, which would mean he would finish out the 2017-18 season.
Before Dirk got married and had kids, I thought he might leave Dallas immediately following his playing days and go back to Germany, and I also thought that would be sooner rather than later. Like, he'd go there when he was maybe 36 or 37 and play a few years of club ball for the Wurzburg team or something. But I think he's got fairly solid roots here now, and I think he'll let his career wind to a close a bit slower. Given that, I actually do think he'll stick around with the Mavs through 2017-18 and then retire and then have his No. 41 retired in a touching ceremony before a November 2018 game.
So that gives us a starting point. From there, it is [puts on deerstalker and sunglasses] educated guess time!
As I said before, Dirk has 29,408 points right now. Since he's been in a bit of slump lately, and he's not getting younger or less beat up or worn down, I'm going to stick with his average over the past five games (13.4) for the last five games of the season. That adds up to 67 and brings him to 29,475 for 2015-16.
Now we have to really make some assumptions and do a bit of crystal-ball watching. Over the past five seasons, Dirk has averaged a total of 1,336 points. I ran two sets of numbers. The first was pretty conservative, figuring that Dirk's total would dip by 20 percent in 2016-17 (giving him 30,544) and then another 10 percent in 2017-18, and he'd retire with 31,507. The second was a bit more optimistic, figuring a 10 percent drop next season, and another 10 percent after that, giving him a total of 31,641.
Both numbers are enough to get past Chamberlain, the former just barely. I think it's reasonable to expect this happening. His game is based on guile and shooting, not athleticism, and his decline should be more gradual, provided his defense can keep him on the floor.
For fun, I ran one more set of numbers, with Dirk playing until he's 41, just for the jersey number symmetry. I figured in a 20 percent drop from 2017-18, and even with those very modest numbers — a little bit more than half of what he's averaged over the past five seasons — he would end up somewhere I never really thought possible: ahead of Michael Jordan's 32,292 and into No. 4 on the all-time career scoring list. That is crazy.
But really, so is where he is now.
Get the D Brief Newsletter
Dallas' most important news stories of the week, delivered to your inbox each Sunday.