What's on Tap in Waco?
From Santa visits to 5K's and ice skating, make plans for these can't-miss events at Magnolia Market at the Silos.
Without question, shopping is the No. 1 event at Magnolia Market at the Silos in Waco, but that's just the beginning. From now through spring, you could visit the Silos every weekend and never run out of things to see, do, taste, or buy. To help plan for your next trip down I-35 to Waco, we've gathered some of the top, can't-miss events to take you from this holiday season through April—the perfect answer to "What should we do this weekend?"
The Silos are the backdrop for a variety of events hosted by Magnolia throughout the year. Lawn games, food trucks, and an outdoor stage are always guest favorites and the perfect setting for concerts, vendor fairs, and seasonal activities. Pack a bag—you may want to stay awhile!
Santa at the Silos
When: Every Saturday through December 21, 2019
Where: Magnolia Silos, 601 Webster Avenue, Waco, in the garden by Seed + Supply
Cost: Free Admission
Tickets: Santa will be open to ticket holders only on the evening of December 14
Details: Santa will be open to the public to take to those special requests and for photos from 10 a.m. to 3 p.m. on December 13, 14, and 21 and for ticket holders only from 6 p.m. to 8 p.m. on December 14. Learn more here.
A Tip from Chip: Bring your own camera!
Christmas at the Silos
When: December 13 and 14
Where: Magnolia Silos, 601 Webster Avenue, Waco
Details: Break out your Christmas sweaters—the holidays are coming to the Silos! The fourth annual Christmas at the Silos event includes live music, ice skating, concerts, photos with Santa, and more!
Cost: Free except for select ticketed events. Purchase tickets for ice skating here.
Ice Skating Details: Price ($5-$15) includes skate rental (smallest shoe size is children's 8) and skate aid. Skate aids are available on a first-come, first-served basis. Children under 2 are not allowed on the rink, and children under 12 must be accompanied by an adult. Parents are not allowed to carry their children on the rink. Tickets may be purchased online or at the rink.
Spring at the Silos
When: March 12-14, 2020
Where: Magnolia Silos, 601 Webster Avenue, Waco
Cost: Free admission
Details: In celebration of the arrival of spring, make your plans now to attend the annual Spring at the Silos event featuring a free vendor fair, additional food trucks, and no shortage of florals!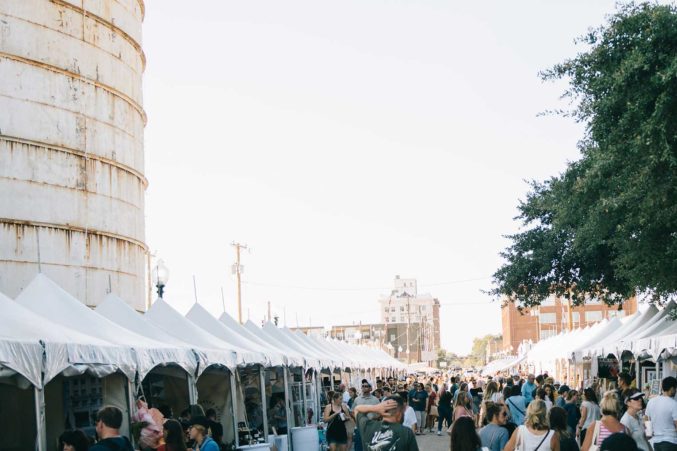 Silo District Marathon Weekend
When: April 25-26, 2020
Where: Magnolia Silos, 601 Webster Avenue, Waco
Details:  The Silo District Marathon is an annual 5k, half marathon, and marathon race hosted by Magnolia in Waco. It initially began to honor Chip Gaines' first marathon goal and his heart for the Brave Like Gabe Foundation. This USATF certified race is a Boston Marathon qualifier and is sure to challenge all participants. Race net profits will be directed to the Brave Like Gabe Foundation in support of rare cancer research and benefit cancer patients treated at the Baylor Scott & White McClinton Cancer Center in Waco. This year's theme is "Take on THE CHALLENGE," two days, two races, two medals, and all the bragging rights. Organizers of the Silo District Marathon are mixing it up a little bit in 2020 with The Challenge. To participate as a challenger, here's what you need to do: Run the 5K on Saturday, April 25 and either the half or full marathon on Sunday, April 26. Bonus: Those who register will receive an exclusive long sleeve, Dri-FIT shirt. Registration information found here, including pricing for each event.
Magnolia Market at the Silos is your destination to take time to pause and share the delight of the holiday season. Treat yourself at Silos Baking Co. Share a meal with loved ones at Magnolia Table. Or, grab a coffee at Magnolia Press. There is no shortage of things to do in Waco.