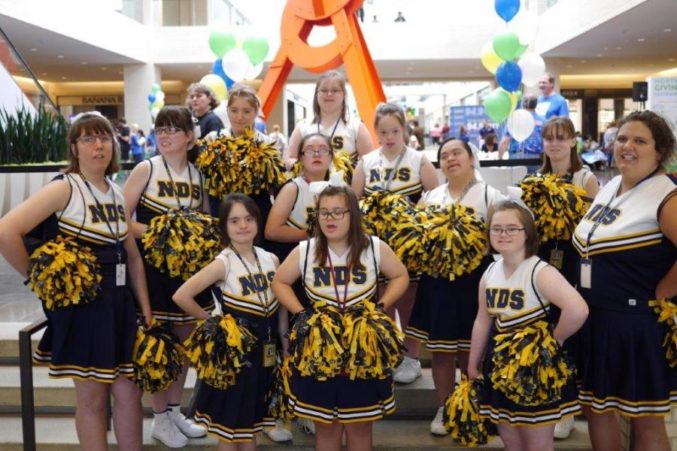 An Education is For All
Allie Beth Allman's founders and agents embrace the power of education by supporting community foundations like Catch Up & Read and ScholarShot.
By D Partner Studio
Published in Sponsored
November 13, 2018
4:12 pm
"Education is the most powerful tool you can use to change the world." This is how Nelson Mandela has described the importance of education. Pierce and Allie Beth Allman have emulated this idea for more than two decades by promoting a spirit of giving to educational charities throughout the Dallas area. The Allmans, along with many of their agents, support a wide variety of educational charities that directly benefit children of all ages.
"Fulfilling the needs of the community we serve is part of our culture," Pierce says. "Our agents are fired up and ready to back the effort one hundred percent."
For the second year in a row, Allie Beth Allman & Associates has teamed with D Magazine to make a difference in the Dallas community with the D Gives initiative. Through November 21, this unmatched effort brings many of the city's 501(c)(3) organizations together in one place. During the initiative, Allie Beth Allman's agents highlight their own "Charities of Choice," which gives them the opportunity to emphasize why these organizations are important to them. With a quick click, it's easy to help fund more than 70 North Texas charities, many of which are charities with an educational focus, such as Catch Up & Read, ScholarShot, Notre Dame School, Incarnation House, and West Dallas Community School, among others. Each week, participating nonprofits will post donation updates, and total donations will be regularly shared until the effort wraps up.
Incarnation House is among the agents' Charities of Choice. It's an after-school program serving the needs of youth at North Dallas High School to bridge the gaps and help them succeed. The goal is to ensure each student has the tools, knowledge, and support needed for life success. Although many of the students who benefit from Incarnation House attend school in a wealthy area, their lives are riddled with gaps in services, opportunities, healthcare, and education. Incarnation House acts as a hub for local organizations and nonprofits to fill those gaps by offering services to students that they otherwise would not have access to.
"Incarnation House nurtures tomorrow's leaders–the students that may be overlooked, but who are filled with tenacity and resilience in the face of their challenges," says Meredith Carpenter, program director. "These students have grown up in Dallas and know the hardships of this city better than anyone. It is time we listen to their voices as we seek transformation in our communities."
Sue Krider, senior vice president with Allie Beth Allman & Associates, became interested in Incarnation House after hearing about its impact on two brothers who were living by themselves in a home with no electricity while trying to finish high school. Through the services of Incarnation House, the older brother has graduated high school, was accepted to college, and became a floor captain in his dorm. "Incarnation House is important to me because it's a targeted service for at-risk youths in the neighborhood I live in–students who are doing everything they can to complete their high school education," Krider says.
Serving at-risk students so they can achieve and succeed not only in school, but also later in life and within their own communities, is important to Dennie Pitzer and Dodie Foxworth, sisters and agents with Allie Beth Allman & Associates. They are avid supports of ScholarShot, which was founded in 2009 by concerned business professionals, educators, and community volunteers who saw numerous well-meaning college advisement and access programs failing at-risk students. In Texas, nine out of 10 of students who get into college drop out. ScholarShot has developed a proven model of academic navigation, personal guidance, and financial support that reverses this outcome with 90% of its Scholars succeeding in earning life-changing vocational, associate, or undergraduate degrees. "If we don't help our at-risk students earn career-ready degrees, then we've set them up, we've failed them, and we accept a poverty wage in return for our K-12 investment in them," says Dan Hooper, founder of ScholarShot, which received the D CEO 2018 Nonprofit Citizenship Award for Social Enterprise. "Without support, we run the risk of sending kids back to poverty, rather than giving them the tools to earn life-sustaining wages."
While high school graduates are excited about the opportunity for higher education, they aren't always equipped with the knowledge or tools to succeed once they get there. "For many families, this one student going to college is their ticket out of poverty," Pitzer says. "But it takes more than just getting into college. Mentors here partner with the students from the time they get their high school diploma to the time they earn their advanced degree and get their first job."
"There are 'Allie Beth's' out there in DISD, and we want to find them. We can change the trajectory of someone's entire life by instilling confidence and competency in literacy."

Kelli Macatee, Allie Beth Allman agent
There is a sense of urgency when it comes to educational reform in Texas, and Dallas in particular. More than 80 percent of Dallas ISD fourth-graders do not read at grade level. Catch Up & Read is another charity of choice for Allie Beth Allman & Associates agent. Catch Up & Read is equipping at-risk elementary students to read on grade level by third grade. Research-based literacy and social emotional intervention is led by dedicated educators. Long-term improvements for students, teachers, and entire campuses result in equitable education for all children and lasting improvement for public schools. After 10 years of proven success, Catch Up & Read is expanding to more elementary schools to break the multi-generational cycle of illiteracy and poverty by providing a solid educational foundation for all children.
Kelli Macatee, an agent with Allie Beth Allman & Associates, says her passion for literacy grew once she had a daughter, and now Macatee and fellow agent Linda Wells are involved with several literacy programs, such as Catch Up & Read and ROD Ministries. "Every child between the ages of zero to 5 has the opportunity to expand their brain-power tenfold if the adults in their life are equipped and willing to work with them," Macatee says. "Unfortunately, for many of our children in DISD, their parents can't read very well, let alone teach them. You may be brilliant at any number of things and never know because you have dyslexia, dysgraphia, or other reading challenges. Allie Beth Allman is a perfect example of that. Her talent and gifting are unmeasured, and if her dyslexia had prevented her from fully manifesting her gifts, thousands of people would have been affected. There are 'Allie Beth's' out there in DISD, and we want to find them. We can change the trajectory of someone's entire life by instilling confidence and competency in literacy."
For more information and details on how you can donate to these organizations, visit www.dmagazine.com/dgives.