Let Dallas Filmmakers Tell You What To Watch
You've already binged your quarantine playlist. So let the local experts guide you into what to watch next.
By Zac Crain
Published in D Magazine June 2020
Little Fires Everywhere: Hulu; the OA: Nicola Goode/Netflix; Maniac: Michele K. Short/Netflix; Roma: Carlos Somonte/Netflix
David Lowery
Writer-director of Pete's Dragon, The Old Man & The Gun, the forthcoming Green Knight
Mad Max: Fury Road: "In the best of times, it is one of the most thrilling movie-
going experiences available, and it feels downright cathartic in the worst."
Princess Mononoke: "While it's maybe not the most soothing of Hayao Miyazaki's films, it is an incredibly powerful evocation of the respect we all need to have for the world around us and the fragile balancing act that society must maintain to keep our place on this planet.
"The entire filmography of Louis Malle: I'd somehow only ever seen two of his films (including the canonical My Dinner With Andre), and so I decided to start at the beginning and watch every one. I'm almost done with his narrative features now and am moving on to the documentaries. Zazie dans le Métro, Au Revoir Les Enfants, and Atlantic City are all incredible highlights. I'm not necessarily recommending Malle's films in particular here, but rather the unique opportunity in this moment in time to dig into one filmmaker's oeuvre and watch everything."
Amy Talkington
Executive producer, writer, Little Fires Everywhere; writer, Valley Girl
"After 10 years of endless development and delayed productions and releases, I weirdly have two projects dropping during this pandemic, and I can't help but point you toward them. First, Little Fires Everywhere on Hulu. I'm proud of this show because I think it entertains (Reese Witherspoon! Kerry Washington! Drama!). But, hopefully, it also makes you think about life choices, motherhood, art, privilege, and race. Most of all, it challenges you to look at yourself.
"After all that drama, I know you're gonna want a feel-good escape. So tune in to Valley Girl, which I wrote. It came out on iTunes, Amazon, etc. on May 8, and it's a jukebox musical remake of the '80s cult classic. This movie is pure joy and nostalgia. A great flick for mothers and daughters to watch together (hence the Mother's Day weekend release). May it inspire many an '80s dance party in living rooms across America (and the world!), and may it inspire many mothers to come clean to their daughters about their own first loves and teenage shenanigans."

Augustine Frizzell
Writer-director, Never Goin' Back
"Not exactly escapist film, but if you're looking for conversation starters with your fellow #shelterathome mates, these might help. Exterior locations are a definite bonus.
"Swept Away: this is an outrageous examination of class warfare set on a remote tropical island. The 1974 film and the ideas within are provocative, but if you read some of the reviews, the fact that a woman (Lina Wurtmüller) wrote and directed it is a topic for even greater discussion. (P.S. make sure you don't accidentally rent the 2002 remake!)
"The Widow of Saint-Pierre: another film set in a beautiful location (Saint-Pierre Island, off the coast of Newfoundland) that brings up questions of morality, empathy, and the various ways in which we love. One of my favorite Juliette Binoche performances.
"Guess Who's Coming to Dinner: Sidney Poitier and Katharine Hepburn—need I say more? But, really, an examination of race and love and prejudice and acceptance that should be outdated but isn't."
Cooper Raiff
Writer-director, Shithouse
"Magic Mike XXL: in all seriousness, I think everybody should watch Magic Mike XXL. There are zero stakes. So don't bother watching if you want stakes. Watch for unadulterated joy. It affirms the binding energy of entertainment and the grace of being human in a very beautiful way. Watch it and feel better. I mean it! It's a delight."
Courtney Ware
Director, Sunny in the Dark; editor, Never Goin' Back
"The OA: this series is weird and wonderful and quite the ride. Beware, though: Netflix canceled it after two seasons of dimension hopping, puzzles, and a huge talking octopus. How could they? You'll get sucked in and then sorely disappointed that there isn't any more.
"Maniac: another series on Netflix that I really enjoyed. Created by Cary Fukunaga, it's definitely a journey through the strange and wonderful. It's also incredibly beautiful. Watch it for the production design, costumes, and cinematography alone.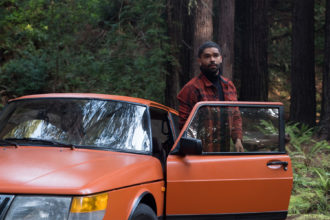 "Light From Light: I'd be remiss not to
do a shameless plug for Paul Harrill's latest. I was the editor on this film, and it just released on iTunes. It's a beautiful and thoughtful film, and one that I am very proud to have been a part of. Watch it for the really great performances by Marin Ireland and Jim Gaffigan, and, of course, Greta Zozula's beautiful cinematography in Tennessee's Smoky Mountains."
Josh David Jordan
Writer-director, This World Won't Break
"So asking a cinephile or filmmaker what to watch during a quarantine is like asking Jerry Jones what scotch to drink. Answer: all of it.
"But this is what I have been telling friends what to catch up on that they may have missed in the theaters that is now on VOD (with drinks and snacks to pair).
"Thunder Road (Amazon Prime): Jim Cummings' amazing film will make you laugh and cry at the same time. Shot in Austin. One of the best opening scenes in a dramedy that I've ever seen. (Goes well with: Austin East Cider and chips and salsa, or queso—I mean and queso.)
"Good Time (Netflix): the Safdie Brothers' true gem; watch this before Uncut Gems, or watch it after to cleanse your palate of Uncut Gems. Robert Pattinson's best role. (Goes well with popcorn and whatever you have in the cupboards or fridge. Maybe break out that Fireball your friend Chad left in the freezer.)
"Roma (Netflix): a masterpiece by Alfonso Cuarón. There is no time better than now to watch this film. You have nowhere to go. Turn off your phone. Watch the film and let it unfold. It feels more like a book, like you're turning pages after each scene. (Goes well with Montecillo Rioja Reserva, or any Tempranillo, and whatever cheeses you have left over from the quarantine.)
"But when it's all said and done, I'm really just watching Hot Ones With Sean Evans on YouTube. Celebrity guests eating hot wings. (Goes well with wings and Deep Ellum Blonde Ale.)"
Daniel Laabs
Writer-director, Jules of Light and Dark
"I have found the slower pace of social distancing to be the ideal time to revisit the work of director Tsai Ming-liang. In particular, the claustrophobic horniness of his 1994 film Vive L'Amour resonates in a unique and pleasurable way."