Chef Chad Martin's corn stew is the perfect summer dish. It's neither too heavy nor too delicate. It lands somewhere between not gorging yourself before your friend Jenna's pool party and staying satiated for the next six to eight hours. "It's a nice, light dish," says Martin, "but hearty enough to be a meal with the poached duck egg on top." The stew is available during lunch and as part of Grange Hall's new dinner service, which runs Thursdays from 6 to 9:30 pm.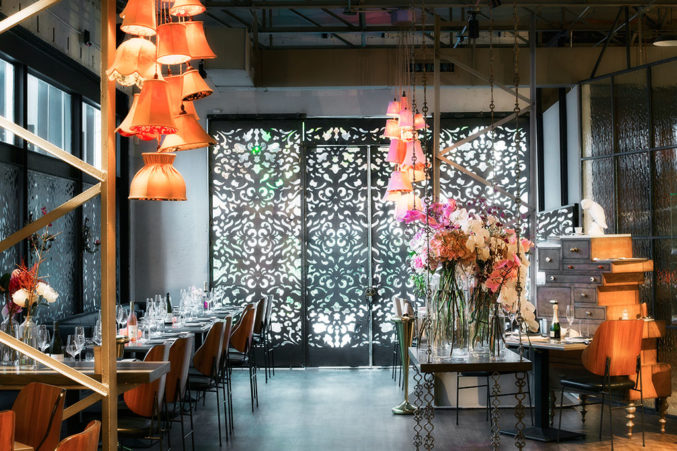 When we asked Martin to share the secret behind his seasonal soup, we were surprised to find out that it was simple enough to make at home. But then we wouldn't have an excuse to stop in and pick up a pair of Lydia Courteille dragonfly earrings and a stunning floral display for the master bath while we're at it, now would we?
Summer Corn Stew Recipe
Using a knife, remove the kernels from eight ears of fresh sweet yellow corn and set aside. Place the cobs in a large pot with 4 quarts of cold water, one medium peeled and quartered yellow onion, and a pinch of salt. Let the ingredients boil for 20 minutes before straining the broth and discarding the onion and cobs.
Add half the fresh corn kernels and two bags of frozen corn to a large pot and cover with 1 inch of the hot broth (reserve the remaining broth). Simmer the mixture for 30 minutes until soft and then cool for 30 minutes. Transfer the mixture to a blender and process in two batches until smooth. According to chef Martin, it should be the consistency of pancake batter.
Return the mixture to the pot and whisk in 4 ounces of softened unsalted butter and ¼ cup of heavy whipping cream. Season with kosher salt and cayenne pepper.
Add the remaining fresh corn kernels to the stew and warm on the stove for five minutes over medium heat.
Top with fresh chopped herbs, such as basil, parsley, or tarragon. Add a squeeze of lime juice, a drizzle of high-quality extra-virgin olive oil, and a poached duck egg. Martin uses organic eggs from D'Artagnan. Pop the egg with your spoon and watch the yolk run.
Get the SideDish Newsletter
Dallas' hottest dining news, recipes, and reviews served up fresh to your inbox each week.