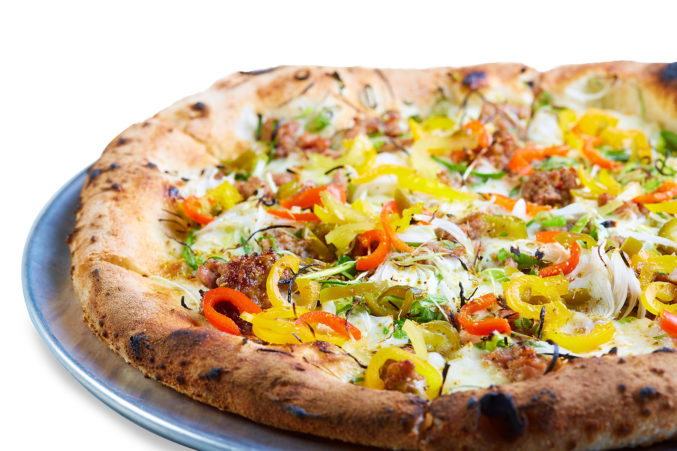 Sassetta Is the Italian Restaurant Dallas Wants
The Design District's very on-trend modern Italian spot is the restaurant we didn't really need, but kind of do.
My first visit to Sassetta was impromptu, which I thought meant that I would be eating pizza alone. But friends materialized—"You? Here? In the Design District?"—and, before we knew it, we were sharing a crudo over a glass of rosé, both of which we all later agreed were the best things we'd had all week.
I didn't think there was a need for a second Italian restaurant in the Headington Companies' firmament. But Sassetta argues otherwise, all rubicund hues and flirty spritzes. In the Design District, far from Headington's downtown hub and its Rome-inspired Americano, it is retro and casually chic, a dream in gold and Aperol.
Campari bottles crowd the bar—what feels like an entire orange-peach-colored shelf of them—and once breakfast is in place, you might breeze in on a morning to perch there for croissants, feeling terribly continental. There are potted succulents, and every hip ingredient that should be there is. Chefs Brian Zenner and Michael Sindoni consulted on the menu, behind them the accumulated résumés of Oak, Belly & Trumpet, and CBD Provisions. Sometimes dishes' main points don't come across the way you feel they could, particularly as the place is so coherent in its decor, a little bit cubist, a little art deco. But the Italian menu is still light and modern, bright, smart, flavor-forward stuff.
That first night, the yellowfin crudo was served in a shallow, dusky pink bowl, an intense lemon-infused oil making a pool of gold at the bottom of the plate, where we scooped and mopped with pieces torn from a soft pizza crust. There were fava beans, those jewels of spring, along with a fava bean purée with mint—bright and intense and a little chunky—and tiny quarters of ripe strawberry, pickled green strawberry, and crunchy Marcona almonds. The experience of getting them all together in one bite was intensely wonderful, the combination lush and riotous as a fauvist painting.
Does it feel like you've seen some of these things before? It may. Those green strawberries (they were only part of the dish for the first weeks, while they were in season) and favas reminded me of dishes I've had at Nonna, but with more vigorous flavors. Undoubtedly, you will find echoes of other restaurants (Lucia, Sprezza) that have taught us to lust after Castelvetrano olives and look suspiciously at wine lists that fail to deliver something truly excellent from Puglia. Where Americano dabbles in more Roman flavors, Sassetta has a penchant for a different palate, less meaty, less hearty, though still forward and fun.
A salad of roasted mushrooms (shiitake, beech, thinly sliced cremini, white button) had nice height on the plate, a forest with clearings aerated by frisée and a simple vinaigrette—mostly acid, salt, and cracked pepper. Crunchy Romaine leaves were so architectural under a snow of Parmesan, I wanted to pick them up and eat them like endives, tip to tip, admiring the deft work of lemon-anchovy dressing and bottarga shavings.
If you were still pondering Sassetta's cosmic necessity, the spring tortelloni provided one awfully nice answer: a handful of stuffed pastas in a ruddy tomato broth with soupçons of olive oil, fennel, and spinach, the ramp-ricotta filling (made with a cousin of green garlic) bright green to marry with the darker green outside. A wide Parmesan shaving capped each tender parcel.
But if the only meat were the lamb tartare, I'd take it and order two. On charred ends of sourdough toast, it's a plush bite with complex flavor, green olive harissa adding a back note of coriander.
And mafaldine were a reminder of how well this shape clings to its sauce, how beautiful they are with their ruffles, tossed casually with walnuts, spinach, and meaty guanciale. They could have used a little more bulk and umami richness from larger walnut pieces, since they were there, in this kinda-sorta take on a carbonara. Here the kitchen backed off, while a shower of lemon zest came thick as pollen.
Pizzas with their leopard spots are thin-crusted, with good dark blisters, decent chew, and nice stretch in the dough. I loved immediately the slight funkiness of taleggio and burnt honey in a minimalist composition with an assertive tingle of black pepper. A clam pizza worked less as a bianca, with too few clams and too much chile heat and lemon zest.
Do they hit all the buzzwords? They do. Should you care? Not really. Be more concerned about what the bland shrimp were doing in the panzanella that was otherwise a monument to summer, and why the spirited 'nduja broth in which those clams basked was so vehemently spicy.
Amid the small plates, you hardly notice there are no secondi, no whole grilled fish or osso buco. A beef-laced lasagna al forno feels lighter for its spinach-green pasta interleaved with a rich béchamel. But if the only meat were the lamb tartare, I'd take it and order two. On charred ends of sourdough toast, it's a plush bite with complex flavor, green olive harissa adding a back note of aromatic coriander.
Sometimes the flavors can be too much, as in the octopus salad, an unfocused confetti of shaved cauliflower, mandolined zucchini, and cannellini and garbanzo beans, plus two sauces—one a pepper purée, the other a squiggle of salsa verde—and lemon oil. It was a dizzy statement in need of editing, though the octopus was lovely. Similarly, I wanted to turn the lemon cake inside out, to give the pine nuts and candied rosemary a chance at a starring role, so each mouthful felt less like eating a spoonful of lemon curd. They are enthusiastic with their lemons here. And there is the noise, the compounded effect of close-to-each-other tables; hard, stylish surfaces; and happy chatter.
But on a quiet night, or even amid the din, I find it easy to love the clink of a spoon set down on the smooth, black-and-white marble tabletop; the casual atmosphere; and some of the thoughtful touches. When you order a scoop of vanilla gelato and one of strawberry, they don't have to invert the colors of the chilled bowls, so it's pink on white and white on pink—but they do. And the banana budino, bananas roasted in their skins and folded into salted caramel custard, crowned with espresso caramel and candied grissini, the smooth and dreamy Italian answer to a pudding cup? Yes, please. I'll take it. The food doesn't always crackle with creative sparks. It's still a fine place to direct a whim on a Monday night, when what you want, maybe, is pizza with taleggio and honey.