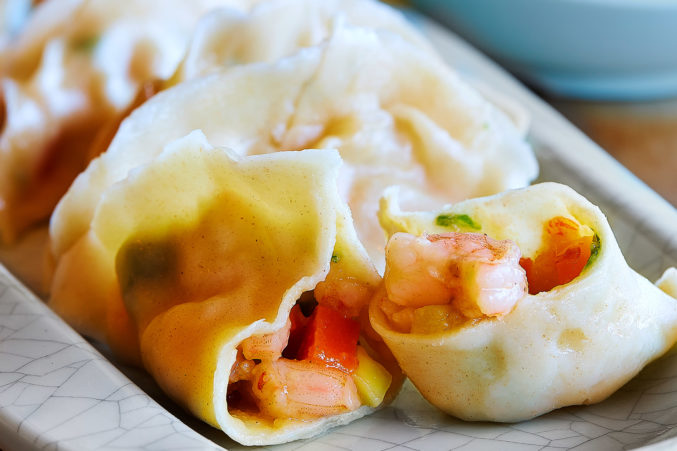 Hello Dumpling Takes You to Beijing
Welcome to the new East Dallas neighborhood dumpling spot. Chopsticks. Chile Oil. Go.
Shanghai is renowned for its soup dumplings, the kind that spill a delicate, ethereal liquid from parcels with gossamer-thin walls. Those found in the streets of Beijing are different. In Beijing, where dumpling houses are legion, you find all kinds of dumplings—pleated parcels filled with pork, chicken, fish, tofu, and vegetables that reach beyond garlic and chives for eggplant, fennel, green chiles, bean sprouts. You can hope for a little of that at June Chow's playfully named Hello Dumpling in East Dallas.
Chow's casual spot, which taps into this rich dumpling culture, fills the former home of Good 2 Go Taco well. Like its predecessor, it's a no-frills, counter-service, flavor-forward spot with a lot of heart and a menu deeper than its name implies.
Besides dumplings, there is a small list of other items. Sides of smashed cucumber salad; kale massaged with sesame oil; zucchini and carrot like a naked slaw are almost spa food, while a bowl of sesame noodles is hearty and terrific, its nutty sauce slithering over house-made noodles.
There's a lightness to everything: the space modern but also warm, with people perched at the central communal table or filling four-tops. But, OK, you came for the dumplings. Would I drive across town for them? Yes. Because of the quality of the ingredients and the friendly prices. Because the space is inviting with its cozy couch and cheerful art in the restrooms that reads, "Dumplings hold up half the sky." And because these represent dumplings for a new generation—a model of casualness that doesn't stint.
You'll want the boiled dumplings, nicely floppy and tender-walled. Pan-fried dumplings come gently glistening, served on crackled, robin's-egg blue ceramic plates. An aromatic blend of Chinese black mushrooms and carrots makes the vegetarian filling shine, with enough flavor and texture that you can dispense with the dipping sauce, though it's there in little saucers. And most of the fillings are flavorful. I found the fish dumplings to be the least exciting, needing all the help they could get. But I was charmed by adorable rice dumplings, round and sticky. Get them filled with chicken.
Where tacos used to sail across the pass, you'll see steamer baskets. It's a comforting sight, and the food that crosses that kitchen threshold only encourages the feeling. The line at the register can sometimes be sluggish. And the relative newcomer is BYOB. If you've forgotten, smile and order more milk tea.
In This Post