Before I stepped foot in the Theodore, Tim Byres' new restaurant at NorthPark Center, I had heard things. A lamb bone sticking out of a meat pie. A cocktail with half an inch of champagne foam. "He's putting things together you wouldn't think would go together," a friend in the food world said of Byres, who's behind the food, though executive chef Scott Romano is in the kitchen. From a profile I'd written on Byres a few months prior, I knew that whatever he was pursuing, he would have followed it down the rabbit hole, as he did with live-fire cooking when he put in the legwork to open Smoke and write a cookbook that earned a James Beard Award.
If you've been to one of Byres' restaurants, you know he's a curator as much as a chef. Here, the space he's claimed from the mall concourse's homogeneity is a curiosity-cabinet homage to its namesake Roosevelt, who shot elk and bear and whose family, from the good-ol'-boy world of old-time New York, traveled to Africa and sailed on the Nile. When I first visited a few weeks after its November opening, a stuffed fox riveted my gaze from behind a frilly potted palm. Bookcases hold taxidermy kits, a brass hunting horn, and books with crumbling gilt spines. There's a fireplace, as well as a giraffe skull and secret compartments. It's Roosevelt meets Alice in Wonderland meets Wes Anderson à la The Grand Budapest Hotel. 
It's Theodore Roosevelt meets Alice in Wonderland meets Wes Anderson à la The Grand Budapest Hotel. 
"Hospitality for me is really a storytelling vehicle," Byres says. The telling of an American food story is something he has contemplated more thoroughly since his work as culinary ambassador for the U.S. Department of State's Chef Corps. "American food culture is so blended and mixed, it's really hard to tell the story. How do we create an iconic American restaurant?" For Byres and co-owners Chris Jeffers and Chris Zielke, it means The Theodore, amid its kookiness, should channel the stateliness of a grand hotel lobby or fancy railway dining car. The question is whether the result is ingenious or overly theatrical. 
You never quite forget you're in a mall. Diners are more likely to wear jeans than gowns. But an air of gentility surrounds the bar, whose gilt mirror and marble inlays transport with turn-of-the-century glamour.  
Roosevelt's time saw the rise of the American cocktail, and the drinks menu is a showcase for Kyle Hilla, formerly bar manager at Bolsa. The Yosemite, made with vodka, wafts green and floral from muddled basil, blueberries, and crème de violette. Others hearken to episodes in Roosevelt's life: the Glacier Bay, with Pimm's and ginger beer; the Badlands, with whiskey and a frozen sphere of red wine. The wine list is democratic, with a good selection by the glass and a number of bottles in the $35 to $45 range. Noticeably nice stemware sets a tone, and an unusually well-priced Kermit Lynch Cypress Cuvée Côtes du Rhône will accent almost anything on the menu.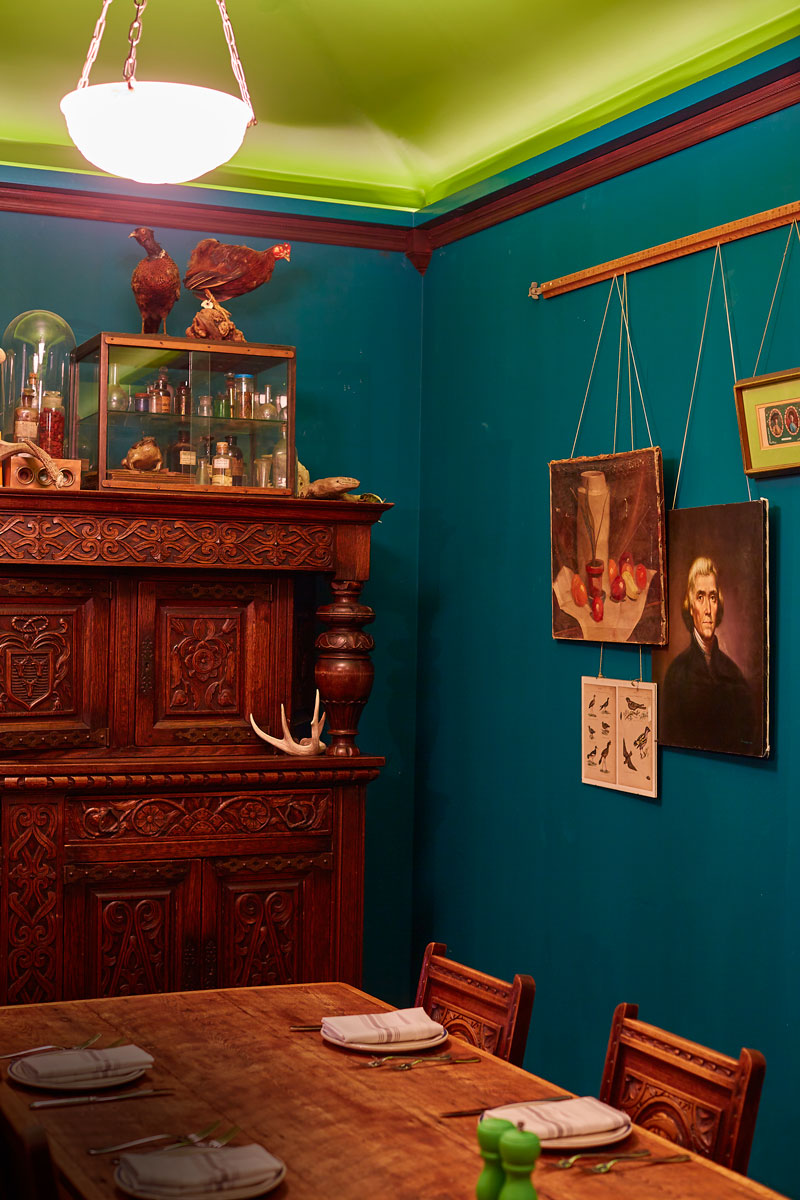 An oven in the corner announces Byres' intention to have the aroma of baked bread replace what in his other restaurants might be wood smoke, and sourdough tartines initially had their own menu section, sporting simple but clever combinations. I was sorry to see some of them go as the kitchen focused more on variegating breads for their sandwiches. The ones that remain are unfussy knockouts: milky house-made ricotta with caramelized leeks, big Corona beans, and a shaving of lemon zest; creamy egg salad bright with lemon and a nudge of horseradish. 

I found the place best when I approached visits like a lovely luncheon. Crudités with a trio of hummus, house crème fraîche, and garlicky harissa were delicate nibbles. I daydream about the roasted pheasant salad. Layered in a ring mold and then released, it was a coifed haystack of long, tender shreds of roasted meat tussled with Napa cabbage, watercress, and bean sprouts. Grapefruit supremes, slivered almonds, and a magical combination of dressings (miso, citrus, spice) offered a play on chicken salad, but far more beguiling. House Catalina's big saucers of butter lettuce wore a light dressing. Olympia stacked greens, crisp apple, and three cheeses into another leafy mille-feuille, this time showered with peanut brittle and fried shallot. It tickles me to see salads hold such court. But those cheeses were chilled, stunting even the smoky San Simon's flavor. There's presentation and then there's minding the details. 

The menu isn't all salads and tea sandwiches. Meatballs snuggled into a ceramic crock with charred baguette and cheese practically disintegrated with savory unctuousness. Meanwhile, a massive meat-pile of corned beef, like a kooky tongue lolling under braised cabbage on pickle-juice rye, didn't seduce, despite its updating. And here is the crux. Roosevelt's era saw Waldorf salad, Lobster Newberg, Steak Diane. Byres aims to do something special by bringing us classics revitalized, sending us back while keeping things current. It's a wonderful angle. But if classical constructions are to be the thing, mains needed more work. 
Time and again, when I went for more formal options at dinner, I couldn't rejoice, much as I wanted to. Beef Wellington (how wonderfully retro!) had flaky puff pastry encasing tender filet with foie gras and an earthy duxelles of mushrooms. But the meat was so salty, it was impossible. A sweet, syrupy au poivre sauce overrun with peppercorns only abetted the assault. Our only recourse was the whipped potatoes and garnish of bitter greens, smartly dressed. Another night, I could scarcely swallow salty halibut whose consommé, aggressively flavored for the delicate fish, was nowhere near the "velouté" our waiter had described. Generally, the kitchen could go far with half the salt. 

When other dishes failed, it was often the fault of unpleasantly over-reduced sauces. One evening, heavy herbed spaetzle in a tacky veal reduction accompanied a forgettable veal cutlet. Sticky, garlicky wine sauce made murky a tepid heap of linguini whose paper-thin shavings of butternut squash had no hope for a purchase on flavor. Both items have since been replaced. But there were still dishes whose sauces gave them no lift. I would have loved fennel- and garlic-scented mussels more without the sweet, buttery orange sauce that cloaked more than accented.

What, then, of broiled lobster, generously anointed with curry? Halved, splayed, and cilantro-decked, it was magnificent as any Thermidor. Like the chicken with harissa, it seemed a postcard from an era besotted with travel. And there's something to be said for making a fuss about presentation. 

Are some dishes fussier than they need to be? That lamb shank pie with its steam-chimney venting bone hiked into a thick pastry turret. The crab apple toffee cake we had to topple like bully toddlers to enjoy. Once we wrangled the poached fruit, shards of spun sugar, and quenelle of crème fraîche into some kind of sense on the plate, it was delicious. As one friend pointed out, it's also nice when dishes keep their looks past the first attack.

One classic you must not miss, regardless, is the baked Alaska. Haven't you always been curious about that most enigmatic of desserts? This is your chance. Surrounded by pretty pink grapefruit supremes and honeycomb, its meringue dome looks for all the world like a beehive. Inside, grapefruit ice cream falls somewhere between sherbet and sorbet. Light and bright, it's no museum piece—it's vital and vibrant and relevant.  

Write to [email protected].
Get the SideDish Newsletter
Dallas' hottest dining news, recipes, and reviews served up fresh to your inbox each week.